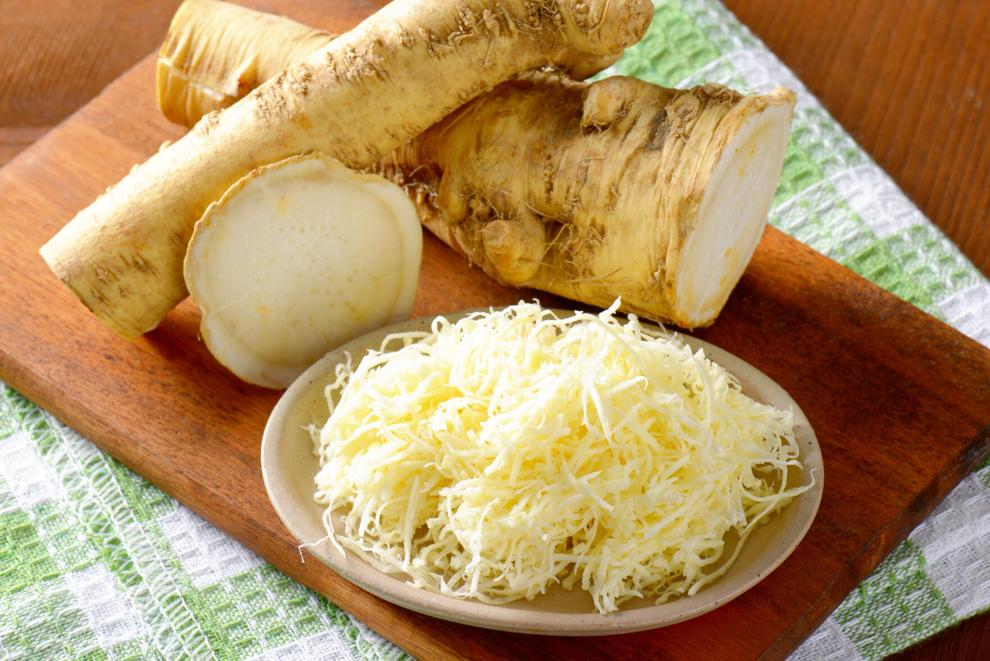 If you're only using horseradish as a condiment, garnish or sandwich layer, it's high time to expand your horizons.
You're probably most familiar with seeing it sold by the jar at the supermarket, but horseradish is actually a cruciferous vegetable, just like cabbage, wasabi and kale. When you're lucky enough to find it in its raw, whole glory, it looks somewhat like ginger. And that's how you'll get it ready to use: peel and grate, much like you would with ginger or turmeric.
Most often, horseradish is transformed into horseradish sauce, also known as horseradish cream, which includes sour cream or mayo, or prepared horseradish. Or you'll find it on shelves or in homemade recipes as a quick-pickled product, mixed with vinegar and salt. Any or all of the above formats of this root are — just like its cousin, wasabi — zingy.
Matt McMillin, business development lead for J.R. Kelly in Collinsville, Illinois, describes horseradish as "hot and healthy! Not many or any other vegetables add what horseradish does to a dish."
Most often, pro chefs and home cooks use it to accompany meat. You're seriously limiting yourself if you stop there, though. Here are five more ways to max out the flavor of your meals and snacks with horseradish.
Spice up your cider
Before you write it off as just another social media food trend, stick with us. The concept of "Fire Cider" spread like wildfire on social media in 2020. The unique drink recipe should stand the test of time, McMillin believes, thanks to its health-promoting properties by way of anti-inflammatory powerhouses like horseradish, ginger, onion, lemon, apple cider vinegar, honey and garlic all in one sip. The steeped tonic is designed to be taken in small doses (like a spoonful or two at a time).
Slice it onto salads
Toss together your favorite salad recipe, then use a vegetable peeler or grater to top it with fresh horseradish. "Do this just before you dive in for the best flavor," McMillin suggests. "It's not quite as zingy if you let the shavings sit."
Add unexpected flavor to your charcuterie spread
Alongside your usual cheese, cured meats, jams, fruits, nuts and crackers, add a small bowl of quick-pickled horseradish. McMillin likes to stir in a drizzle of chili garlic sauce for a spread "that really adds some heat to the mix." Alternatively, try it as a mixer with mustard for additional kick.
Keep those pickles crisp
Horseradish can do more than just bring the heat. Picklers often use horseradish root in their brine because it not only provides flavor, but also helps to keep them crisp. The horseradish root and leaves contain tannins that help to give pickles that crunch everyone is looking for.
Summer grilling
Summer cookouts need more than just ketchup, mustard and BBQ sauce. Add horseradish as an option — it goes great with pork, beef and pretty much any protein! It doesn't stop with the main dishes either. Add a little horseradish to your deviled eggs or potato salad — it cuts through the richness of the egg yolk and mayo mixtures, adding an exciting flavor to classic sides.
Look for fresh horseradish roots at your local grocery stores, and if they aren't available, ask them to stock up! J.R. Kelly is the largest horseradish roots supplier in the United States. For more information, visit jrkelly.com.
---
This content was produced by Brand Ave. Studios. The news and editorial departments had no role in its creation or display. Brand Ave. Studios connects advertisers with a targeted audience through compelling content programs, from concept to production and distribution. For more information contact sales@brandavestudios.com.