San Antonio pastry chef Sofia Tejeda created these glossy, rich scones with a moist texture that isn't dry and crumbly. She prefers leaving some grapefruit pulp in the icing but suggests straining the juice if you prefer a uniform glazed appearance. If you like, feel free to substitute the white chocolate with candied grapefruit or ginger. See the recipe below for this breakfast- and brunch-ready pastry.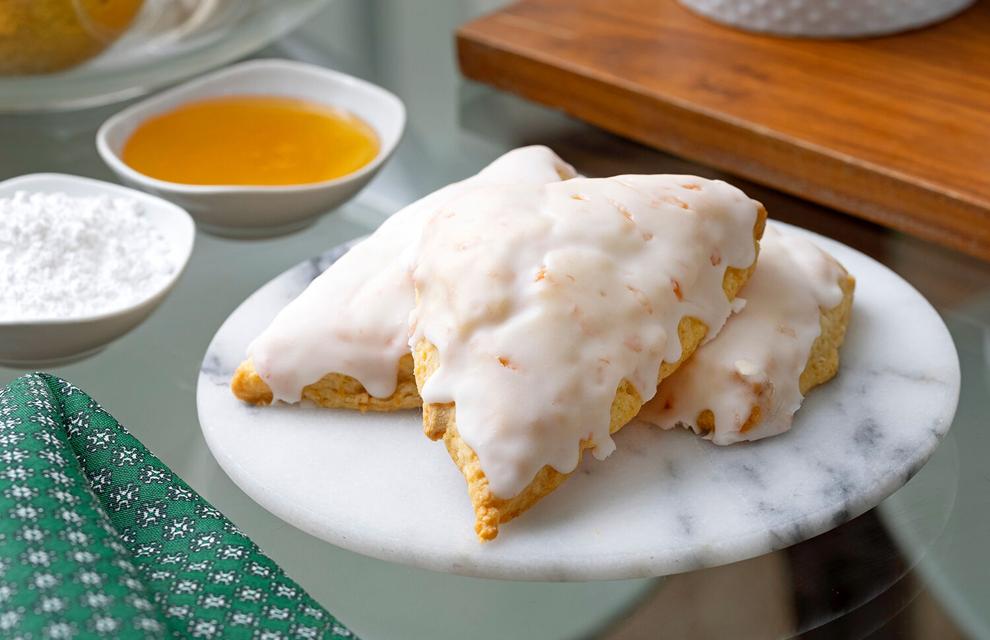 ---
Grapefruit Honey Scones
1 pink or red grapefruit
1 large egg
1 large egg yolk
1 cup heavy or whipping cream, plus more for brushing on scones
1 Tbsp honey
⅓ cup granulated sugar
3½ cups cake flour, plus more for dusting
1 Tbsp plus 1 tsp baking powder
½ tsp salt
12 Tbsp cold butter (1½ sticks), cut into small pieces
½ cup coarsely chopped white chocolate
2 cups powdered sugar
Preheat oven to 350°F. From grapefruit, grate 1 tablespoon zest into large bowl. Squeeze juice with some pulp into 1-cup measuring cup; remove any seeds, if necessary. In medium bowl, with whisk, beat egg, egg yolk, cream, honey and ¼ cup grapefruit juice until well blended. Set aside remaining grapefruit juice to use later.
Add granulated sugar to zest in bowl. With fingertips, rub sugar into zest until sugar appears moist. Stir in flour, baking powder and salt, then add butter. With pastry blender or 2 knives used scissors-fashion, cut butter into flour mixture until pea-sized pieces form. The dough will look dry; do not overmix. Make well in center of flour mixture; pour in cream mixture. Stir just until dough comes together. Mix in white chocolate. If dough is sticky, stir in additional flour, 1 tablespoon at a time.
Lightly dust work surface with flour. Place dough over flour and roll into 12-by-8-inch rectangle about ½-inch thick. Cut dough lengthwise in half, then cut crosswise into 4 equal pieces. Cut each piece diagonally to make 16 triangles. Arrange triangles on each of 2 parchment-paper-lined cookie sheets. Lightly brush tops with cream. Bake 20 to 25 minutes or until golden on bottom. Meanwhile, in small bowl, with fork, stir about 2 tablespoons grapefruit juice with some pulp into powdered sugar until smooth. You want the icing to reach the consistency of thick, wet sand.
Transfer scones on their parchment paper onto each of 2 cooling racks. Cool 5 to 10 minutes. With the back of a spoon or small spatula, spread icing on warm scones. Allow icing to set at least 30 minutes to serve warm, or cool scones completely to serve later.