Inspired by a visit to Voodoo Doughnut in Portland, Oregon, which is famous for its Bacon Maple Bar, chef Alekka Sweeney decided to create her version she's proud to share with Feast and Field readers.
She explains it can be tricky to get the glaze consistency exactly right without adding the maple syrup in increments.
"So much depends on the time of year you make these donuts, your climate and its humidity," Sweeney says. "You may need to adjust the amount of maple syrup accordingly. Start with less, and drizzle in more as needed. Experiment with one donut to see how the glaze performs before glazing the rest."
---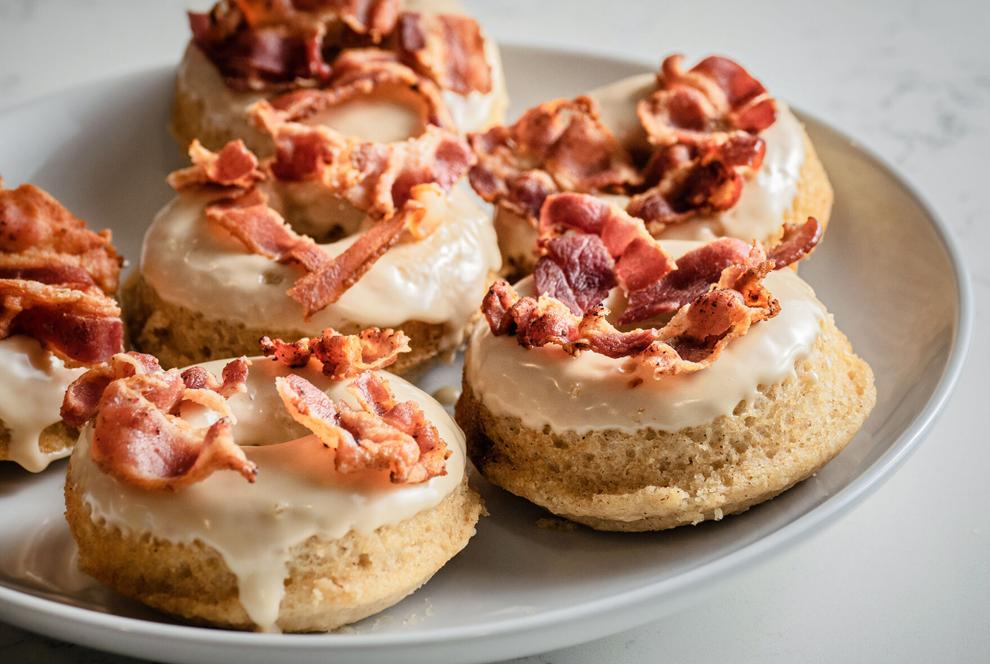 ---
Maple-Bacon Baked Donuts
Yields: 12 donuts
1 lb thick-cut bacon
2 cups all-purpose flour
1½ cups granulated sugar 
2 tsp baking powder 
1 tsp ground cinnamon 
½ tsp ground nutmeg 
½ tsp kosher salt 
2 Tbsp unsalted butter
1 extra-large egg, lightly beaten 
1¼ cups whole milk 
2 tsp vanilla extract
nonstick cooking spray
2¼ cups powdered sugar
¼ cup maple syrup, plus more if necessary
If desired, for easier clean-up, line large rimmed baking pan with foil. Arrange bacon slices close together in pan. Place pan in oven. Preheat oven to 350°F. Bake 25 to 30 minutes or until bacon is crisp.
Meanwhile, into large bowl, sift flour, sugar, baking powder, cinnamon, nutmeg and salt. (Set aside sifter to use later.) In microwave-safe medium bowl, heat butter on high 30 to 45 seconds or until melted. Add egg, milk and vanilla and stir with whisk until blended. Add milk mixture to flour mixture and stir just until combined.
Lightly spray molds of 2 donut pans with nonstick cooking spray. Fill donut molds just over three-quarters full with batter. Bake 15 to 17 minutes or until toothpick inserted in centers comes out clean. Meanwhile, into wide, shallow bowl or pie plate, sift powdered sugar. Add maple syrup and stir with whisk or fork until smooth. Add more maple syrup if necessary, a few teaspoons at a time, to reach a consistency similar to thick pancake batter. When bacon is cool enough to handle, cut into pieces.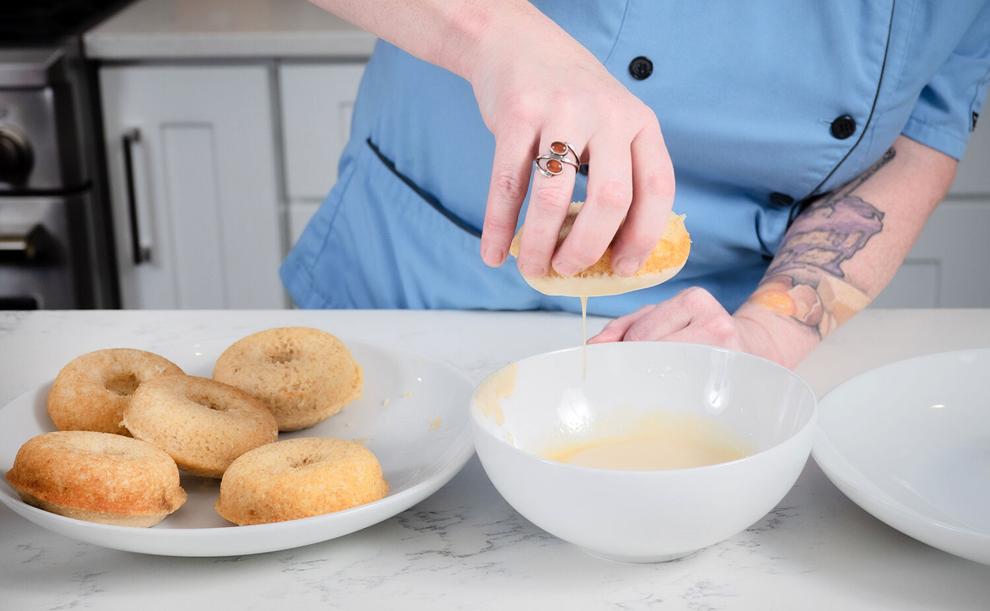 Allow donuts to cool in their molds 5 minutes, then invert onto cooling racks to cool completely. Dip half of donut in glaze; allow excess to drip off. Place donut, glaze-side up, on cooling rack, then sprinkle evenly with bacon. Repeat with remaining donuts, glaze and bacon.