This dessert is a favorite of Alexandra Coppinger's family, and for her, baking is a true family affair. She, along with her mother, owns Common Tart bakery Tulsa, Oklahoma. The baker suggests adding extra pecans to the sides of the freshly frosted cake. "More pecan is always a plus, and by covering the sides of the cake in the nuts, you can cover-up any icing mistakes."
---
Carrot Cake
2 cups granulated sugar
1 1/3 cups vegetable oil
3 extra-large eggs
1 tsp vanilla extract
2 1/2 cups flour 
2 tsp ground cinnamon
2 tsp baking soda
1 1/2 tsp kosher salt
1 cup raisins
1 cup pecans, chopped 
1 lb carrots, grated
Frosting 
12 oz cream cheese, at room temperature
8 oz unsalted butter, at room temperature
1 tsp pure vanilla extract
1 lb powdered sugar, sifted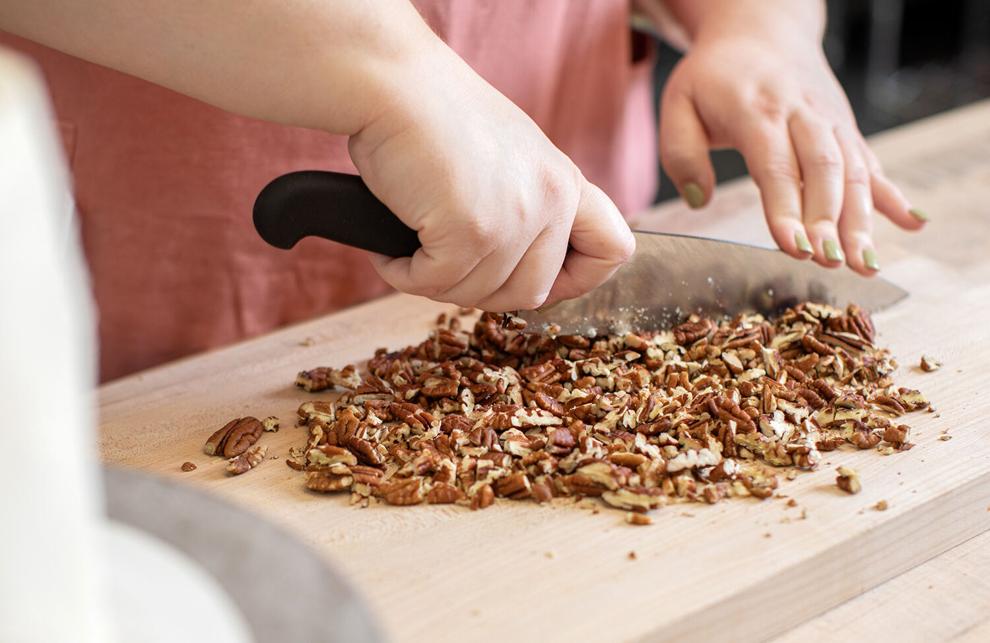 Preheat oven to 350ºF F.
Butter three 8-inch round cake pans. Line with parchment paper, then butter and flour the pans.
For the cake: Fit an electric mixer with paddle attachment and beat together sugar, oil and eggs until light yellow. Add the vanilla. In another bowl, sift together flour, cinnamon, baking soda and salt.
Add dry ingredients to wet ingredients. Toss in the raisins and pecans while dry mixing. Fold in carrots. Mix well.
Divide batter equally between the three pans. Bake for 55 to 60 minutes, or until a toothpick comes out clean. Allow the cakes to cool completely in the pans set over a wire rack. 
For frosting: Mix cream cheese, butter and vanilla in the bowl of an electric mixer fitted with the paddle attachment until just combined. Add sugar and mix until smooth.
Decorate as desired.