For over a decade, San Francisco Bay Area pie lovers have benefitted from Pietisserie owner Jaynelle St. Jean's restless experimentation with quintessential pie recipes. She says that at the start, she didn't want to offer apple pie, because it is too common. "But when my first large order came in from Pixar Animation Studios, and it included dozens of apple pies, this recipe was born," she says. Pro tip: "If you have a juicer at home, put fresh ginger root through it for the best flavor. But caution, a little goes a long way. It's definitely a season-to-taste ingredient."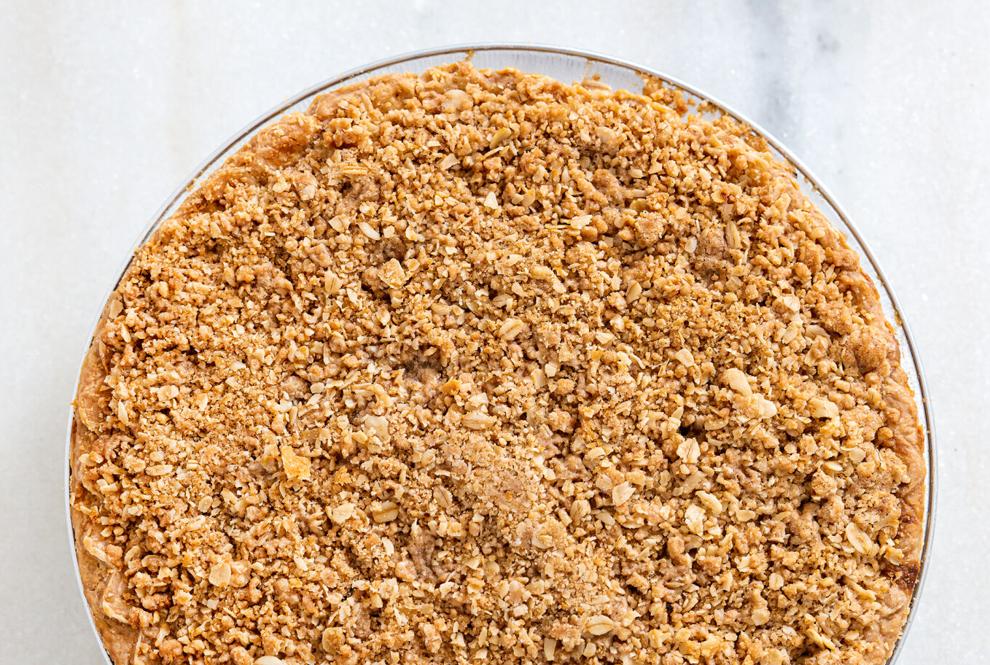 ---
Ginger & Cardamom Apple Pie
1 1/2 cups all-purpose flour, plus more for dusting
1 tsp salt
4 oz unsalted butter, very cold (1 stick)
1/4 cup ice water 
1/2 cup brown sugar
2 Tbsp all-purpose flour
2 Tbsp cornstarch 
1/4 cup sugar
1 tsp ground cinnamon
1/2 tsp ground nutmeg
1/4 tsp ground cloves
1/4 tsp salt
1 1/2 lbs Granny Smith apples, peeled and sliced into 1/4-inch pieces (about 5 apples)
2 oz unsalted butter
2 Tbsp fresh ginger juice or 1 Tbsp freshly grated ginger
For the cardamom-oat crumble:
1 cup brown sugar
3/4 cup all-purpose flour
3/4 cup oats, divided
1/2 tsp ground cardamom
1/2 tsp ground cinnamon
Pinch salt
4 oz cold butter, cut into 5 pieces
Make the crust. Combine flour and salt in a large bowl. Grate in half the butter using a cheese grater, and then toss the mixture together with two forks so that the butter coats the flour. Repeat with remaining butter. Sprinkle half the ice water over butter-flour mixture. Use a fork to stir all ingredients together. Using your hands, press dough together to form a ball. If some dry pieces remain, remove any dough that is moist enough to come together in a ball and set it aside, leaving drier pieces in the bowl. Add just enough water to remaining butter-and-flour mixture, hydrating it enough so that it comes together when pressed firmly. Combine dough pieces into a single ball, flatten into a disk and wrap with plastic wrap. Chill in refrigerator for 30 minutes.
Prior to rolling out dough, lightly dust work surface, rolling pin and dough with flour. While rolling out dough, take care to release it from the work surface a few times by picking it up and turning it over, applying a light dusting of flour each time. Roll dough to 1/8-inch thickness. Fit dough into a pie pan and fold edges of dough under to create the edge of the crust. Chill crust in refrigerator while making the filling.
Prepare the filling. Preheat oven to 400° F. In a large bowl, combine brown sugar, flour, sugar, cinnamon, nutmeg, cloves and salt. Add apple slices and toss to coat. In a 3- to 4-quart pot, melt butter with ginger juice (or grated ginger) and 2 tablespoons of water. Add the coated apples and simmer about 5 minutes, or until the apples soften, taking care not to let the sugar burn. Fill pie shell with apples. Bake pie for 40 minutes.
While the pie is baking, make the crumble topping. In a food processor work bowl, combine brown sugar, flour, 1/4 cup of oats, cardamom, cinnamon and salt. Add butter and pulse until mixture is crumbly and not dry. Transfer to a medium bowl and stir in remaining 1/2 cup of oats. 
When the has finished baking, remove it from oven and place on a rack. Reduce oven temperature to 350° F. Sprinkle crumble topping over pie, return pie to oven and continue baking until topping browns and crisps, about 10 minutes.