Baker Andrew Stump of Pittsburgh's Madeleine Bakery & Bistro loves the buttery, nutty flavor of toasted oats. These oatmeal cookies are one of most demanded items at the French-inspired American bakery he owns with his wife, Abigail.
"I think toasted oats are the way to go, whether they're in a toasted oat cream or cookies," he says.
To toast oats, simply spread them evenly on a parchment-paper-lined cookie sheet and bake about 10 minutes in a preheated 350°F-oven until golden-brown, stirring once during baking.
This recipe calls for patent flour, which discerning bakers like to use for its high quality and consistency. It typically only includes the endosperm but no bran or germ. Bread flour can be substituted instead.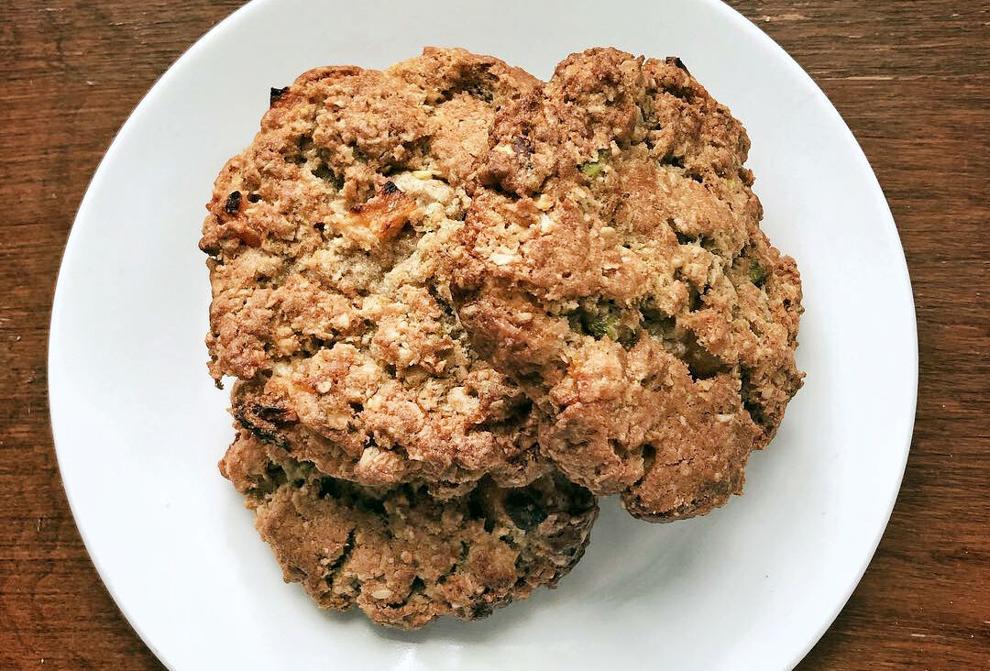 ---
Oatmeal Cookies
nonstick cooking spray
318 g old-fashioned oats, preferably toasted
221 g white baking flour (patent flour) or bread flour
150 g oat flour
75 g steel-cut oats
14 g baking soda
11 g salt
2.6 g ground cinnamon
454 g unsalted butter, softened
285 g brown sugar
195 g granulated sugar
98 g eggs
27 g vanilla extract
234 g coarsely chopped dried apricots
208 g white chocolate chips (or roughly chopped chocolate bar)
156 g coarsely chopped pistachios
Preheat oven to 350°F. Line 2 cookie sheets with parchment paper; spray parchment with nonstick cooking spray.
In large bowl, stir together old-fashioned oats, flours, steel-cut oats, baking soda, salt and cinnamon; set aside.
In large bowl, with mixer on medium-high speed, beat butter and sugars until mixture is light and fluffy, occasionally scraping sides of bowl. Reduce speed to low; add eggs and vanilla in 3 additions, scraping bowl between each addition. Add half of oat mixture and beat until blended; scrape bowl. Add remaining oat mixture and beat just until combined. Stir in apricots, chocolate and pistachios. 
Drop dough by ¼ cupfuls onto prepared baking sheets. Bake 15 to 17 minutes or until golden brown. Cool cookies on pans 1 minute, then transfer to cooling rack to cool completely. Repeat with remaining dough.