This deeply savory tomato-onion jam from chef Laurel Burleson of Ugly Apple Café in Madison, Wisconsin, is an excellent opportunity to ask for scratch-and-dent tomatoes at your local farmers' market. Burleson uses heirloom tomatoes but notes that beefsteak and Roma tomatoes also work well.
Scale the red pepper flakes up or down depending on your tolerance for spice. When making this and many other jams, surface area is our friend — a large sauté pan works better than a pot. Do not can this using a water bath.
Burleson pairs the jam with a simple pan-seared halibut and loves to serve it with slightly bitter green vegetables, such as broccolini, asparagus or steamed kale. Try to get thicker cuts of halibut, if possible. If you can't find halibut, cod is a good substitution.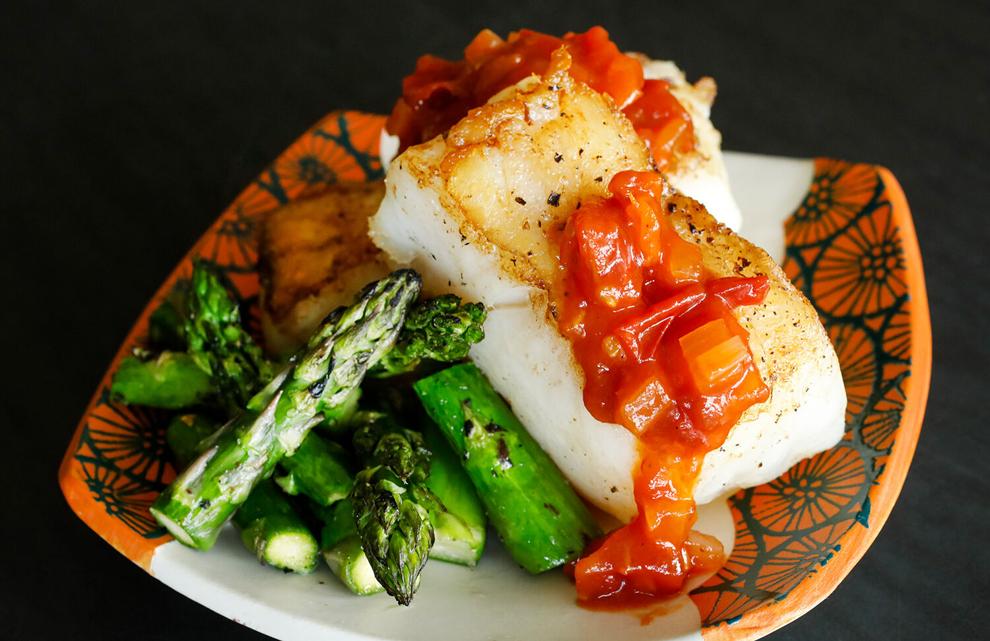 ---
Pan-Seared Halibut with Tomato-Onion Jam
1 Tbsp canola oil
1 medium yellow onion (about 6 oz), cut into ¼-inch pieces (⅔ cup)
1 garlic clove, minced
2 Tbsp apple cider vinegar
1 lb tomatoes, diced (3¼ cups)
⅓ cup granulated sugar
¼ tsp crushed red pepper flakes
¼ tsp salt, plus more to taste
pinch freshly ground black pepper, plus more to taste
4 thick halibut fillets (about 6 oz each), skin removed
freshly ground black pepper
salt
2 Tbsp canola or vegetable oil
1 Tbsp unsalted butter
¼ cup dry white wine (such as Pinot Grigio)
Prepare Tomato-Onion Jam: In large sauté pan, heat oil over medium-high heat until oil shimmers. Add onion and cook just until it starts to brown around their edges, stirring frequently with spatula. Reduce heat to medium; add garlic and cook 1 minute, stirring. Stir in vinegar and cook until liquid evaporates. Add tomatoes, sugar, crushed red pepper flakes, ¼ teaspoon salt and pinch black pepper; stir gently to combine, then spread mixture evenly in pan.
Increase heat to medium-high. Depending on size of pan, cook tomato mixture 2 to 10 minutes or until thick, stirring bottom and sides of pan frequently to prevent browning. To know when jam is done, scrape bottom of pan with spatula; when line remains and doesn't fill in with juice, the jam is ready. Stir in salt and black pepper to taste. (Saltiness will decrease slightly as it cools, but heat from crushed red pepper flakes may increase.) Transfer jam to bowl; set aside. Makes about 1¼ cups.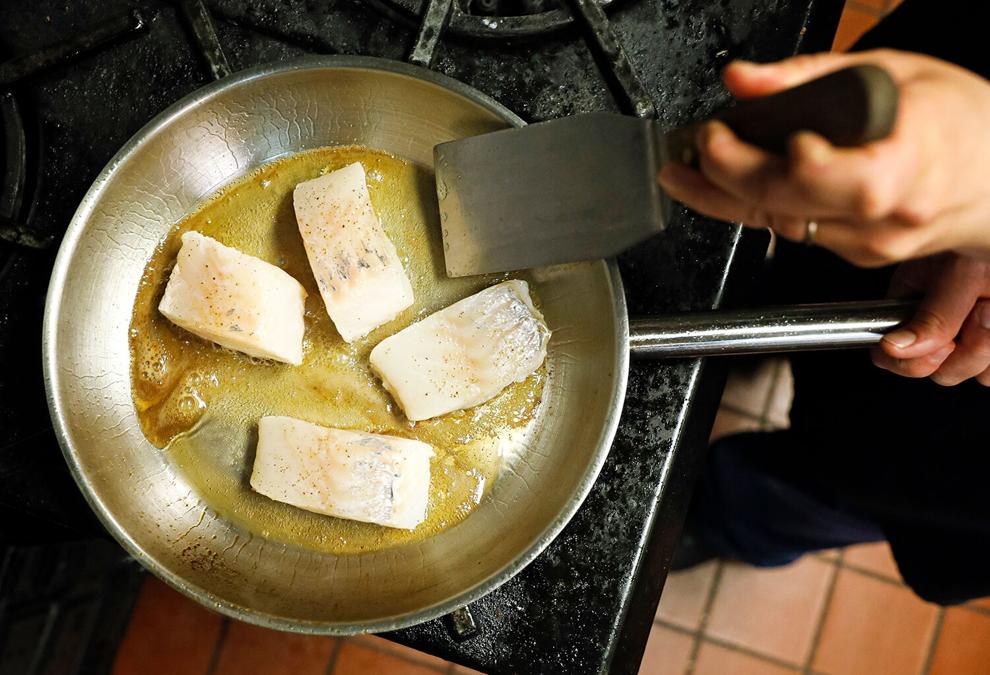 Prepare Pan-Seared Halibut: Sprinkle halibut fillets with pepper and salt. In large skillet, heat oil over medium-high heat until oil shimmers. Carefully place halibut in skillet; cook 4 to 5 minutes, depending on thickness. Add butter to center of skillet; swirl skillet to distribute butter around halibut.
With thin metal spatula, turn halibut; reduce heat to medium-low. Add wine; cover and cook 3 to 5 minutes or until halibut turns opaque throughout and flakes when knife is inserted in center of fillets.
Place 1 fillet on each of 4 dinner plates; top with a heaping spoonful of Tomato-Onion Jam to serve.