Chef-owner of Michelin-starred Bresca and Jônt, Ryan Ratino, shares his recipe for pork loin. He says, "My favorite cut of pork is the short loin primarily because it contains the tenderloin, which is great for aging." He continues that this cut is also "terrific for grilling over a wood fire glazed with sticky sauces." Try this recipe, and you'll agree. Chef Ratino suggests complementing this pork with mashed potatoes and roasted summer squash.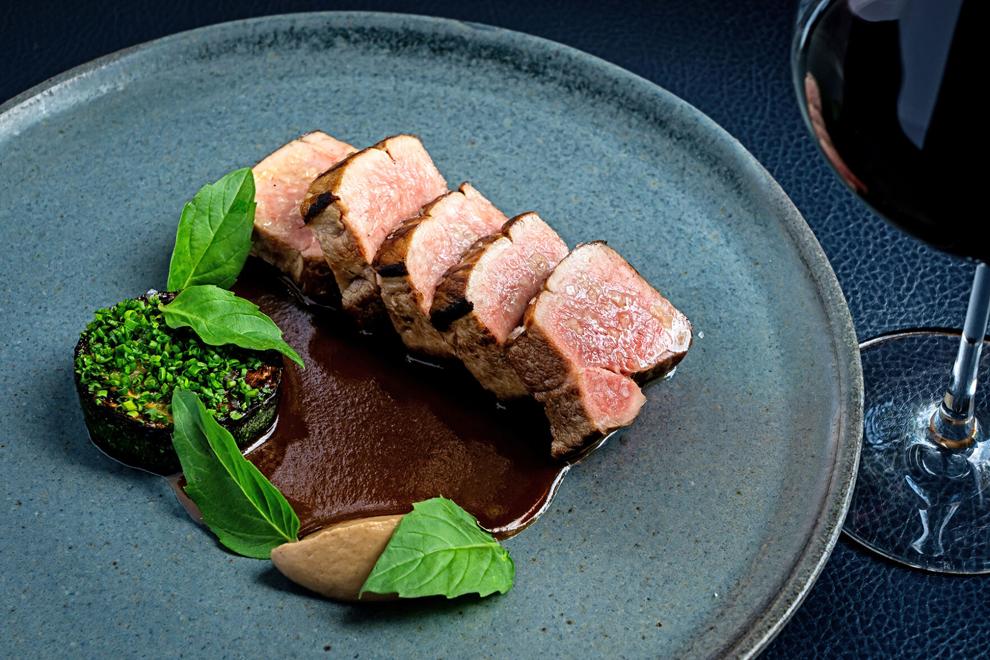 ---
Twice-Seared Roast Pork Loin
1 piece pork loin (3 lbs), cut crosswise into six 8-oz portions
freshly ground black pepper
salt
¼ cup Dijon mustard
¼ cup honey
¼ cup soy sauce
2 Tbsp olive oil
1 tsp garlic powder
1 tsp onion powder
4 Tbsp canola oil, divided
2 oz fresh thyme sprigs
2 Tbsp cold butter 
Sprinkle pork generously with pepper and salt; let stand at room temperature 1 hour. Meanwhile in bowl, stir together mustard, honey, soy sauce, olive oil, garlic powder and onion powder until creamy.
In large skillet over medium-high heat, heat 2 tablespoons canola oil until hot but not smoking. Add pork and sear 30 to 60 seconds on each side or until golden-brown. Place pork as it is done on oven-safe wire rack set over large rimmed baking pan; let stand 15 minutes at room temperature.
Carefully clean skillet with paper towels. Repeat with remaining oil and pork. Remove skillet from heat; add butter and thyme. Tilting pan slightly and with large spoon, gently baste pork with butter mixture 30 to 60 seconds; do not allow butter to burn. Transfer pork back to wire rack to rest 15 minutes. Meanwhile, preheat convection oven to 450°F or conventional oven to 475°F.
Brush all sides of pork on wire rack evenly with some honey mixture. Roast pork on rack 2 minutes. Let stand at room temperature 5 minutes before slicing. Drizzle pork with remaining sauce to serve.