John Stockman of Black Market brings his world of cuisine to Eureka Compass Vegan Food three times a week when he presides over the kitchen at this beloved St. Paul, Minnesota, neighborhood market and carry-out destination. From Caribbean and Vietnamese to Lebanese and Indian food, Stockman plays with spice, acid, chiles — layered, complex flavors that speak to his 25 years behind the stove.
Stockman's Argentinean chimichurri recipe below is no exception. He likes to keep a jar in his refrigerator at all times. "What you don't use on the sandwiches, slather on toast, spoon over potatoes or grilled vegetables, toss some into pasta salad, or just use it as a dip," Stockman says.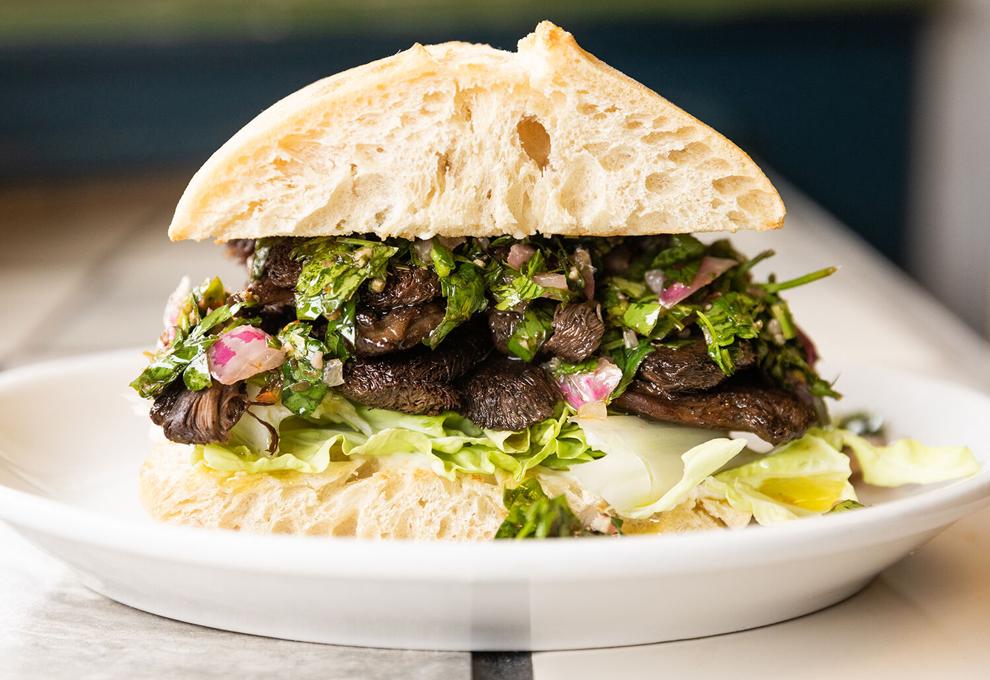 ---
Chimichurri Mushroom Steak Sandwiches
3 large garlic cloves, minced (1½ Tbsp)
2 red chiles (such as Fresno or red Thai chiles), seeded and chopped (about 3 Tbsp), or 1½ Tbsp crushed red pepper flakes
1½ cups extra virgin olive oil
1 cup fresh parsley leaves, finely chopped (½ cup)
2 Tbsp red wine vinegar 
1 tsp dried oregano
1 tsp salt
½ tsp ground black pepper
extra virgin olive oil 
3 to 4 lion's mane mushrooms (about 1 lb), cut into ½-inch-thick steaks
3 Tbsp fresh thyme leaves
1½ tsp salt
1½ tsp ground black pepper
4 vegan buns
vegan mayonnaise, fresh baby arugula leaves and sliced fresh tomatoes, for garnish
Prepare Chimichurri: At least 2 hours before serving, stir all chimichurri ingredients in a medium bowl until well-combined; cover and refrigerate. Set out 15 minutes before serving to bring to room temperature.
In 12-inch skillet, add enough oil to lightly coat bottom of skillet; heat oil over medium-high heat until hot but not smoking. Meanwhile, on large platter or cookie sheet, sprinkle mushrooms with thyme, salt and pepper. Place enough mushrooms in skillet to cover bottom, but do not overcrowd; cook 3 to 4 minutes or until browned. Turn mushrooms, then cook 3 minutes longer. Reduce heat to medium-low; cook mushrooms 4 to 5 minutes longer or until any liquid has evaporated. Repeat with remaining mushrooms, adding more oil as needed.
Toast buns; spread mayonnaise on cut sides of buns. Top bottom half of buns with arugula, tomato, mushrooms and a generous portion of chimichurri; replace top half of buns to serve. Cover and refrigerate any leftover chimichurri up to 1 week.