An inventive seasonal spin on classic slaw, head chef Matt Steigerwald of Rapid Creek Cidery in Johnson County, Iowa, suggests this as a good stand-alone side or a tasty topper for pulled pork sandwiches.
"The addition of pickled mustard seeds elevates this dish and the apples add a sweet and crunchy pop." Be sure to look for apples that don't brown too quickly to ensure this dish looks and tastes fresh for as long as possible; Cortland, Pink Lady and Gold Rush work well.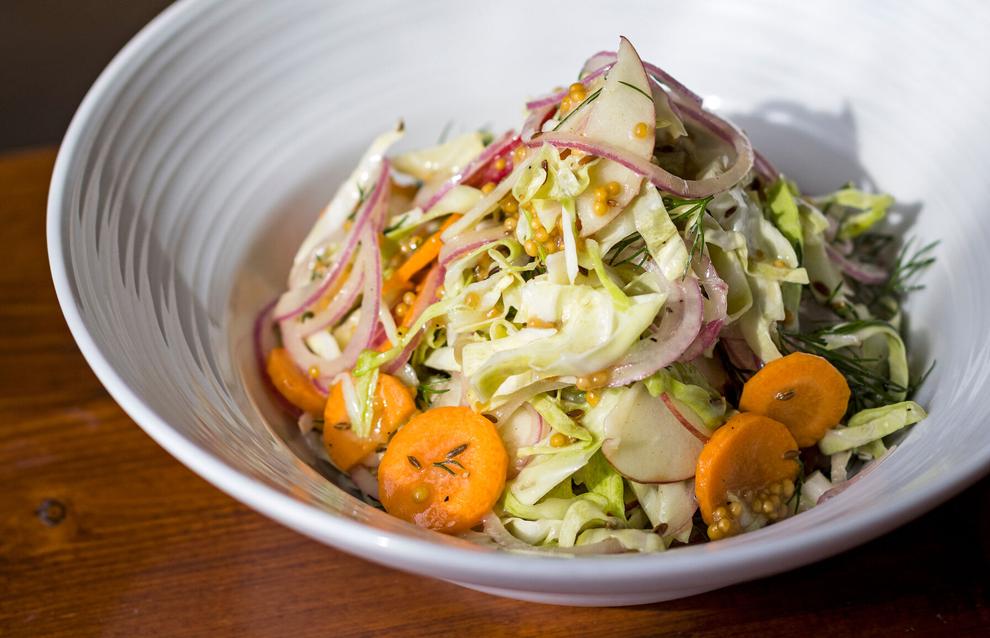 ---
Apple Slaw with Dill & Pickled Mustard Seeds
½ cup mustard seeds
¼ cup plus 2 Tbsp water
½ cup plus ¼ cup apple cider vinegar, divided
¼ cup plus 1 Tbsp honey, divided
½ cup canola oil
1 Tbsp Dijon mustard
freshly ground black pepper, to taste
salt, to taste
2 cups shredded green cabbage
1 cup thinly sliced apples (about ⅛-inch thickness)
½ cup thinly sliced carrot rounds
¼ cup chopped fresh dill fronds
¼ cup thinly sliced red onion
1 Tbsp dill seeds
In small saucepan, add mustard seeds, water, ½ cup vinegar and ¼ cup honey; simmer over medium heat about 20 minutes or until mixture thickens to consistency of maple syrup, stirring frequently to keep seeds from sticking to saucepan. Remove saucepan from heat; mixture will thicken as it cools to consistency of marmalade.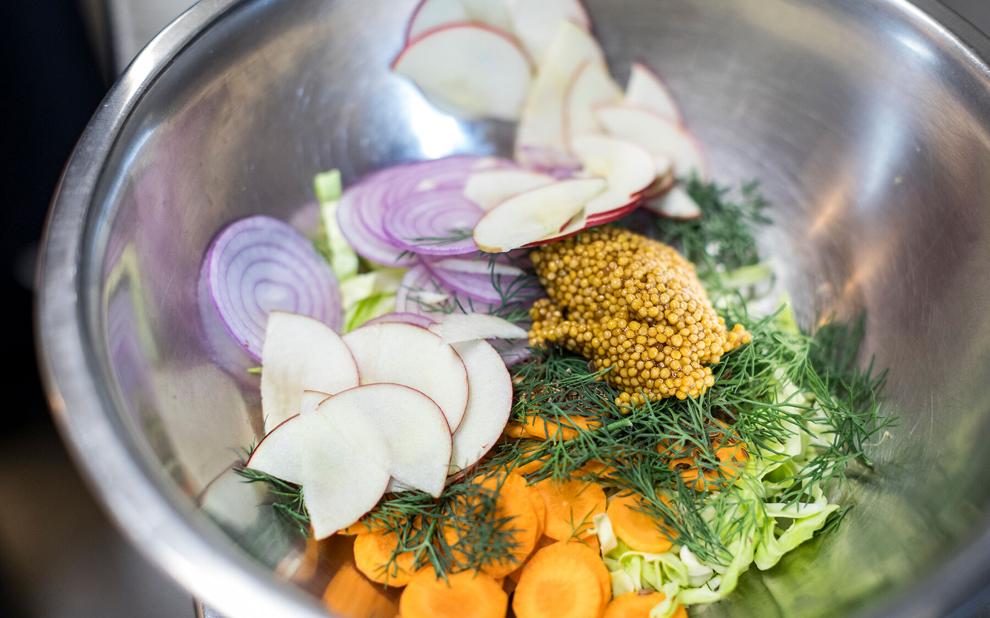 Meanwhile, in large bowl, with whisk, stir remaining ¼ cup vinegar and 1 tablespoon honey with oil, mustard and some pepper and salt. Add remaining ingredients and ¼ cup pickled mustard seeds and toss until well coated in dressing. Let stand at room temperature 20 minutes to blend flavors.
Transfer remaining mustard seeds to airtight container; refrigerate up to 3 months. This sweet and piquant garnish makes a great addition to a cheese plate, charcuterie board and sandwiches, or add to deviled eggs, vinaigrettes, marinades and sauces.