Washington D.C. chef and culinary instructor, Summer Whitford, loves to introduce beginner bread bakers to focaccia because it is a straightforward, uncomplicated recipe that also teaches the basics of the craft.
"If you want to feed a crowd, serve this Genovese flatbread with pasta or salad, or consider making it the star of the meal," Whitford says. "In Liguria, Focaccia di Recco is topped with pesto sauce, an ancient classic that's still a popular modern staple."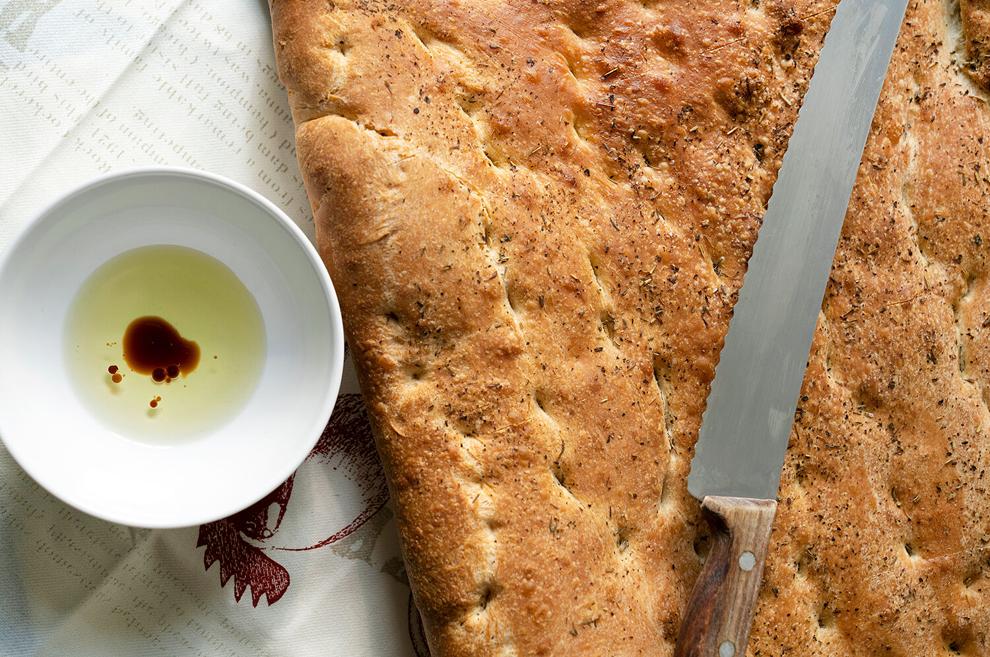 ---
Focaccia
½ oz active dry yeast
scant 3 cups warm water (90 to 100°F)
4 tsp granulated sugar
5 cups bread flour
1 cup unbleached all-purpose flour, plus more for dusting
4 tsp sea salt, plus more for sprinkling on top of dough
½ cup extra-virgin olive oil, plus more for greasing pan and brushing on top of dough
nonstick cooking spray
dried herbs such as rosemary and thyme or herbes de Provence
In 5-quart mixing bowl for heavy-duty mixer, add yeast, water and sugar; stir with whisk until combined. Let stand 5 to 8 minutes or until yeast proofs and becomes bubbly and foamy.
With dough hook attached and mixer on low speed, gradually add flours and salt alternately with oil. Beat about 5 minutes or until a sticky dough forms that clings to sides of bowl. Increase speed to medium; knead until dough forms into a smooth, elastic ball that pulls away from sides of bowl. If dough is still very sticky, slowly add a small amount of oil and knead until dough cleanly pulls away from sides of bowl to form a ball around hook.
Transfer dough to lightly floured work surface; shape dough into smooth ball. Spray inside of same mixing bowl with nonstick cooking spray; place dough inside mixing bowl. Spray 1 side of plastic wrap with cooking spray and place over dough to cover.
Place dough in warm spot (about 75°F); let stand about 1 hour or until dough nearly doubles in size. Meanwhile, brush large rimmed baking pan (about 18-by-13-by-1½-inch) well with oil.
Turn dough out onto lightly floured surface. With floured rolling pin, roll dough into rectangle, about ½-inch-thick. Carefully transfer rectangle to prepared pan. Spray enough plastic wrap to cover dough with cooking spray; let stand 20 to 30 minutes in warm place until dough rises and almost doubles in size. Meanwhile, preheat oven to 400°F.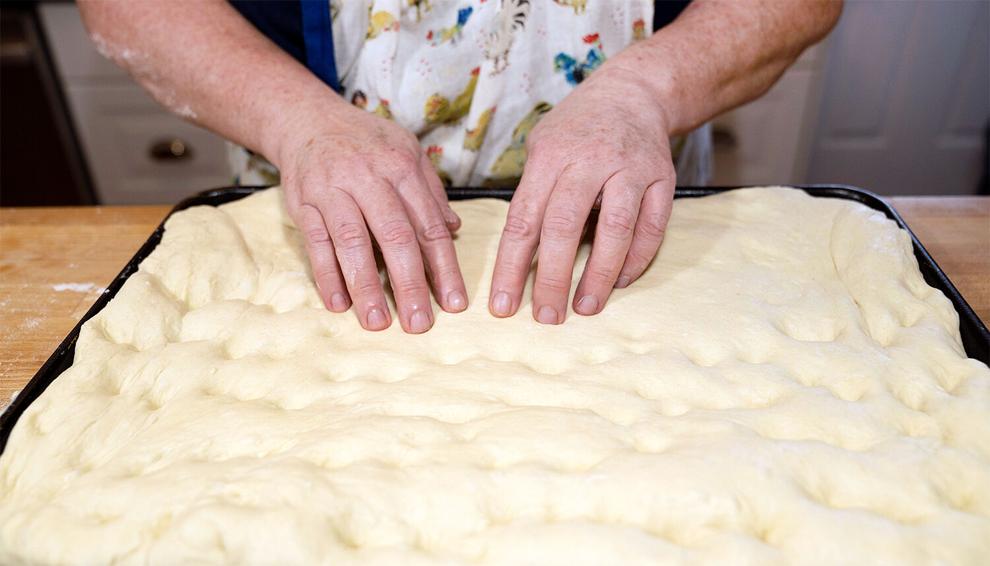 Remove and discard plastic wrap. With fingers, make deep indentations about 1 inch apart over entire surface of dough. Lightly brush top of dough with oil, then sprinkle evenly with salt and herbs. Bake about 25 minutes or until top is golden brown and focaccia's underside is golden. Cool focaccia slightly in pan on wire cooling rack. Cut into rectangles to serve warm.