Cooking seafood for a family that includes younger kids can be a challenge. This recipe is a hit across age groups because of its playful presentation and tasty flavors. Stick classic with pickled ginger, wasabi and soy sauce or change it up by offering a variety of dipping sauces.
Mary Goddard out of Sitka, Alaska, developed this recipe alongside her husband, Lucas, for their Forest Fresh Alaska blog, which promotes indigenous foods in the area, including watermelon berry greens, which Mary says taste just like cucumber. The Goddards love to serve Iron Chef orange sauce glaze with ginger for a dipping sauce.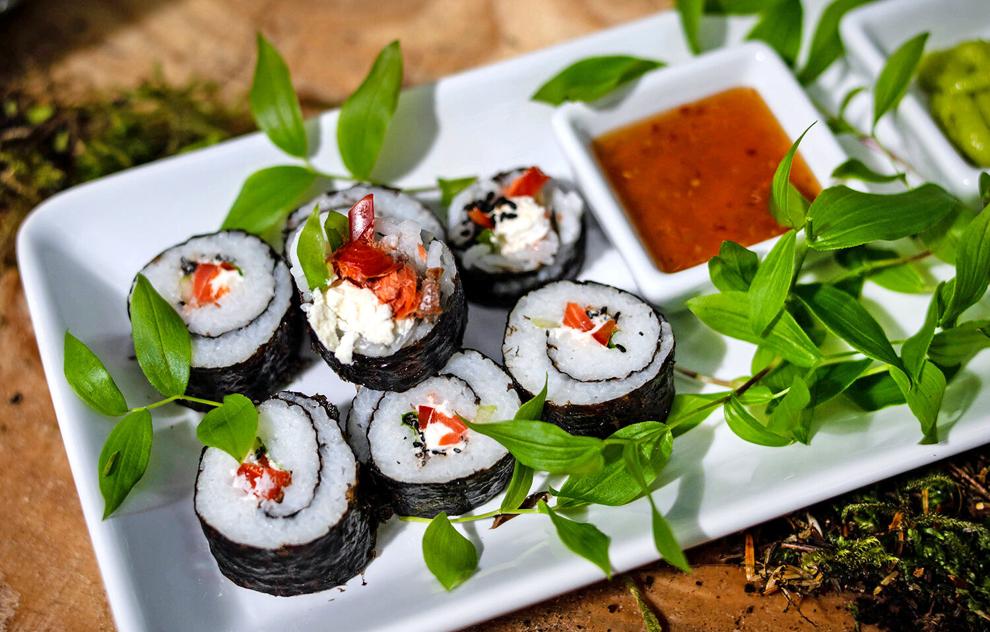 ---
Smoked Salmon Sushi Lollipops
2 cups sushi rice
2 cups water
2 Tbsp granulated sugar
2 Tbsp rice vinegar
4 oz cream cheese, softened
4 oz smoked wild salmon
½ red bell pepper
½ seedless cucumber
sushi nori
watermelon berry greens, washed and patted dry (optional)
Place rice in fine-mesh strainer; run water over rice until water runs clear. Transfer rice to medium saucepan. Add 2 cups water; cover and heat to boiling over high heat. Reduce heat to low and cook 15 minutes. Remove saucepan from heat; let stand 10 minutes.
Meanwhile, in small saucepan, heat sugar and vinegar over low heat just until sugar dissolves. Toss vinegar mixture into rice very well after rice stands 10 minutes. Allow rice to cool to room temperature.
In small bowl, with fork, combine cream cheese and salmon. Cut bell pepper and cucumber into long, thin strips.
Use sushi roller to assemble sushi, layering rice with salmon mixture, bell pepper and cucumber. Slice roll crosswise into desired number of pieces. Garnish sushi with watermelon berry greens, if using. If desired, to make "lollipops," carefully insert wooden skewer into side of sushi slices.