For a whirlwind of flavor, this Southeast Asian dish utilizes pumpkin, an ingredient familiar to Western palates, and combines it with Eastern ingredients like lemongrass and lime leaves which can be found easily at any Asian market. For chef Steven Gedra of The Black Sheep Restaurant & Bar in Buffalo, New York, this perfectly fits his "global-nomad" signature style. He prefers the Kuri variety of winter squash for this entrée or look for any pumpkin that is grown for culinary purposes.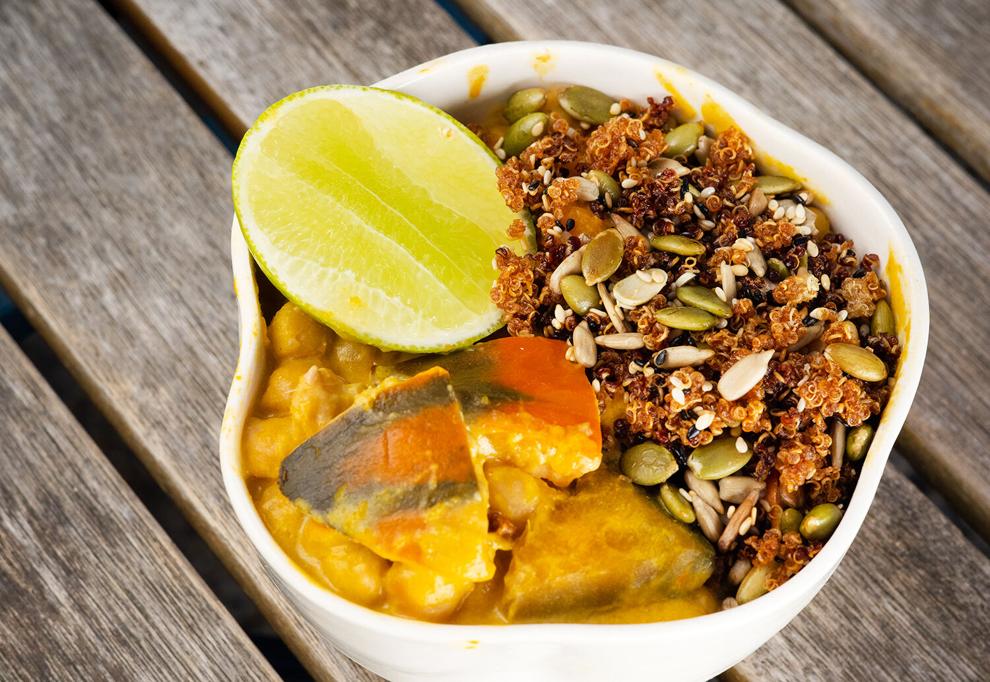 ---
Pumpkin & Chickpea Curry
1 large stalk lemongrass
5 garlic cloves, chopped
3 lime leaves, chopped
3 Thai chiles, chopped (about 1 Tbsp)
1 knob frozen galangal (about 2 inches), peeled and chopped (about 2 Tbsp) or 1 Tbsp. dried galangal
2 cans (about 13½ oz each) unsweetened coconut milk
2 lbs pumpkin, skin and seeds removed, and cut into bite-sized pieces
2 cans (15 to 16 oz each) chickpeas, rinsed and drained
1 cup jasmine rice
1 lime, cut into 4 cheeks or wedges
Cut lemongrass lengthwise in half; peel off and discard tough outer layers. Chop soft inner core and transfer to blender. Add garlic, lime leaves, chiles and galangal. Blend until finely minced into a paste. Transfer paste to 4-quart saucepan. Add coconut milk and heat to boiling, stirring occasionally. Reduce heat to low and simmer 10 minutes.
Add pumpkin and cook on low, covered, about 30 minutes or until tender, stirring occasionally. If necessary, add a little water to maintain a stew-like consistency that so that curry doesn't become too thick. Add chickpeas and simmer, covered, 15 minutes longer. Remove saucepan from heat; let stand 1 hour to meld flavors.
About 20 minutes before serving, cook rice as label directs. Reheat curry in saucepan. Divide rice between 4 bowls; top with curry. Garnish with lime to squeeze over curry.