For Traverse City Whiskey Co.'s Diane Corcoran, one of the industry-leading authorities on cherry cocktail mixology, few cocktails are more dynamic — or more certain to be a home run with patrons — than the cherry smash. The base ingredients for this cocktail are the same ones you'd use for a standard whiskey smash: bourbon whiskey, lemon, fresh mint leaves, simple syrup. But there are a few twists that make Corcoran's recipe unique. 
The first twist is that Corcoran trades regular bourbon for TC Whiskey Co.'s cherry-infused variety. The second twist is, once you've prepped the base recipe, Corcoran recommends adding in and muddling whatever fresh fruit ingredients might be on hand: pitted sweet or tart cherries, strawberries, blueberries, blackberries or "whatever you can find at the farmers' market," she says. The resulting cocktail, whether you drink it as a straightforward whiskey smash with a cherry hint or as a fresh-fruit extravaganza, is crisp, sweet and refreshing. Corcoran says to never "dry muddle." Always muddle with a little simple syrup to help bring out the flavor of whatever it is you are muddling.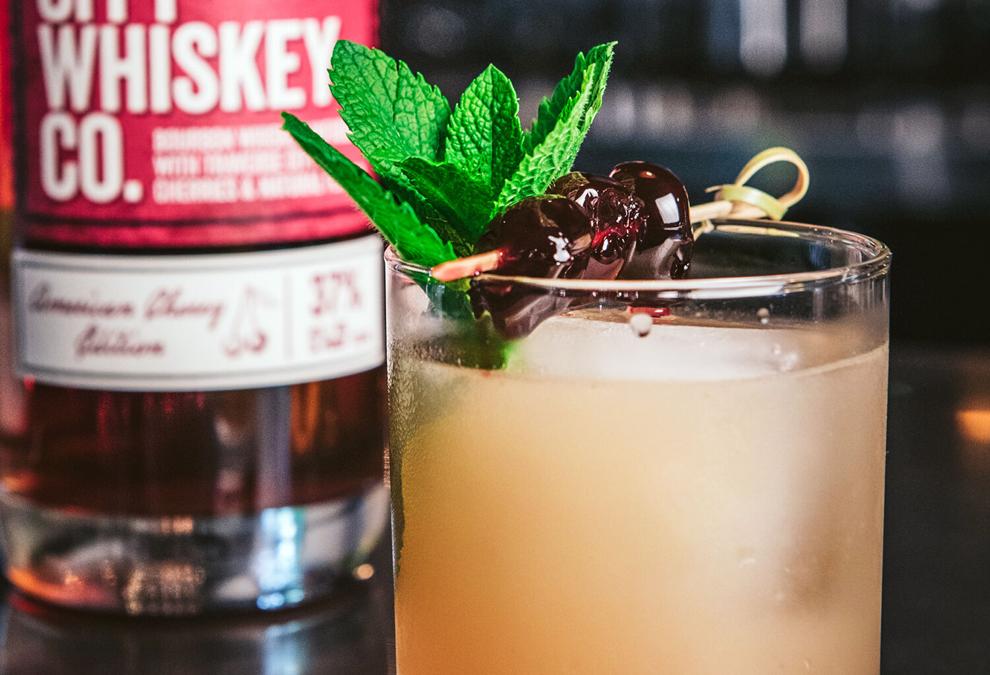 ---
Cherry Smash
1 oz simple syrup (equal parts sugar and water stirred until sugar dissolves) 
6 to 8 fresh mint leaves 
½ lemon, cut into 4 wedges
fresh seasonal fruit such as pitted tart or sweet cherries or berries (optional)
2 oz Traverse City Whiskey Co. American Cherry Edition Whiskey
mint sprigs, fresh cherries or cocktail cherries, for garnish
In cocktail shaker, add simple syrup, mint and lemon wedges; muddle ingredients together. If desired, add fresh fruit to mint mixture and muddle. Add whiskey and fill shaker with ice. Secure lid on shaker and shake vigorously 10 seconds. Double strain cocktail into rocks glass filled with fresh ice. Garnish with mint sprigs and cherries.