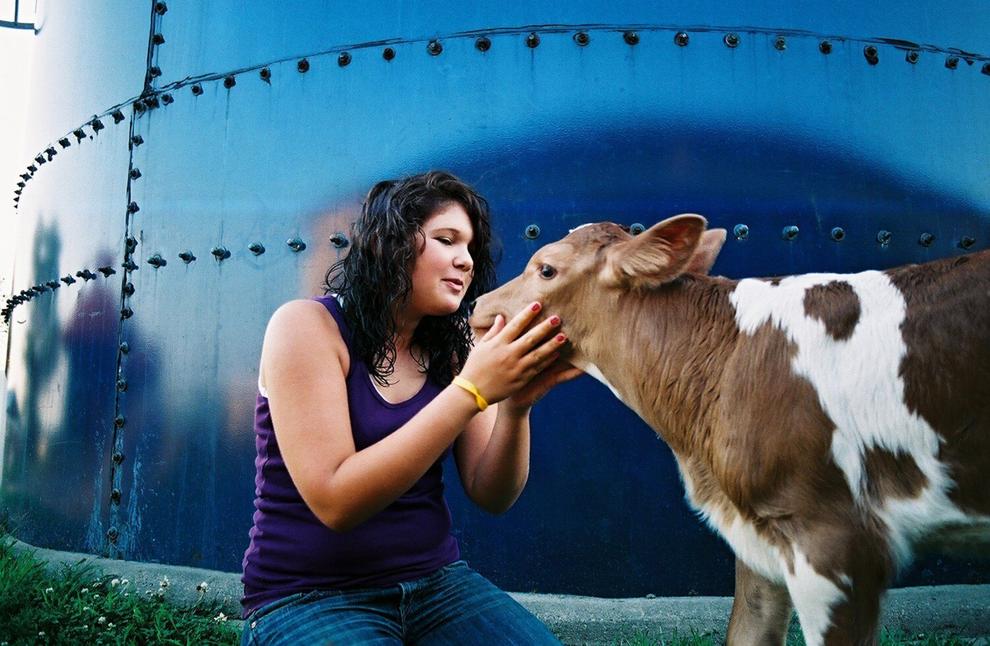 Artificial insemination, or AI, has been a topic of conversation within the dairy industry for years, both by farmers as well as those who often don't understand the practice.
My family has been in the dairy industry for over 75 years, and throughout most of those years we have utilized artificial insemination practices.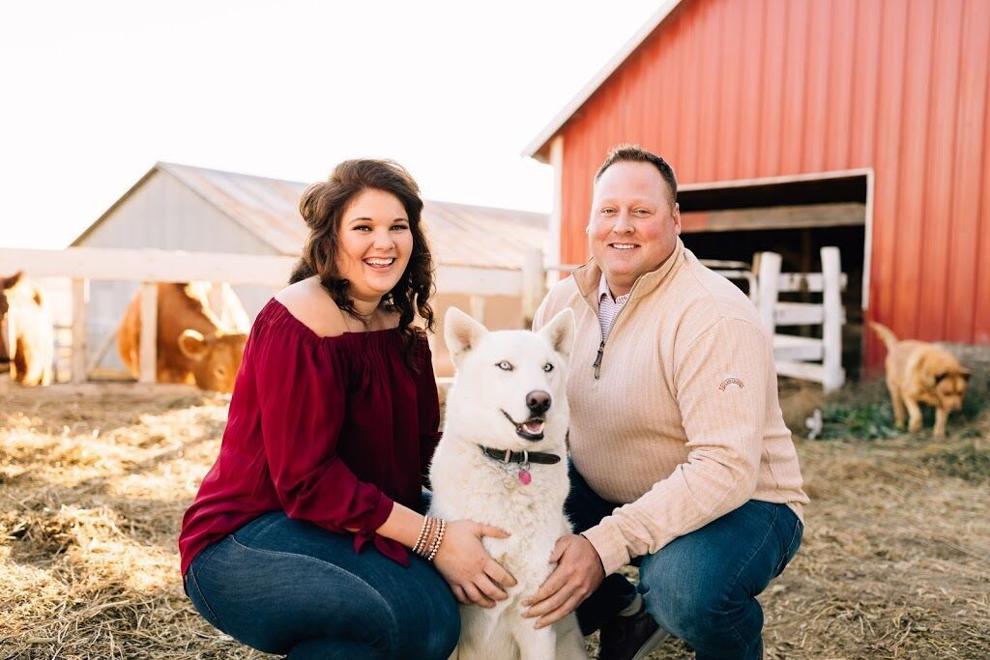 So what is AI? Artificial insemination is the practice of using frozen straws of bull semen. The semen is collected from bulls at facilities across the globe where they process it into individual straws that will be frozen in nitrogen and made available for sale. Then, the purchasing farmer thaws the semen and inserts it into the uterine cavity of the cow.
So let me take a second to walk you through all the reasons that we utilize the practice on our farm.
1) More background information and a wider selection: When we are searching for bulls to use for artificial insemination, we get a catalog full of options. Each bull has a picture or two, typically a picture of his mother or an offspring, and information with detailed charts regarding various traits. Some of these traits will include milk production, milk components, such as percentage of protein or butterfat in milk, and body confirmation. This allows for us to select better traits and genetics for our future generations of cows. Even better, by using this technology, we can draw from a global collection of bulls to pick from instead of just having to find a bull within our local facility.

2) More time to recover in between pregnancies: All animals have a natural desire and ability to reproduce. After a cow has her first calf, she will come back into her first "heat" (menstrual cycle) typically within 20 to 30 days after having her calf. We will wait to artificially inseminate her 60 to 90 days after she gives birth to ensure her body has had time to recover from calving and she has returned to good health. If cows were running with bulls, they would most likely be bred in that first or second heat. The AI allows us to ensure the cows are in good shape to attempt to rebreed.

3) SAFETY: We have had a couple bulls throughout our time on the dairy. They are 2,000-pound creatures full of testosterone and very territorial. For the sake of the farmers, employees and even cows, it can definitely be a scary idea to have bulls on a farm.
Konecky Dairy Farm Photo Gallery
Questions?
When you have questions about how your food is grown and raised, reach out to CommonGround Nebraska on the web or on social media. We want to be a resource for you to make your food decisions based on facts, not on fear.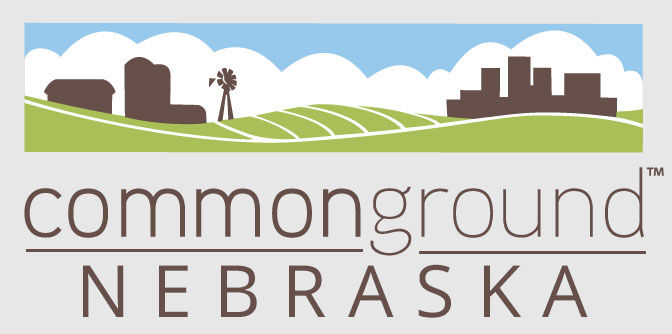 So while artificial insemination can sound a bit unusual, it's a technology that has allowed us incredible advancements and improvements within our herds and also helps to provide safe environments for everyone.
It's a technology available to us as farmers but is also used in so many other industries like plants, pets and even humans. AI is just one way we're able to keep our cattle and our workers safe and healthy.
In our family we love pizza anytime of the day. This recipe for Southwestern Breakfast Pizza tastes great and uses lots of delicious cheese!
Konecky family recipe
Pizza for breakfast? You got that right! This Konecky family recipe brings all the best flavors of the Southwest together on this delicious breakfast pizza.
Southwestern Breakfast Pizza
Ingredients:
1 refrigerated pizza crust (or homemade dough recipe)
1 Tbsp butter, melted
8 eggs
¼ cup milk
1 (8 oz.) package pork sausage links
6 slices of bacon
1 small can (4 oz.) green chiles
½ cup salsa/picante sauce
3 oz. cream cheese, softened
1 cup pepper jack cheese, shredded
½ cup Mexican cheese blend (or cheddar), shredded
Optional: Cilantro and/or sliced green onions for garnish
Instructions:
Preheat oven to 400 degrees Fahrenheit.
In a small bowl, combine salsa, cream cheese, and pepper jack cheese. Stir until ingredients are mixed well. Set aside.
Unroll dough onto a greased baking pan. Spread out to fit pan and poke fork throughout the dough. Brush with melted butter and bake for 7-8 minutes.
While dough bakes, cook bacon in a pan and sausage according to package directions. Once cooked, chop up bacon and slice sausage links. Set aside.
In a small bowl, combine eggs and milk. Whisk together. Pour contents into a greased pan to cook scrambled eggs. As the eggs begin to cook through (about mid-way through cooking), pour in the green chiles and stir. Once eggs are done, remove from heat and set aside.
Remove pizza crust from oven, spread a thin layer of the salsa and cheese mixture (this is your "pizza sauce") evenly over the warm crust.
Spoon scrambled egg mixture evenly over the crust. Add the chopped bacon and sliced sausage. Sprinkle with remaining cheese.
Bake 7-10 more minutes, until cheese is melted and crust turns golden brown.
Remove from oven and garnish with cilantro and/or green onion if desired.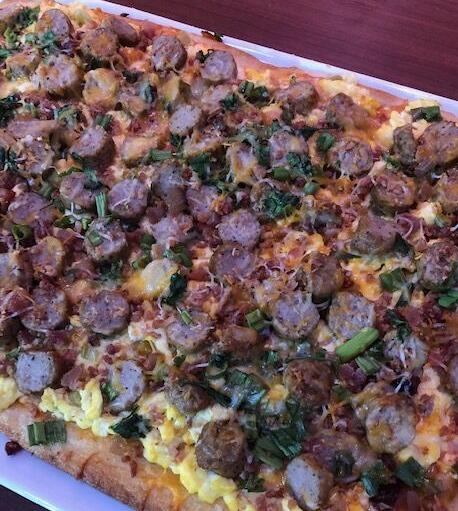 ---
This content was produced by Brand Ave. Studios. The news and editorial departments had no role in its creation or display. Brand Ave. Studios connects advertisers with a targeted audience through compelling content programs, from concept to production and distribution. For more information contact sales@brandavestudios.com.