We love burgers, brats, hot dogs and even watermelon on our barbecue grills. But have you ever considered grilling a cake? Allow me to convince you why you should.
Grilling cakes imparts a unique, smoky flavor that you just won't get from a traditional in-house oven. An evenly heated gas grill, like one from Gas Appliance, brings that oomph, stepping up your cake game to a whole new level. I'll show you how to grill the ultimate caramelized maple pear upside-down cake.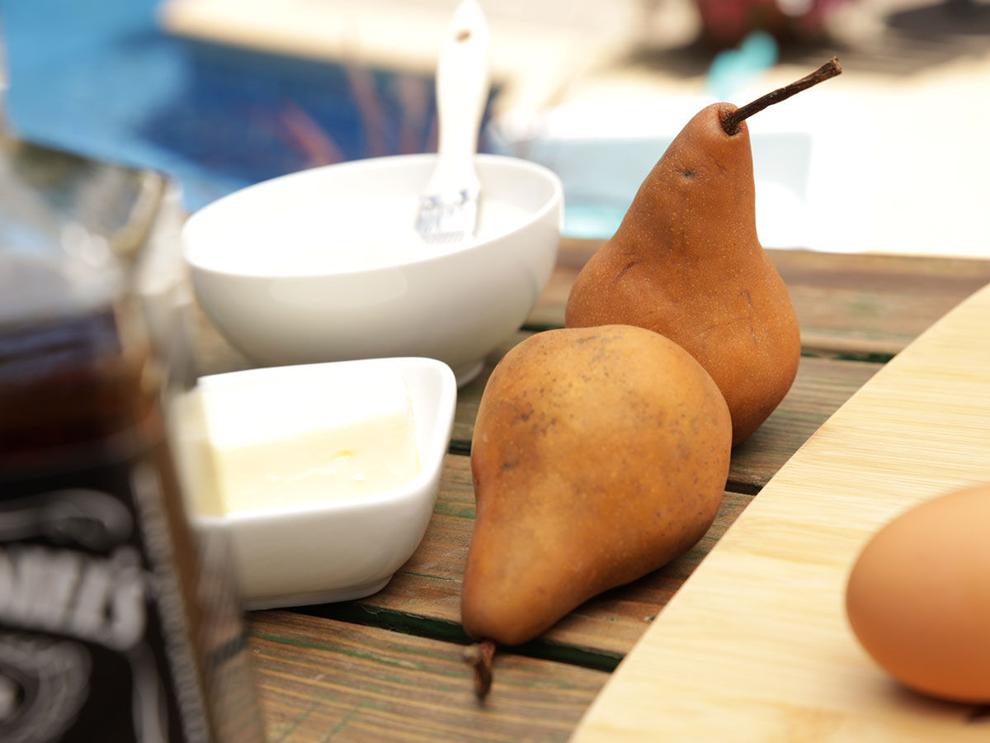 As with all cakes, we're first mixing our wet ingredients, then dry – then mixing them all together once they're ready to be combined. Set aside and let's get the "upside down" goodness ready to go. Pears are our fruit of choice here, and Jack Daniel's Honey Whiskey is the secret ingredient for perfect caramelization.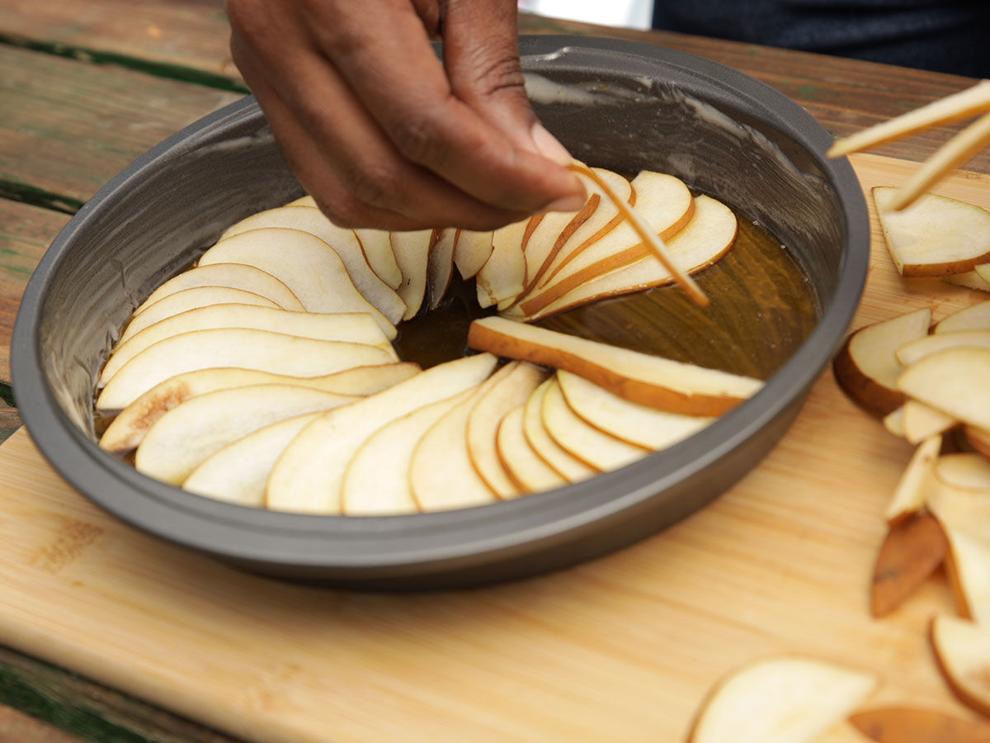 But before you add your whiskey or spiral your pears in the pan, remember to grease the pan. But instead of using a standard greasing technique in your cake pan, I'll let you in on a concoction that has a special place in my heart: cake goop. Sound gross? While the name may be a little off-putting, the result of greasing your cake pan with this goop is a perfectly baked dessert. The mixture is equal parts shortening, flour and vegetable oil. Just trust me on this one.
It's grill time, baby. Place your cake pan right onto the grill and let the heat work its magic. While we're waiting, everybody knows no cake is complete without whipped cream. The secret to this particular whipped cream are gelatin and – you guessed it – more whiskey! The Jack Daniel's Honey flavor is ideal for indulgent dessert toppings. With whiskey both inside and on top of the cake, the flavor profile can't be beat. 
If you're looking for a spirit to pair with your pear cake (and sip on while you wait), whip up a classic Lynchburg Lemonade with Jack Daniel's Tennessee Whiskey.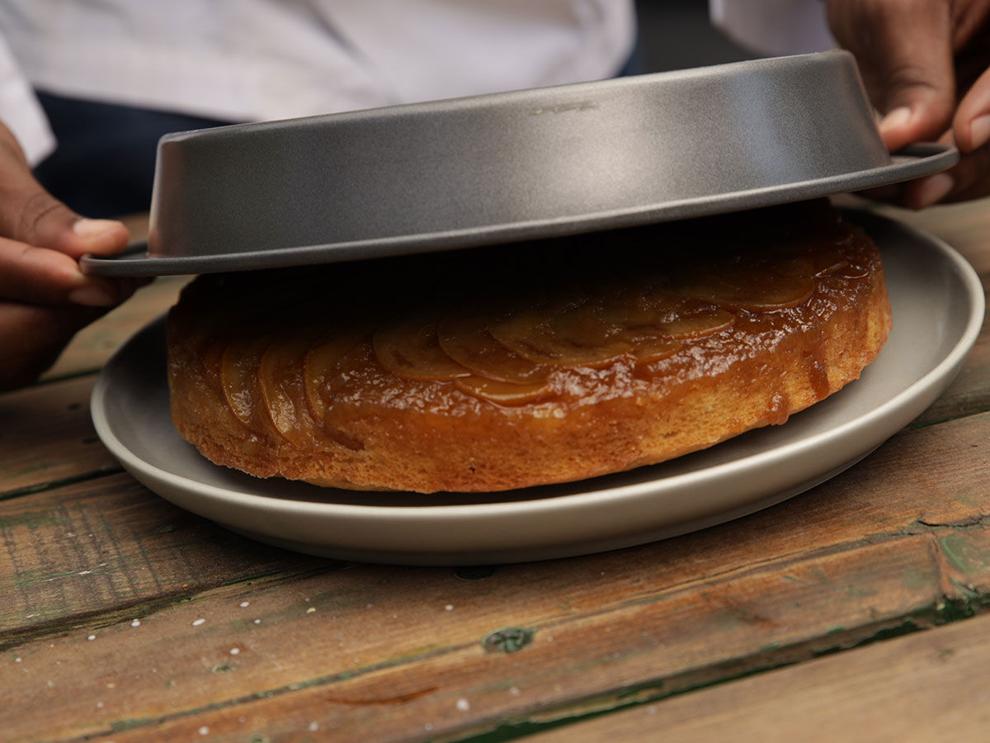 Once your upside-down cake is grilled and has been sitting for 15 minutes – it's time for the grand reveal. Flip it over and delight your eyes in the combination of whiskey and pears, caramelized in all their glory. Then add a couple dollops of your Honey Whiskey-Infused whipped cream. The result is a cake that's balanced, not too sweet and downright delicious.
Let's just say you can have your cake, and grill it, too! Cheers!
Caramelized Maple Pear upside down cake with Jack Daniels infused whipped cream
Recipe by Christopher Sinclair-McCalla
Yields: 8 to 10 servings
½ cup vegetable oil
½ cup shortening
½ cup dark maple syrup
¼ cup and 2 Tbsp Jack Daniels, divided
2 large Bosc pears, peeled, cored and thinly sliced
2 cups all-purpose flour, divided
¾ tsp baking powder
¼ tsp baking soda
½ tsp salt
½ cup unsalted butter, at room temp
½ cup and ⅓ cup white granulated sugar, divided
2 large eggs
3 tsp vanilla, divided
½ tsp ground ginger
½ tsp ground cinnamon
½ cup buttermilk
1½ cups cold heavy cream
3 Tbsp water
2 tsp unflavored gelatin
|Preparation| Preheat oven to 325°F. Lightly grease a 9-inch cake pan.
In large bowl, with whisk, stir together vegetable oil, shortening and half a cup all-purpose flour. Using a pastry brush, apply small amounts of the mixture to the 9-inch cake pan until pan is fully coated.
In small bowl, combine maple syrup and a fourth a cup Jack Daniels. Pour into the coated 9-inch cake pan. Add in pears by arranging thin slices into 2 concentric circles, slightly overlapping the slices. Set aside.
In a large bowl, with whisk, stir together the remaining flour, baking soda and salt. Set aside.
In a large bowl, with a hand mixer, beat at medium speed butter and ½ cup sugar for about 2 minutes or until fluffy. Beat in eggs one egg at a time and add in 2 teaspoons vanilla. Alternately add in ground ginger and ground cinnamon with buttermilk. Mix until batter is smooth.
Pour batter into the 9-inch cake pan, over the pear slices. Lightly spread into even layer. Bake cake 35-40 minutes or until a toothpick inserted into the center comes out clean. Let the cake cool in the pan, on a cooling rack, for 45 minutes.
While cake is cooling, make the whipped cream. In a small saucepot, warm water and gelatin. Stir gently until gelatin dissolves. Set aside.
In a large, cold mixing bowl, with hand mixer, beat heavy cream with remaining sugar and vanilla until soft peaks form. Continue to beat the cream will adding in the remaining Jack Daniels. Then add in the cooled gelatin mixture and continue beating until stiff peaks form.