The holidays are a very special time, and if you are searching for a main dish to wow your family and friends, you can't go wrong with prime rib. I promise that this hearty and flavorful dish will be the talk of your holiday meal. Let's do it!
A bed of veggies
First, cut up the veggies to create a bed for the prime rib to cook on. We don't want to slice the vegetables too small because they are going to cook for 2½ to 3 hours, and we'll want to use all of their juices for our au jus later!
Seasoning for the season
Our prime rib is an 8-10 lb roast from Meats by Linz. I love to use Meats by Linz because they age their meat for 28 days or more just like a steakhouse. They've got the best quality, best flavor and marbling, and they make great gifts this holiday season.
Salt and pepper the prime rib and spread an even layer of Dijon mustard over the meat. I spread mustard on prime rib because it gives it a nice bittersweet flavor and it also helps the herbs and pecans to stick to the roast.
Next, chop rosemary and garlic for the crust. Sprinkle chopped pecans over the prime rib, then the rosemary and garlic, pressing firmly to make sure they stick.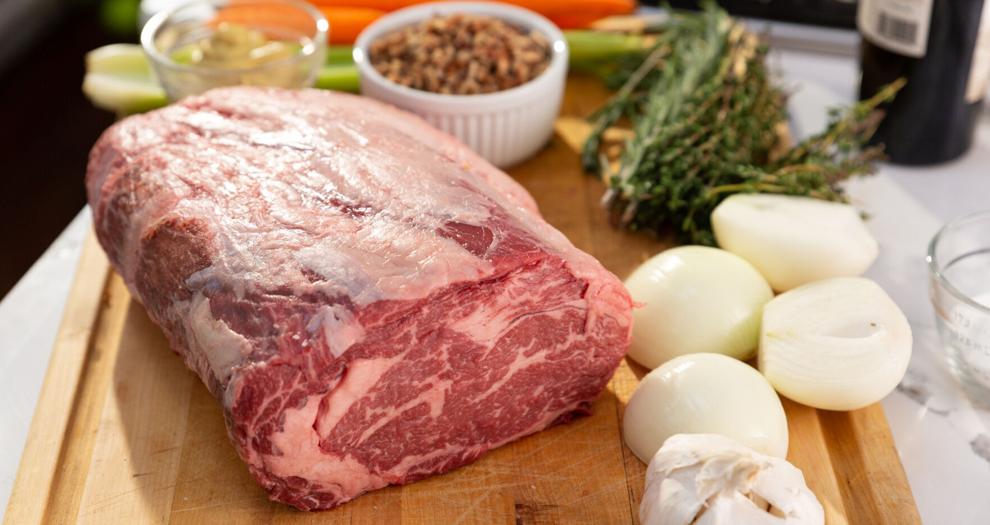 Time for baking
Pop the prime rib into the oven heated to 325˚F for around 2½ hours.
When you take the prime rib out of the oven it is going to look amazing, but sit tight. You want to let it rest for about 30 minutes to allow all the juices to redistribute.
Au jus
Au jus, a type of juice or sauce, is perfect to serve alongside this prime rib. To make au jus, add all the drippings and the bed of vegetables from the prime rib pan into a skillet. Don't waste any of the drippings – that's flavor right there! Sauté the drippings and add some beef stock. I pour the beef stock onto the prime rib pan and then pour it into the skillet to make sure I get every ounce of drippings flavor I can. Then add some red wine, Worcestershire sauce and the last bit of beef stock and let it all simmer.
Then, we make what's called beurre manié. Beurre manié is flour kneaded into butter. Bring the sauce to a boil and slowly whisk in small amounts of the beurre manié to add thickness and flavor. Strain the vegetables out and it's go time!
Slice the prime rib and serve it with your favorite sides. Trust me, your family and friends are going to love indulging in this tender and flavorful main course. It's one of those dishes where everyone will leave the table completely full and satisfied.
Pecan and Herb Crusted Prime Rib
Recipe by Darian Bryan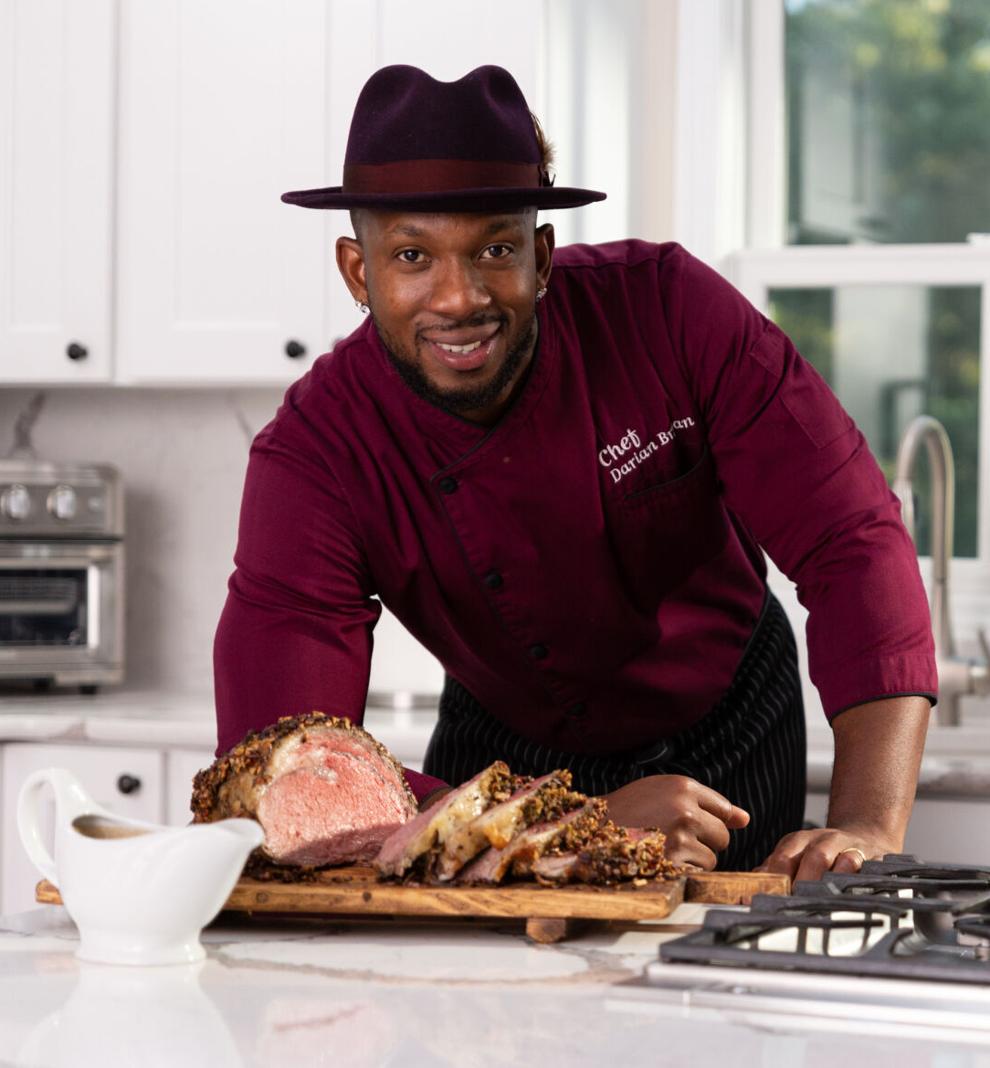 Yields: 8-10 servings
1 boneless Linz prime rib roast 8-10 pounds
10 garlic cloves
¼ cup Dijon mustard
6 Tbsp each fresh rosemary & thyme
2 cups fresh pecan pieces
1 cup panko breadcrumbs
1 tsp kosher salt
Fresh black pepper
2 large carrots
2 large celery ribs
3 onions
Sauce au jus:
1 Tbsp Worcestershire sauce
½ cup red wine
2 cups beef stock
1 ½ Tbsp salted butter
2 Tbsp flour
|Preparation| Season the Linz prime rib with a generous amount of salt and pepper and allow to sit at room temperature for 1 hour. It's important not to put a cold prime rib into a hot oven, otherwise it will cook unevenly. Pre-heat oven to 325°F.
Prepare the pecan topping by adding the pecans to a food processor (or chop by hand) along with the rosemary, thyme, panko breadcrumbs, garlic, salt, a few cracks of pepper; process until combined. Set aside.
Rub Dijon mustard over the top of the prime rib and apply the pecan topping, making sure to press in firmly so the rub sticks. Transfer the prime rib roast to the roasting pan with veggies. Cook for 2 ½ hours until the internal temperature reaches 120°F for medium-rare. Allow the roast to rest for 30 minutes so the juices can re-distribute.
To make the au jus, remove prime rib roast from roasting pan, and put all the vegetables and drippings in a saucepan and add beef stock, red wine, Worcestershire sauce. Mix together the flour and butter and add in slowly to avoid clumping. Bring to a boil and taste for seasoning. Slice the roast and serve with strained au jus.