Your family's Taco Tuesday feast will never be the same once you give this saucy shrimp recipe a spin. The subtle sweetness of shrimp is heightened with an easy-to-make marinade that stirs together hot sauce and honey for a bit of sweet heat. I add in garlic and lime, along with a bunch of cilantro for a south-of-the-border kick.
You'll want to soak the skewers in water for at least 30 minutes to ensure they don't go up in flames while they're on the grill. And when you thread the shrimp, be sure to pack them pretty tightly so they cook evenly. Shrimp cook relatively fast, so keep your eye on them. Over a medium-high flame, the shrimp will only need three or four minutes per side to be perfectly charred. The honey caramelizes just a bit, lending even more punch to this flavor-packed dish.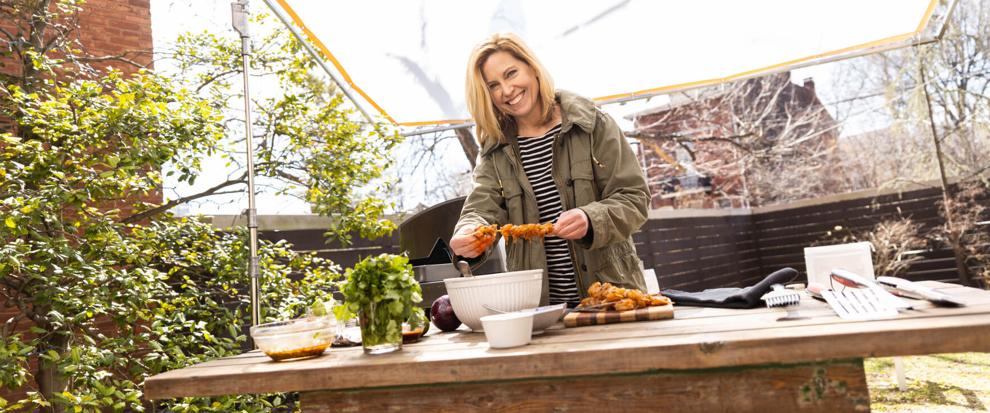 I chose to take the taco route with the shrimp, piling them on warmed tortillas with onion, cilantro and a drizzle of mayo-based sauce. You could just as easily toss the shrimp on a salad, pile them on a bun or serve them as an appetizer alongside veggies and dips. They're even great chopped up and tossed with onion, celery and mayonnaise for a shrimp salad that's perfect on crackers at your next summer picnic.
Grilled Honey-Lime Marinated Shrimp Tacos
Recipe by Catherine Neville
Yields: 6 servings
wooden skewers
1 lime
2 garlic cloves, minced
½ cup neutral oil, like grapeseed
¼ cup chopped fresh cilantro leaves and stems
1 Tbsp honey
1 tsp salt
½ tsp freshly ground black pepper
5 Tbsp hot sauce of your choice, divided
2 lbs peeled and deveined large shrimp
½ cup mayonnaise
taco-sized corn or flour tortillas
chopped cilantro, diced onion and lime wedges, to serve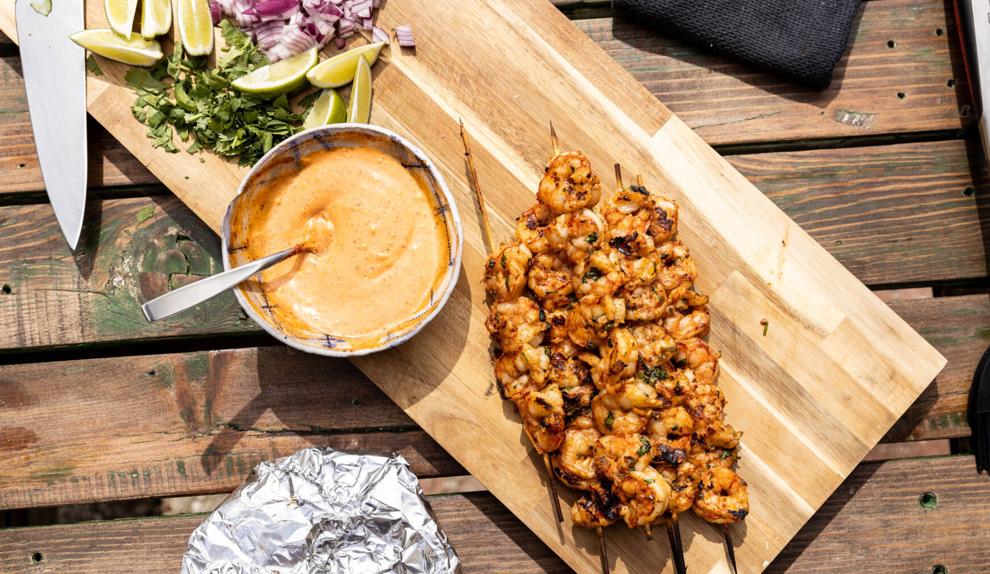 | Preparation | Submerge wooden skewers in water and set aside at least 30 minutes or until ready to grill. Meanwhile, into large bowl, squeeze juice of lime. Add garlic, oil, cilantro, honey, salt, pepper and 3 tablespoons hot sauce; stir with whisk until well combined. Toss shrimp in marinade; cover and refrigerate about 30 minutes. Drain shrimp, disposing of marinade. Thread shrimp tightly onto skewers. In small bowl, stir mayonnaise with remaining 2 tablespoons hot sauce until well blended; set aside.
Prepare outdoor grill for direct grilling over medium heat. Grill shrimp skewers just until shrimp are opaque throughout, about 3 minutes per side. Warm tortillas on grill. Remove shrimp from skewers and place in warmed tortillas with cilantro, diced onion, spiced mayonnaise and lime wedges to squeeze over tacos.