As Marika Josephson waxes lyrical about small farms, caring for the community, protecting regional agriculture and finding abundance in unlikely places, she sounds more like a philosopher than a beer brewer. In fact, she is both. Josephson, who is a partner in Scratch Brewing Company in Ava, Illinois, also has a Ph.D. in philosophy. It was, in fact, graduate school that brought Josephson and her husband to southern Illinois from New York.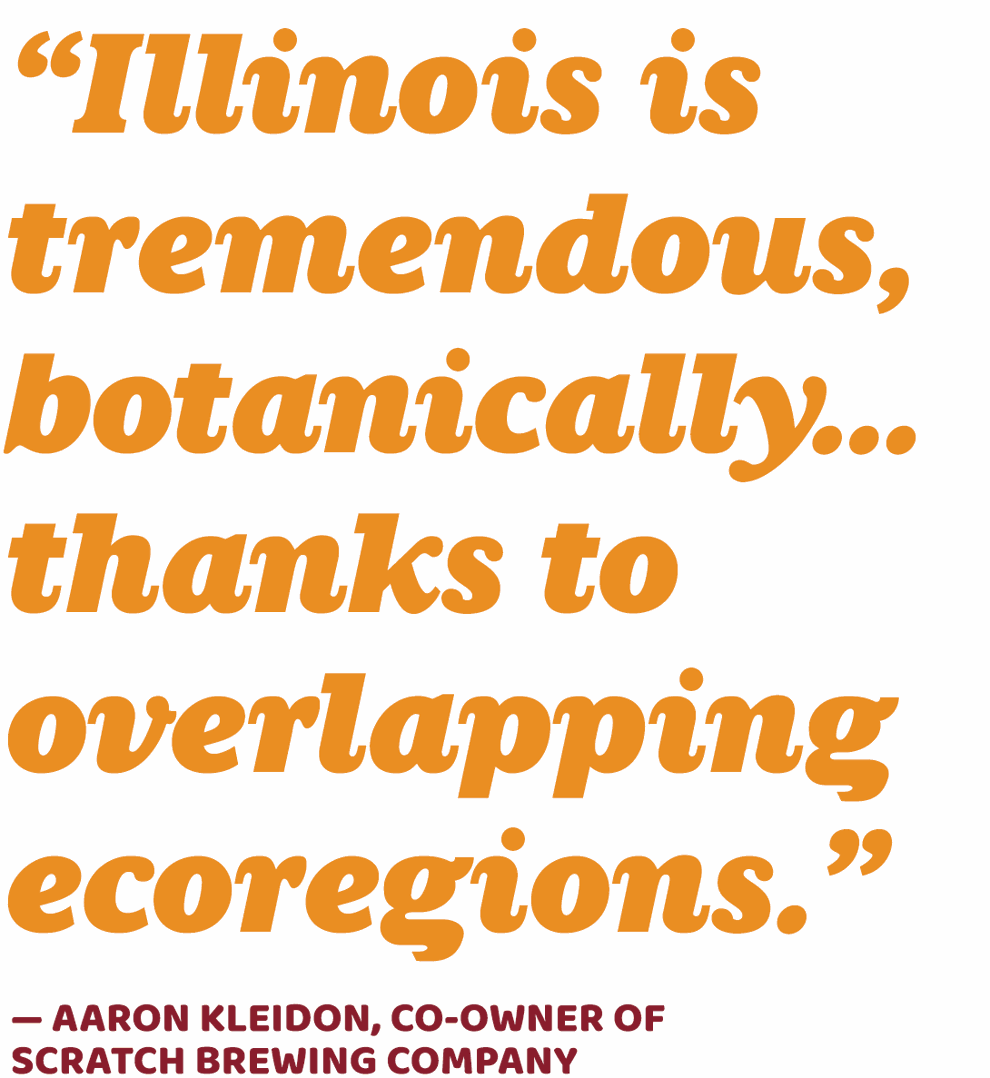 Josephson's business partner, Aaron Kleidon, on the other hand, was born and raised here. During high school, Kleidon earned money finding and selling wild ginseng and goldenseal plants, which gave him an early appreciation for what could be harvested from the area's forests. Kleidon did slip away for a while, moving to Chicago. He studied photography and, in Chicago, had the opportunity to explore historical photo printing, including nonsilver and older techniques. "I got paid to experiment," he says. After Chicago, Kleidon moved to Colorado for a while, but he couldn't resist the pull of southern Illinois.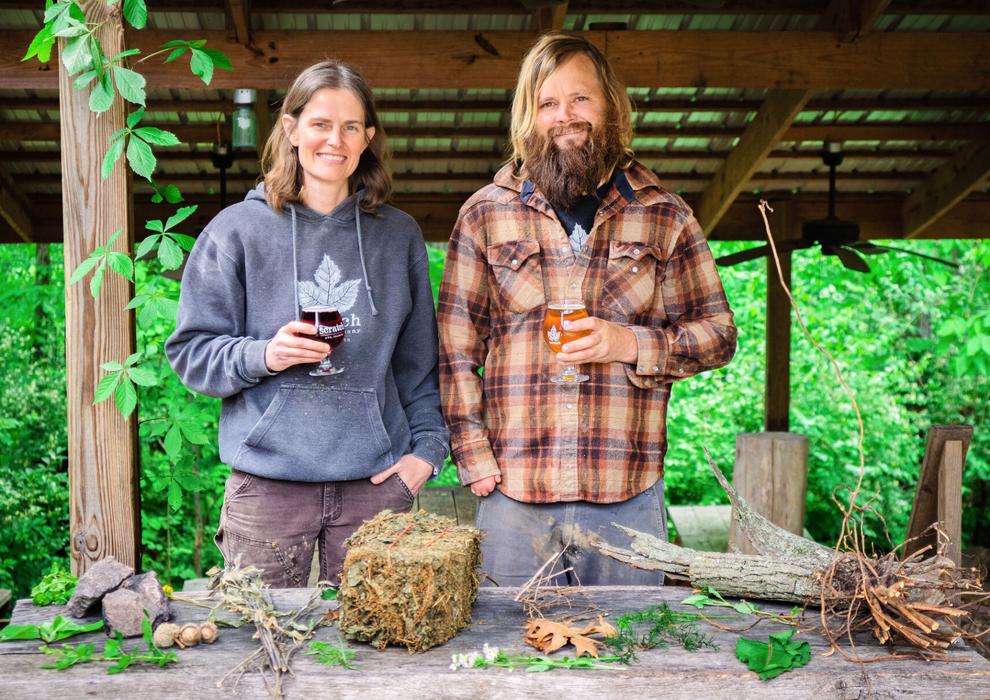 ---
Something's brewing
It was beer that brought Josephson and Kleidon together. "There is an active, small craft beer community in this area," Josephson says. "Local home brewers would meet to discuss techniques and sample each other's work."
Josephson's interest in brewing was familial. Her dad was a beer-brewing hobbyist, so she arrived in the area already interested in homemade beer. Kleidon's interest in beer dates to his time in Colorado. "A friend got me started making beer," he says. "I had made wine and mead before, but not beer."
It was, in fact, brewing that drew Kleidon back to Illinois. "I moved back because I wanted to create a beer with a sense of place," he says. "Illinois is tremendous, botanically. It offers far greater diversity than the mountains, thanks to overlapping ecoregions. Some people think that foraging would limit what you can make, but that's not true here."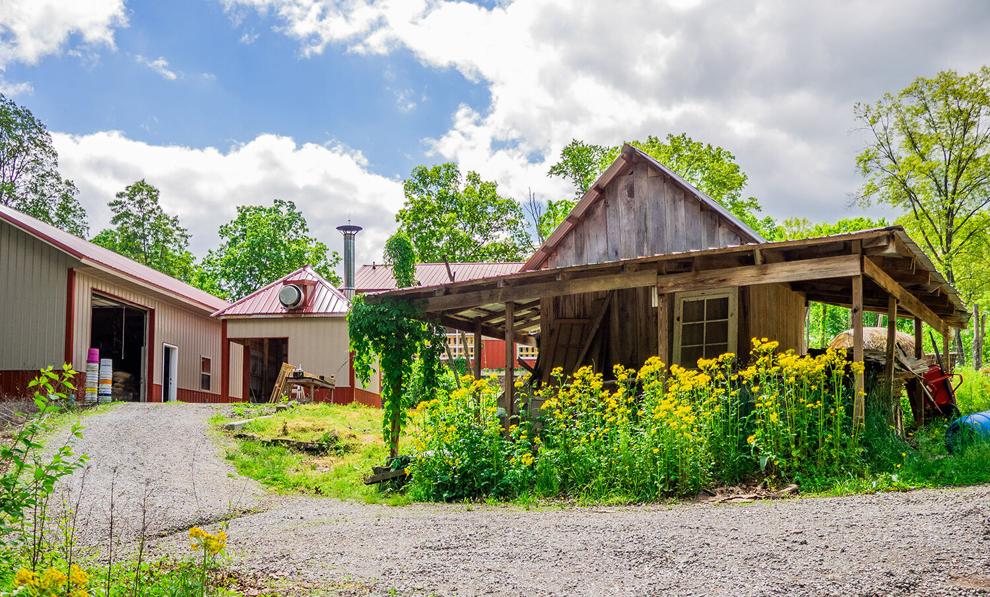 ---
From scratch
The term "terroir" is most commonly applied to wine. It refers to all of the factors that contribute to the flavor characteristics associated with a specific place, such as soil, climate and sunshine. It was the desire to explore the region's terroir that drew Josephson and Kleidon together, along with Ryan Tockstein, who was one of the original partners in Scratch. (Tockstein was bought out when he decided to move west.) The threesome began brewing together in 2010 and launched Scratch in 2013.
This trio of brewers had their own vision. They would produce a farmhouse beer made with plants found in the region. They intended to grow or forage the ingredients that would make their beer unique. The thing that helped make this dream a reality was a forest-covered, 75-acre farm that Kleidon's father bought 26 years ago. Scratch began their operation on a five-acre corner of this farm, where they started building, growing, foraging and brewing.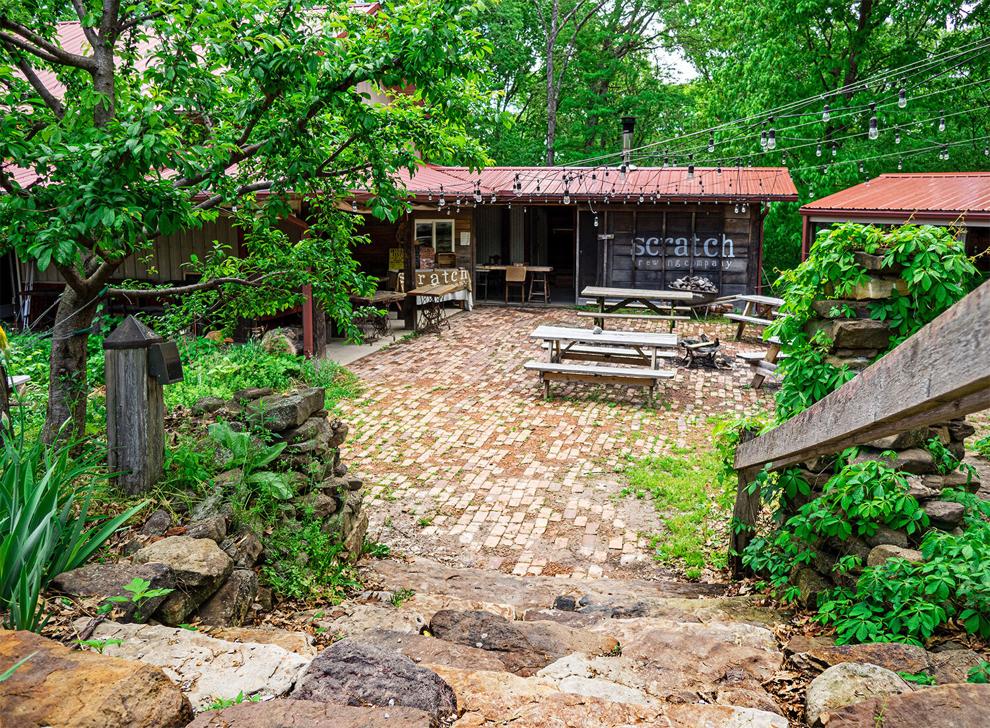 The brewery site has been carefully built up over the years, decorated primarily with what might well be described as foraged materials: bricks and lumber from demolished buildings, rocks taken from a stream on the farm, an old cabin moved to the site.
It might sound haphazard, but the charming, rustic, largely handmade public spaces suit the quiet, forested location, as well as the concept of the brewery.
Fortunately for the beginning brewers, the Kleidon family let them stay rent-free during the two years it took to get the building permits and federal license to brew, giving them time to save in order to invest in the space.
---
The southern Illinois property is lush and verdant — no wonder it's been called one of the most beautiful places in the world to drink beer.
Garden, goats and growth
The brewery's hillside location allows for multiple levels of seating. It also provided the opportunity to dig in and create a cellar for aging beer. Stone steps lead from the parking area to the main patio, kitchen and retail area, where beer, food, t-shirts, books and crafts from local artisans are available. Here, a wood-fired oven turns out loaves of sourdough bread and pizza that are made with the same yeast as the beer.
Among a handful of vintage picnic tables are smaller tables that rest on the bases of old treadle sewing machines rescued from area antique shops. A firepit in the middle of the open area and strings of lights overhead inspire friendly gatherings, and these gatherings, along with a steady stream of carry-out customers, begin shortly after Scratch opens at noon.
"We brewed our first beer right out here on the patio," Josephson recalls. "We borrowed an old apple butter kettle originally and heated it with a wood fire. It was a French-style farmhouse beer known as a bière de garde. Additionally, at the same time, our workhorse indoor brewing system was propane-powered. Using wood gave us a fabulous flavor, so we ordered a 100-gallon copper kettle to brew more with wood fires. Propane is now rarely used, and instead, a 300-gallon wood-fired copper kettle is used outdoors and this is the primary method for brewing our beer now."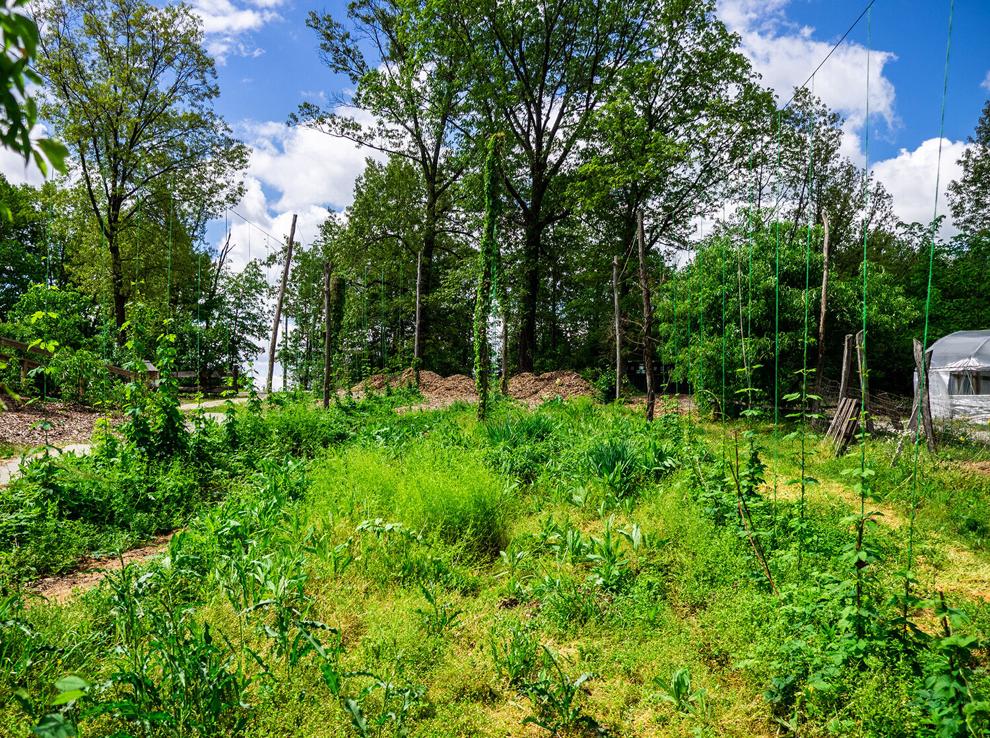 A sprawling garden climbs the hillside next to the patio. Hundreds of hops cling to polls, and flowers, rhubarb, berry bushes and herbs fill the beds. Apple, quince, plum, fig and pear trees rise above the shorter plants. On the far side of the garden, an enclosure is home to a few goats, which Josephson says are perfect for eliminating food waste and disposing of weeds. Beyond the goats, a small greenhouse protects younger or more delicate plants. Kleidon notes that some people comment about the "shaggy" yard, with its fragrant chaos of plants, and think it should be tidier, but he views it as a glorious palette that makes greater creativity possible. Of course, the flavors of Scratch beers are not limited to the gardens, with the surrounding forest providing leaves, roots, wildflowers, mushrooms and tree bark to the possibilities.
Journey into the woods to see what makes farmhouse and foraged beers different.
Kleidon's current passion project is replicating an apple orchard once cultivated by his maternal great-great grandfather around 1900. Kleidon says he is planting several varieties of apples, but the one his is most excited about is an old heirloom variety, the Black Twig. He doesn't anticipate these trees will bear fruit for 10 to 12 years, so it will be a while before he can execute his long-term goal to produce cider. Because cider is made from fermented fruit, it also requires an entirely different set of licenses.
Growth is not the only indication of success. Just one year after launching, Outside magazine named Scratch one of nation's top four forage breweries, and two years later, they took home a bronze medal from the Great American Beer Festival. They made it to the 2020 semifinal round of the James Beard Awards for outstanding wine, spirits or beer producer. Expertise has been honored, as well, with Josephson speaking at the Smithsonian National Museum of American History on beer history, and Kleidon speaking at Slow Food International's Terra Madre festival in Turin, Italy, where he discussed his foraging techniques and their beers brewed with tree sap. Even the location has been honored, being identified as one of the most beautiful places in the world to drink beer by All About Beer magazine.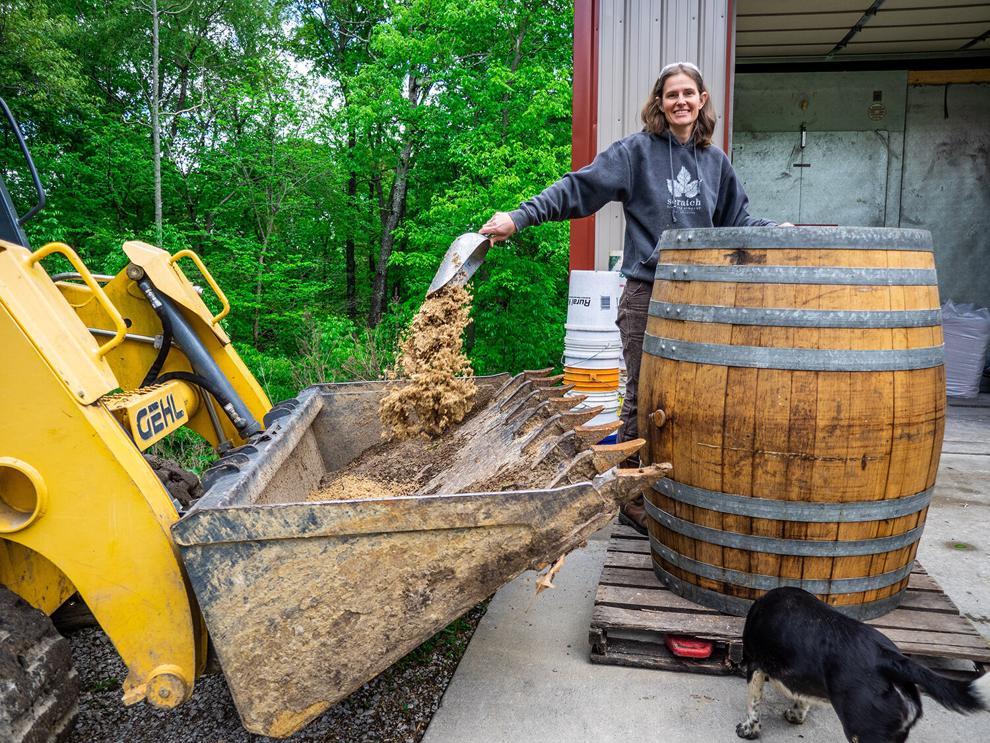 ---
How the magic happens
The work at Scratch is shared, but Kleidon notes that Josephson is more into the brewing, while he is more into foraging, farming and experimenting with flavors. So, it is Josephson who explains the process and their history, starting in a small room with their first brewing tanks and continuing through rooms of copper kettles, stainless steel tanks, grinders, brewing supplies and past a separate structure that covers their big, wood-fired kettle.
Josephson stops near stacked bags of malted barley, noting that they are all from regional craft malter, Sugar Creek Malt Co. This is where beer begins. Opposite the bags are two large wooden puncheons, barrel-like containers that are key elements of turning grain into beer.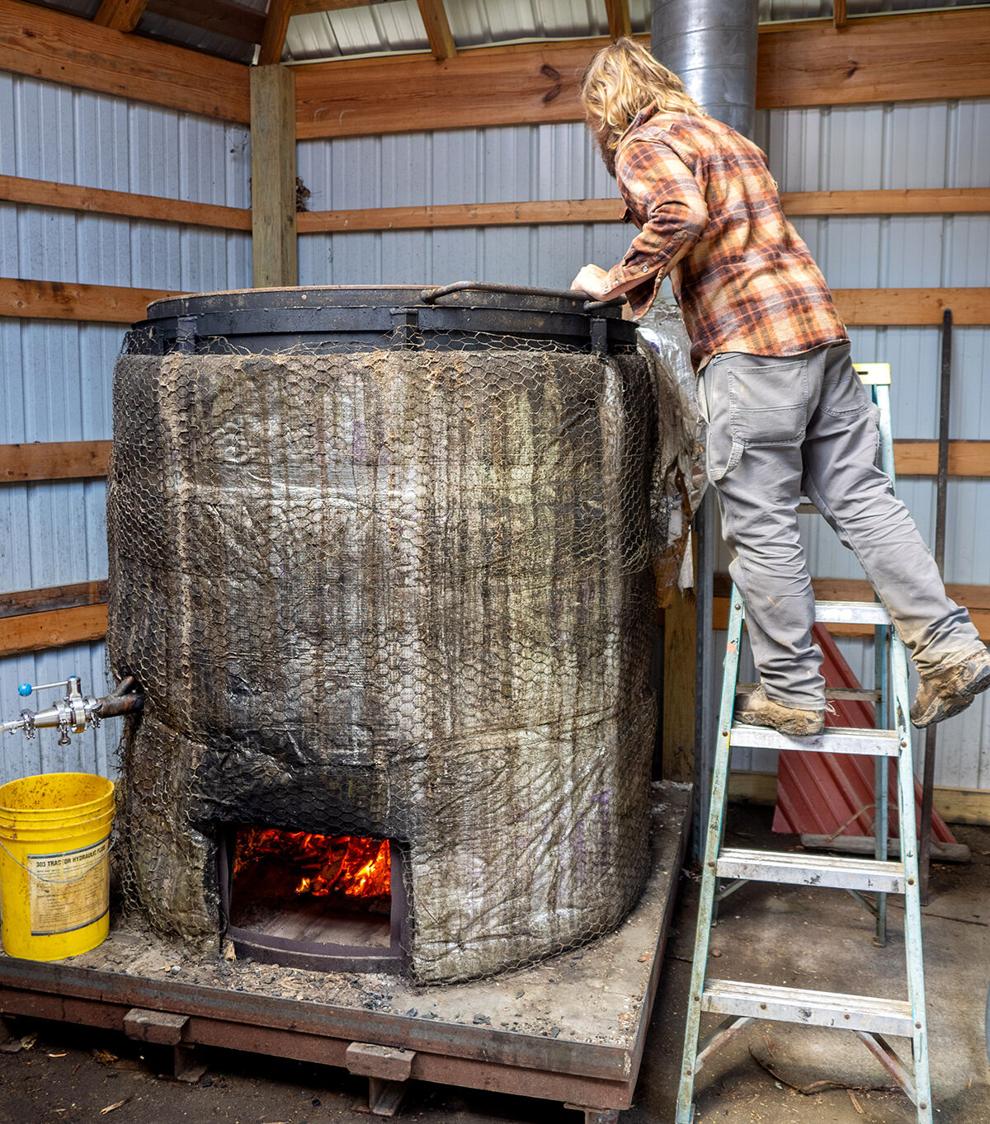 Josephson relates, "We decided we could handle seven barrels of beer at a time, so we needed these 135-gallon puncheons." Most of the steps are the same as for any beer: grind the malted barley, put it into the puncheons, add hot water and heat the mixture to extract the sugars from the barley. This is called mashing. Then, the liquid, known as wort, is filtered to separate it from the mash. Hops may be added at this point, and then yeast is added to the wort to start the fermentation process, which takes several days. This produces what is known as green beer, which requires anywhere from weeks to months of aging. Depending on the desired outcome, beer can be aged in stainless steel vats or in wooden barrels. Here, both are used.
But the process is more complex at Scratch. Josephson relates, "A lot of the techniques we use are historical." One example is using a woven willow and juniper filter to strain the mash for sahti, a Finnish beer that is one of the oldest beer styles still brewed. Various roots, flowers, spices or other ingredients might be added, usually, but not always, at the same stage as when the hops are normally added, as some elements are more fragile than others. Oak barrels offer one more way to flavor the final product, and a wonderfully cool, fragrant, hillside cellar contributes the final "ingredient."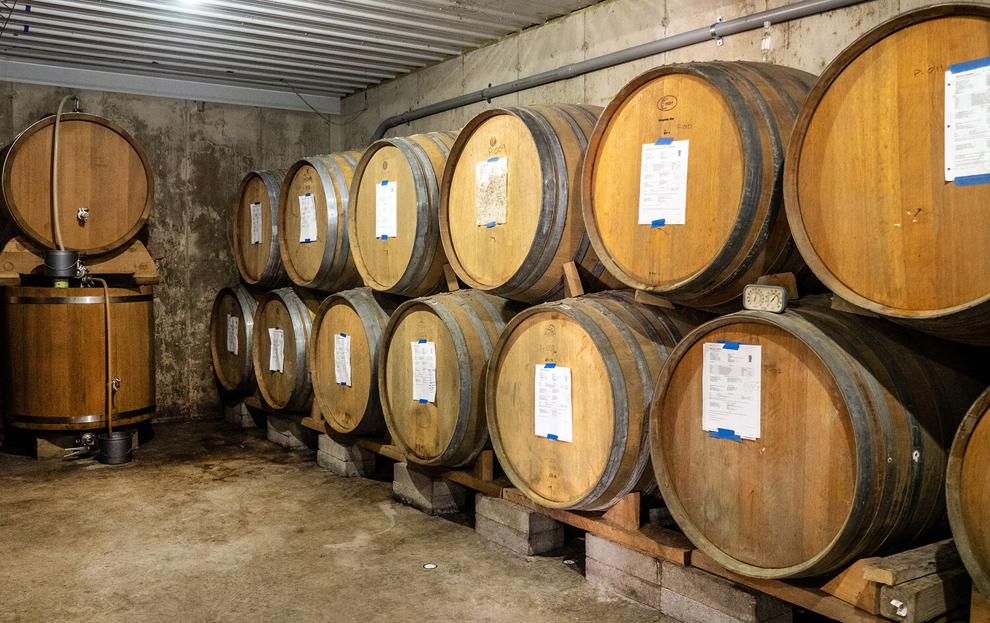 ---
Moving product
One might think that Scratch would only be available in the immediate area around Ava, but they do go farther afield than that. Josephson relates, "We self-distribute in Illinois, which just means that Aaron, I and one or two other employees drive our cars and drop it off at retailers. In general, I'm in charge of selling and arranging those shipments. Outside Illinois, we have a variety of relationships with different distributors. Shipments to some states are semiregular, meaning we send beer once or twice a year.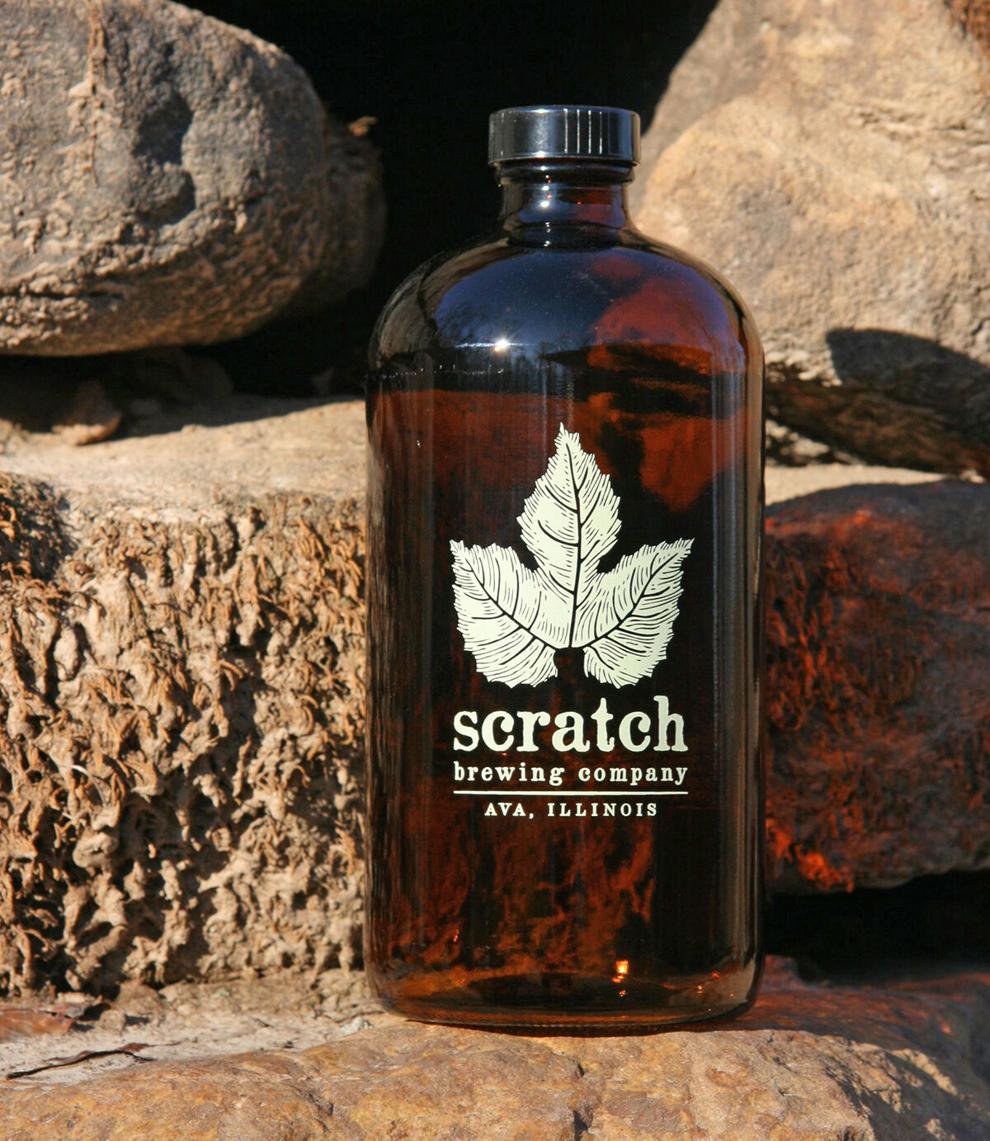 "Other relationships are more sporadic. For example, we'll send beer if we're going to a beer festival, where a distributor might discover it and send it to bars and retailers they serve. Often, we'll go and do events at those bars or retail shops while we're in town. Outside of Illinois, I would say North Carolina and Colorado are the states we distribute to most frequently," says Josephson.
The Scratch website lists places in Illinois that carry their beer, as well as distributors in other states. Of course, if you find yourself in southern Illinois, a visit is worthwhile to try a greater variety of beers and soak in the picturesque atmosphere. Because electronic connections needed for credit cards are not always reliable in the forest, Scratch is a cash-only establishment.
Kleidon says, "One thing Marika and I agree on is that we don't want to emulate anyone. We want to do what we want to do. If you don't have your own ideas, you don't have much."