During the COVID pandemic, the amount of Americans seeking solace by baking sourdough bread resulted in flour shortages and record-breaking baking-ingredient sales in 2020.
Whether your bread-making skills qualify as entry-level or expert, these bread recipes have a little something for everyone.
According to Nielsen data reported by Bloomberg Reports, sales of baking yeast were up 457%, flour increased by 155%, baking powder by 178%, butter by 73%, and eggs sales also went up 48%.
Whether you have already taken the plunge, are ready to try sourdough-bread baking for the first time, or want to learn more, here's what you need to know about sourdough and starters.
---
What is sourdough, and how is it different from other bread?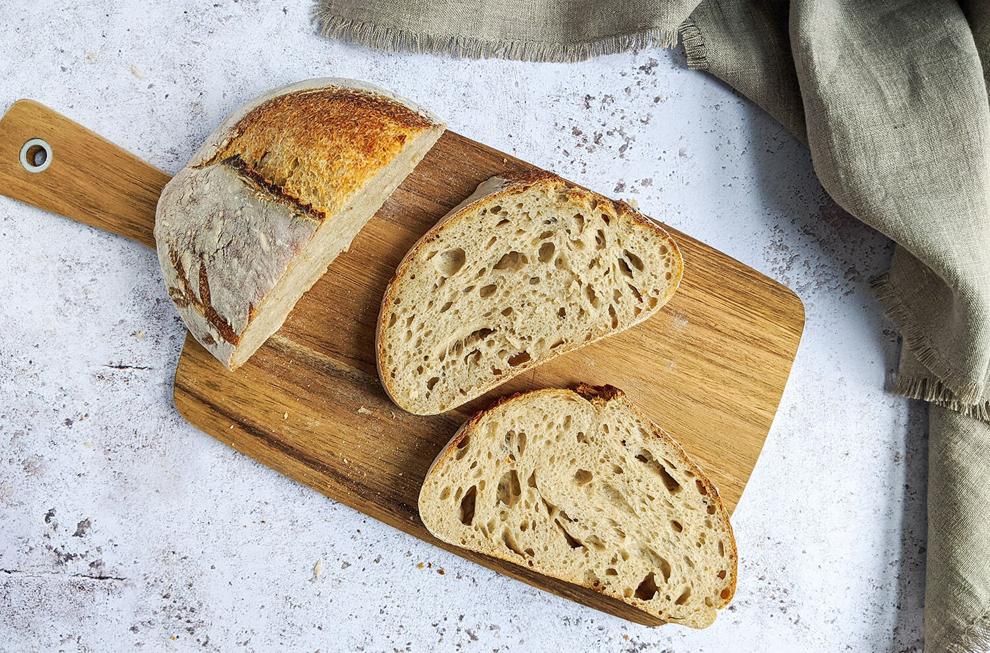 Sourdough is a slow-rise bread naturally leavened by a live-fermented culture or "starter." This is what makes the dough rise rather than dry yeast. The benefit of a starter is that it slows down the proofing time and allows the bread to develop deep flavors. This versatile bread is a favorite with bakers because it produces delicious flavors and textures from a wide range of flours, including white, oat, rye, millet and whole-grain.
If you're a beginner, consider using white bread flour for your first foray into sourdough bread. It's easy to work with, easy to find, and not as expensive as specialty flours.
However, there is one caveat: If you've found a sourdough recipe you'd like to try, you should be aware that the bread might only take a few hours to proof and bake. Still, depending on how warm or cold you keep your home, the starter takes a minimum of five days and up to two weeks to ferment before it's ready to use in your recipe. Plan accordingly.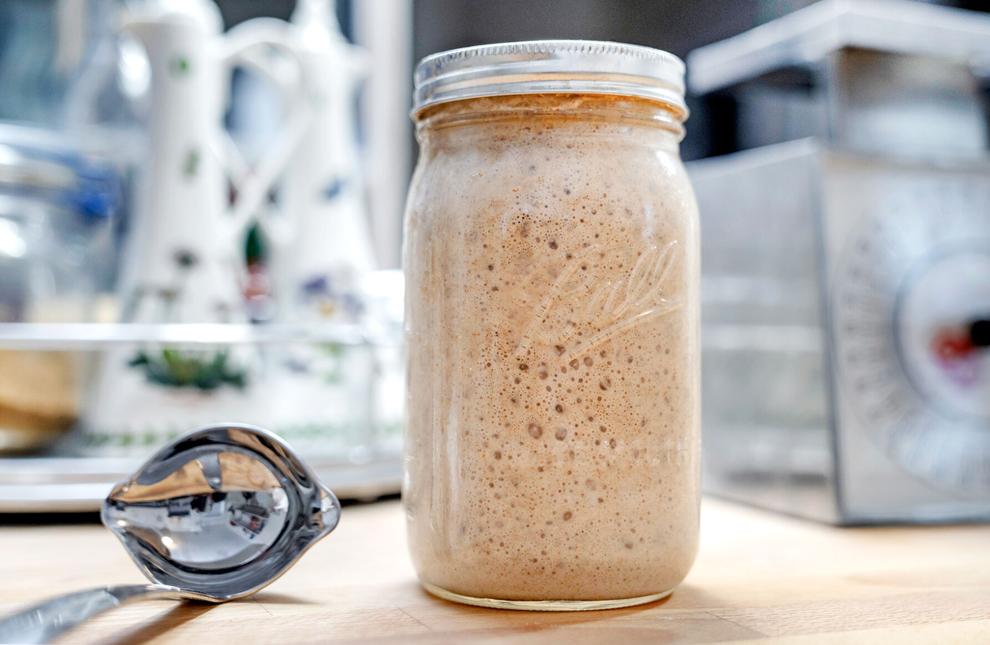 ---
A short ingredient list
Believe it or not, sourdough bread includes only four ingredients: flour (your choice), water, salt (sea salt or kosher salt) and the starter, unless you want to add flavorings or textures with ingredients such as honey, molasses, herbs, seeds and nuts.
So, what actually is a starter, and how is it made? A starter is a culture made from flour and water that relies on ambient yeasts in the air and natural yeasts and bacteria in the flour to start the fermentation process and leaven the bread.
The beauty of using a starter is that it, combined with a lengthier proofing time, produces the sour, tangy, earthy flavor and slightly chewy texture people love in sourdough bread.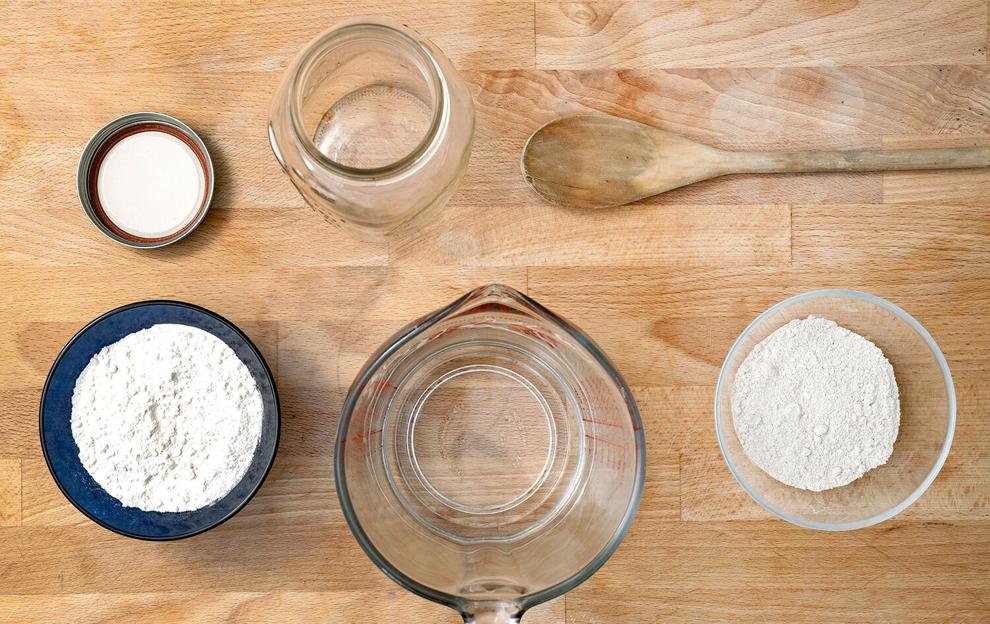 ---
How to prepare and "feed" your starter
As previously mentioned, the starter can take from five days to two weeks to fully develop, and it must be "fed" fresh flour and water almost daily to maintain proper fermentation. Here are the instructions:
---
DAY ONE
Starter ingredients: 1 cup whole wheat or rye flour (they ferment better than all-purpose flour) and ½ cup warm water that is 90 to 100°F. Yeast will become inactive if the temperature exceeds 100°F. Place the water and flour into a food-safe container. A 32-ounce, wide-mouth Mason jar works well. With a small whisk or fork, stir well until the texture is smooth and thick like a heavy batter. Secure the lid and allow the mixture to rest in a warm place that's around 75°F for 24 hours.
---
Day Two
Look for signs of fermentation bubbles, but don't worry if there aren't any; just let the starter rest for another day.
---
Day Three to Day Six
"Feed" ingredients: 1 cup unbleached all-purpose flour, ½ cup warm water (90 to 100°F). Whether you see bubbles or not, first, discard half of the starter. This prevents too much fermentation; otherwise, each day's feeding would grow and exceed the container's capacity. Add the flour and water. Stir with whisk or fork until the consistency resembles a thick pancake batter; cover and allow the mixture to rest in a warm place for 24 hours. Repeat this process for the next three days.
---
Day Seven and beyond
By now, you should have an active starter that is ready to use. How can you tell? The volume will have doubled in quantity, and there should be lots of fluffy, spongy bubbles that smell yeasty and look lively. Feed your starter correctly by keeping it at room temperature, feeding it every day. Or, if you want to feed it less often for future bread baking, store it in the refrigerator and feed it about every five days or when the volume deflates by more than half and the bubbles drop and become less active and visible.
To know with certainty your starter is active and ready for baking bread, try the float test: Place a large glass of room-temperature water on the counter. Drop a spoonful of starter into the glass. If it floats, it's ready to use. If it sinks, let the starter sit longer to develop more bubbles, or feed it again and let it sit for six hours or as long as 12 hours before repeating the float test.
For a more "sour" sourdough, consider using rye flour and adding a touch of onions for that distinctive tangy flavor. And, when you're looking to deliver a gift to "the person who has everything," consider baking homemade bread to give with some quality butter — along with the bread's recipe and enough starter for friends or family to prepare bread from scratch at home.