A variety of jams, jellies, preserves and marmalade can boost much more than morning toast. Chances are, you may even have a jar or two in your fridge at this very moment. If not, pick up some jams at the market or make a few yourself, then try one of these variations.
---
1. Smear in grilled cheese.
Try Quince & Apple's fig and black tea preserves in a grilled cheese sandwich with Wisconsin-made Alpine-style cheese from Roth Cheese, like Grand Cru. Pair raspberry rose preserves with a young Marieke Gouda or cranberry apple preserves with an aged Hook's Cheddar, perhaps combined with a mild cheese like part-skim mozzarella or colby for their melting qualities.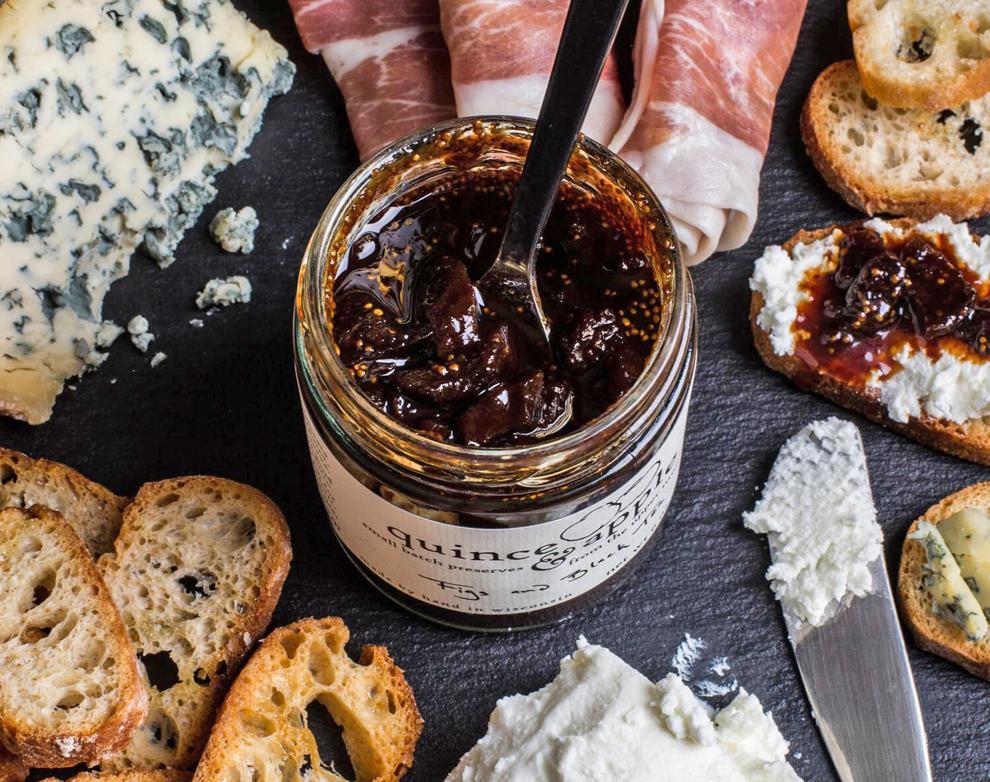 2. Shake in a cocktail.
In his 2020 cocktail book, "Shake Strain Done: Craft Cocktails at Home," J.M. Hirsch often pulls pantry ingredients into the bar. "Jam is one of my favorite cocktails sweeteners because it brings fruity flavor and viscosity in addition to sweetness," Hirsch writes. In his Strawberry Dreams cocktail, a tablespoon of strawberry jam offers a counterpoint to gin, lime and pineapple juice. The Peruvian Orange Grove, made with a Peruvian brandy called pisco, calls for a tablespoon of orange marmalade and egg white to make a frothy foam. Hirsch thinks it recalls an '80s treat: "Orange Julius, anyone?"
3. Dollop on ice cream or plain yogurt.
Yogurt makers have already packaged up this trick in fruit-on-the-bottom cups, but it's worlds better with quality jam. For dessert, splurge on super-premium ice cream and drizzle with slightly warmed fruit preserves. Add graham crackers, sprinkles, chocolate chips, vanilla wafers, peanut butter — the pantry is your sundae bar.
4. Whisk into a marinade.
Most marinades, sauces and rubs incorporate a sweet element such as brown sugar, honey or maple syrup. Instead, replace with a good jam in recipes for pork, chicken, turkey, lamb and even some seafood and vegetables.
Pair tomato-onion jam with seared halibut, make a sweet strawberry riff on Italian caprese and fill thumbprint cookies any way you like.
5. Fill a cookie or cake.
Thumbprint cookies are simple enough for kids to make and so pretty on cookie platters. Kolaches, or kolacky, are a Midwestern classic — little butter cookies filled with preserves and pinched neatly in the center. (These should not be confused with the version made with yeast dough, also called kolache; same name, different pastry.)
6. Blend in a vinaigrette.
Balsamic vinegar is a natural pairing with berry preserves. Add Dijon mustard for bite and emulsification and shallot for depth. Shake everything together in a jar with salt, pepper and olive oil, and you've got an easy salad dressing. Savory preserves, like Quince & Apple's shallot confit with red wine, have done most of the flavor-building for you. Add a little olive oil, season to taste and you have a sweet-tart dressing for grilled vegetables.
7. Fill a hand pie, stuff a muffin.
Lisa Ludwinski's cookbook, "Sister Pie," inspired by and named for her Detroit bakery, has the boundless positive energy of a golden retriever. Take inspiration from her multi-layered sweet potato streusel muffins and swap pear preserves for the filling or topping. Make her hand pie dough and squish some apple and cranberry preserves inside. If you feel inspired to fry, there's a recipe for filled pączki in this cookbook, too.