Each weekday at 8 a.m., production lead, Taylor Finn, and team member, Lucas Tangney, start work in the Quince & Apple production kitchen to the sounds of an upbeat playlist and the aromas of apples, cherries and tea. 
On one recent morning, Tangney steeped bundles of jasmine pearl and moonlight white tea in four big stockpots while 27-pound batches of tart Montmorency cherries slowly thawed in large buckets. On a second quartet of burners, Finn wielded a metal paddle to break up cranberries covered in clumps of snowy sugar.
"It's sticky and sugary, but there's always great smells," Tangney says. "Smuckers is mass-produced in a factory. This is definitely not. You can trace every jar of preserves to one guy or girl making it in a kitchen, right here."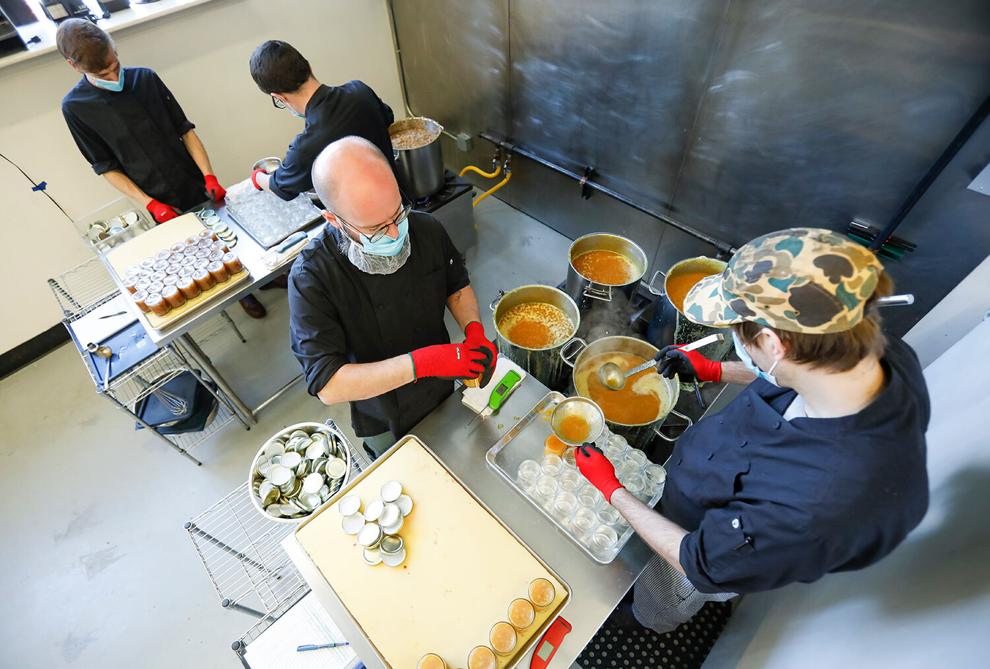 Compared to the restaurant kitchens where Finn and Tangney used to work, Quince & Apple is a pretty chill place (the day's playlist included the '80s Enya jam "Orinoco Flow"). Finn's movements were efficient as he assembled cheesecloth for aromatic bay leaves, but neither cook looked rushed.
"We actually see the whole process," Finn says. "You come in, you make it, it cools down. We label it and ship it. It's very rewarding."
The husband and wife team of Matt and Clare Stoner Fehsenfeld founded Quince & Apple in Madison, Wisconsin, in 2009. Their delicate, not-too-sweet preserves often include tea — peach chamomile, tart cherry and white tea, figs and black tea — and aromatic elements, like rose oil in raspberry preserves or fresh ginger in honey-scented pear preserves. They're designed to pair with cheese, crackers and cured meats.
Since that spreadable start, the company has expanded into cocktail syrups (Fix), candies (Modern Candy Co.) and nuts (Treat). Pickled vegetables (Forward Provisions) are coming this summer. Quince & Apple now makes 800 to 1,000 jars of preserves and syrups a day, five days a week.
"Clare and I have very complementary skills," Matt says. "I come from the restaurant background. I have to create — I'm always the one who's like, 'Let's come up with a new product.'
"Clare is much more of a process person, an engineer. 'How are we going to get this so it's repeatable? How are we going to make this safe and consistent?' I think it's so lucky we have that creative tension."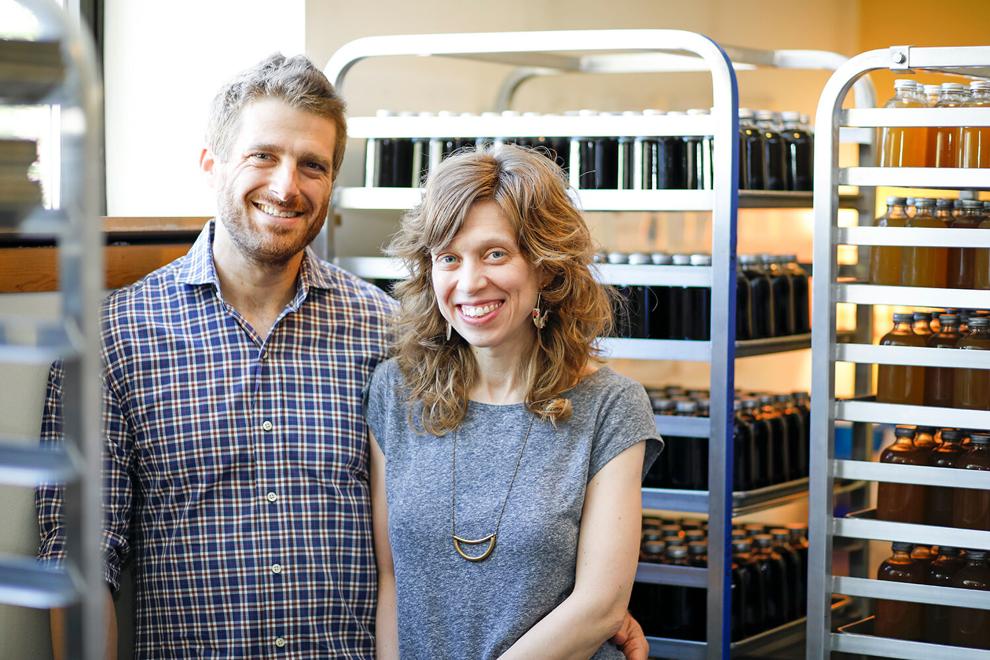 ---
The sweet life
Quince & Apple began like many food start-ups do, as a side project during the Stoner Fehsenfelds' off-hours. By 2008, Matt had graduated from the culinary program at Madison College and was working at Potter's Crackers in the Madison Enterprise Center, a business incubator on the city's Near East Side. Clare, a musician, taught lessons and played in a band.
The couple would make preserves late at night after work, sometimes leaving a pot of jam to set up while they ran home to grab dinner. Their first idea was to sell at farmers' markets, but they quickly acknowledged the schedule didn't appeal to them.
A cheese shop owner shares how to make a charcuterie board that wows with cheese, meat, preserves and more.
"I was like, 'Wait, I don't want to get up at 5 o'clock on Saturdays,'" Matt says.
Instead, the Stoner Fehsenfelds started wholesale with fig and black tea preserves, shallot confit with red wine and painstaking orange marmalade with lemons. That marmalade is now Tagney's favorite thing to make — "it's so fresh," he says, even though "it's very possible to burn it. It likes to stick to the bottom of the pot."
Quince & Apple's first account was with Fromagination, a cheese shop on Capitol Square in downtown Madison. Owner Ken Monteleone soon contracted with the young owners to make an exclusive cranberry relish for the shop's turkey and Brie sandwich.
"For a year or two before he had this business, he had this dream of a preserves company," Monteleone says of Matt. "We were the first customers to get delivery."
Quince & Apple began as two people with two burners. The Stoner Fehsenfelds hosted demos, experimented with flavors and labeled every jar by hand. Matt recalls one early tasting at a local grocery store.
"A person came up to me and was like, 'Jam to pair with cheese, and it's $9! This is a terrible idea,'" Matt says. "I almost lost it. I had been in the kitchen for, like, 12 hours. I had orange under my fingernails.
"But I was polite," Matt says. He lowered his voice to a mock-tense whisper. "I said, 'The reason it's $9, is because I peeled and cut every single one of these oranges.'"
Slowly, the couple built their product line. They made pear preserves with honey and ginger and a limited-edition red currant jam with Wisconsin currants. Erin Schneider and Rob McClure of Hilltop Community Farm in La Valle, Wisconsin, sold fruit to the Stoner Fehsenfelds for a decade.
"There were a few years we had beautiful pear runs, and they were totally willing to buy directly from us," says Schneider. "Sometimes when you grow fruit organically, it's beautiful in a non-uniform way. They were receptive to that."
Schneider loves how the Quince & Apple team would experiment with Hilltop's fruit, like aronia berries for cocktail syrups. Quince & Apple launched those in 2012 — a tart cherry grenadine, rhubarb hops, lime and cucumber and a citrus syrup (now lime cordial). That's the year the company won its first Good Food Award. A more recent simple syrup, tiki pineapple, won in 2020.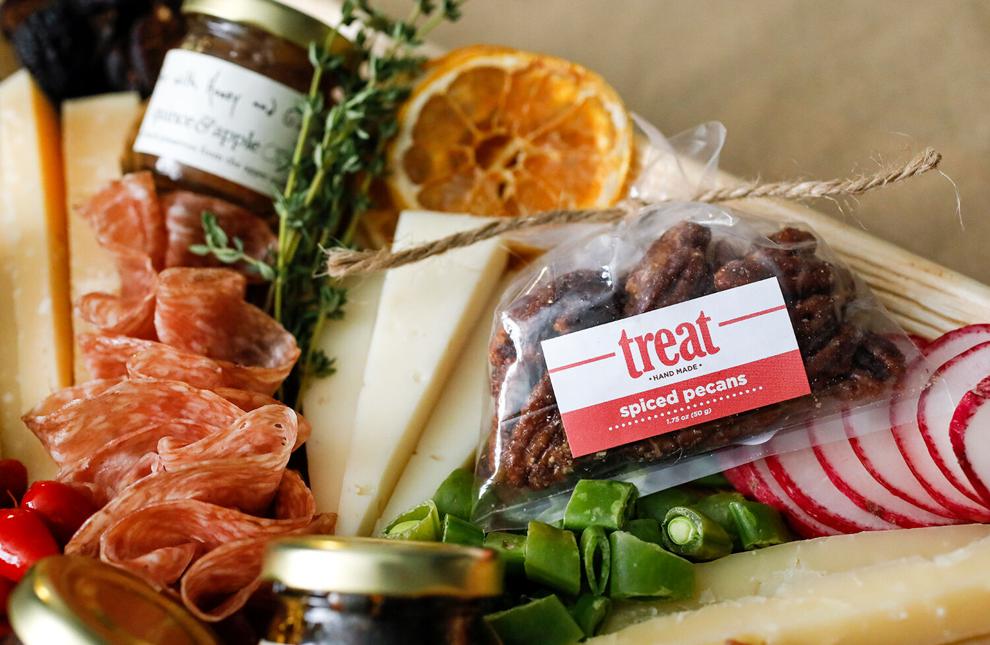 ---
A Growing Family
As the company grew, the Stoner Fehsenfelds streamlined their production process. After five years, they realized there was no artisan way to put on a label.
"There's so much trying to figure out, what are the things that need that human touch, finesse and artistry?" Matt says. "And what things are just going to give you carpal tunnel?"
The Stoner Fehsenfelds' family matured along with the company. Their son Max was born in 2013, followed by Leo in 2016. In between, Quince & Apple moved to a larger space in a former Greyhound bus station, still on Madison's east side.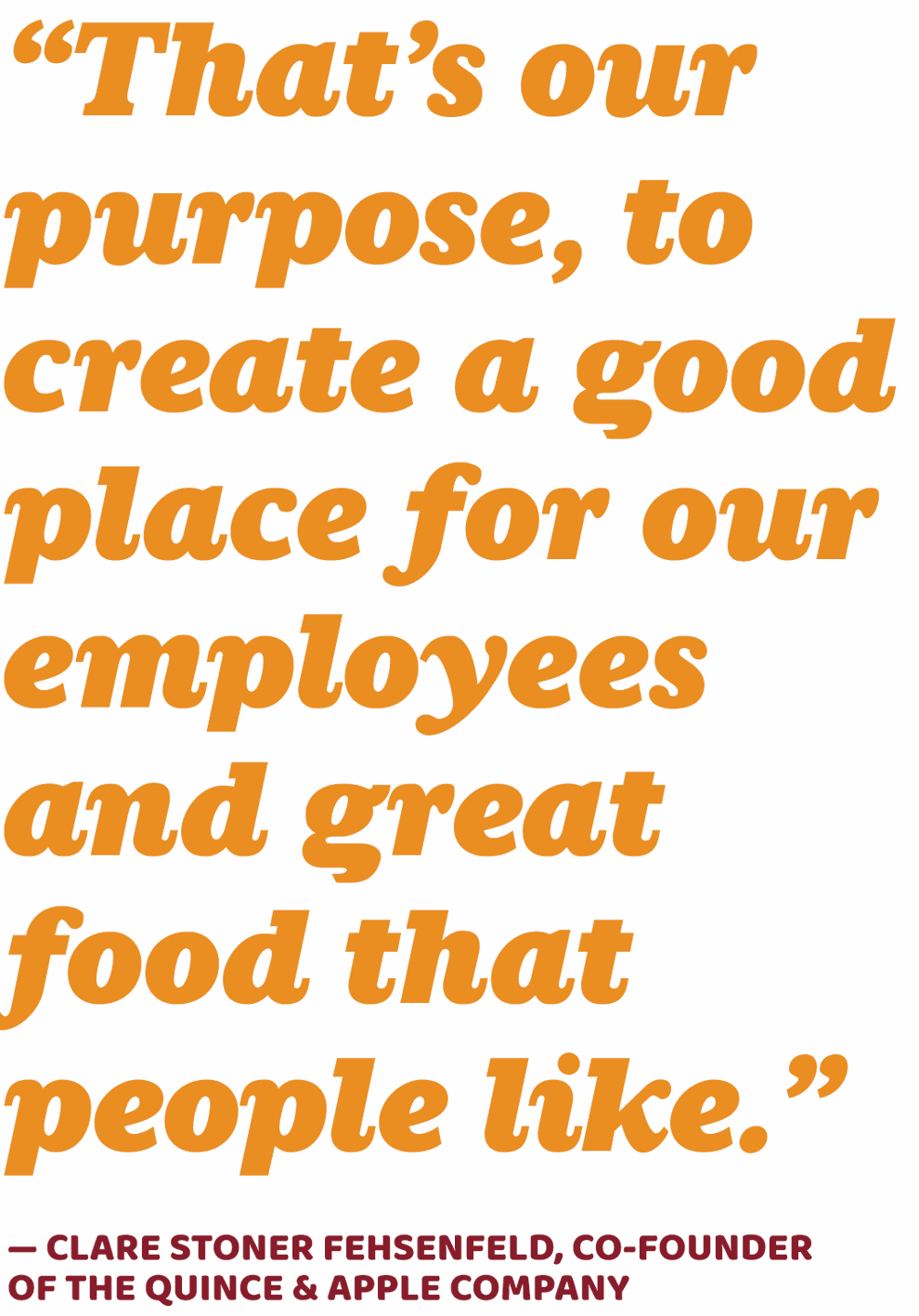 In 2018, Quince & Apple purchased a Milwaukee-based artisan spiced nut company called Treat, adding spiced almonds, walnuts and pecans to their production line. A year later, they debuted a line of CBD candies, called Modern Candy Co.
Quince & Apple now has 10 full-time employees. Preserves make up about half of the company's sales, with 25% from nuts, 15% from syrups and 10% from candy. Locally sourced pickles, introduced during the pandemic summer of 2020, could soon be a permanent addition to the lineup.
"We wanted to create a healthy and mindful place for us to work, and for our employees to work when we got big enough," Clare says. "That's our purpose, to create a good place for our employees and great food that people like. We are a small business and we have limited funds, but we try to do everything that we can to make it like really a good place to work."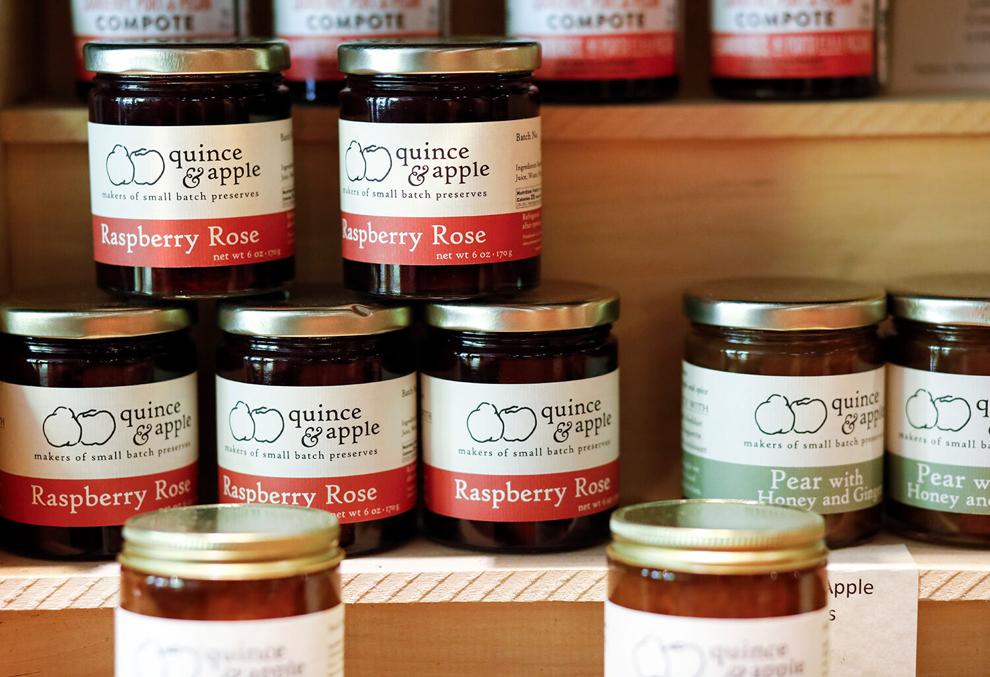 ---
Scaling up
In the early days of Quince & Apple, buying fruit could look almost illicit.
"I've met farmers on the side of the road," Matt says. "Like, 'Oh, I'll meet you at the intersection of County N and County JJ at 7:30 at night.' I've driven out to random produce auctions and bought strawberries from Amish farmers. I'd have them transfer flats from their truck into the trunk of my car."
Using local fruit for a year-round business is no simple task in the Upper Midwest. By necessity, the company has since scaled up from the very small orchards it started with.
Yet the Stoner Fehsenfelds continue to prioritize Wisconsin fruit, like tart Montmorency cherries from Door County that end up in both tart cherry and white tea preserves and their excellent cherry grenadine.
"We probably buy 18,000 to 20,000 pounds of cherries," Matt says. "It feels really good to support those farmers."
Preservation has deep roots in the Midwest. Schneider at Hilltop Community Farms praises the Stoner Fehsenfelds' "commitment to experimenting and working with what's available."
"It takes a lot of coordination to work with small-scale farmers," she says. "They were willing to roll with what the trees have to offer and what we could manage to pack for them."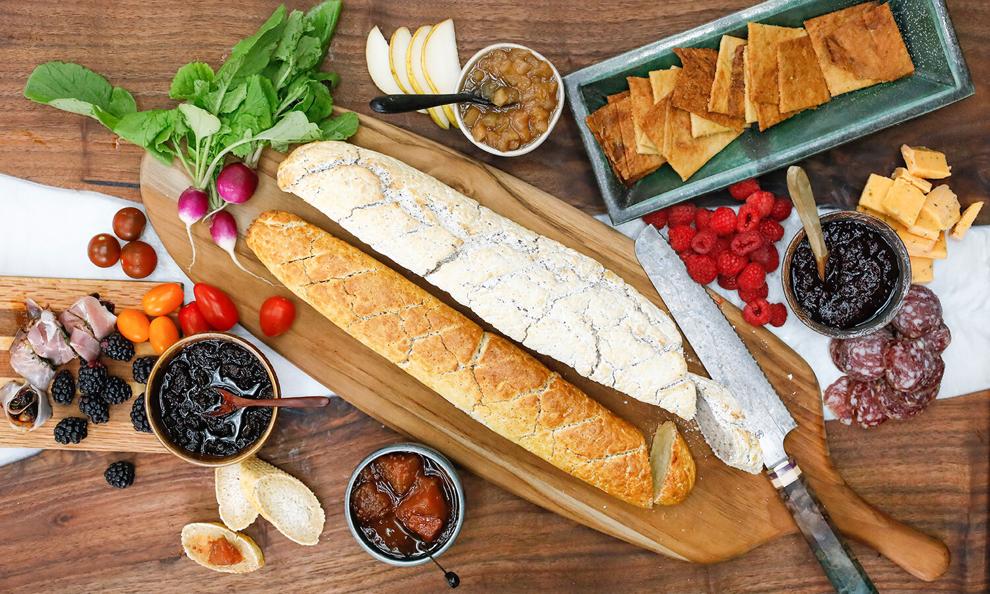 ---
Working with nature's bounty
That dedication is set to scale up this summer. Quince & Apple are expanding operations again, this time within their current building. They've signed a lease on 1,200 square feet of kitchen space, which will allow them to ramp up a line of pickled vegetables they started as an experiment in 2020.
"In April, when all the restaurants were closed, we were talking to farmers," Matt says. "A lot of people already had plants in the ground."
In a quirk of FDA rules, Quince & Apple was already certified to make pickles. Legally that's what their artisan preserves are — they don't have a high enough ratio of sugar to fruit to qualify as a jam.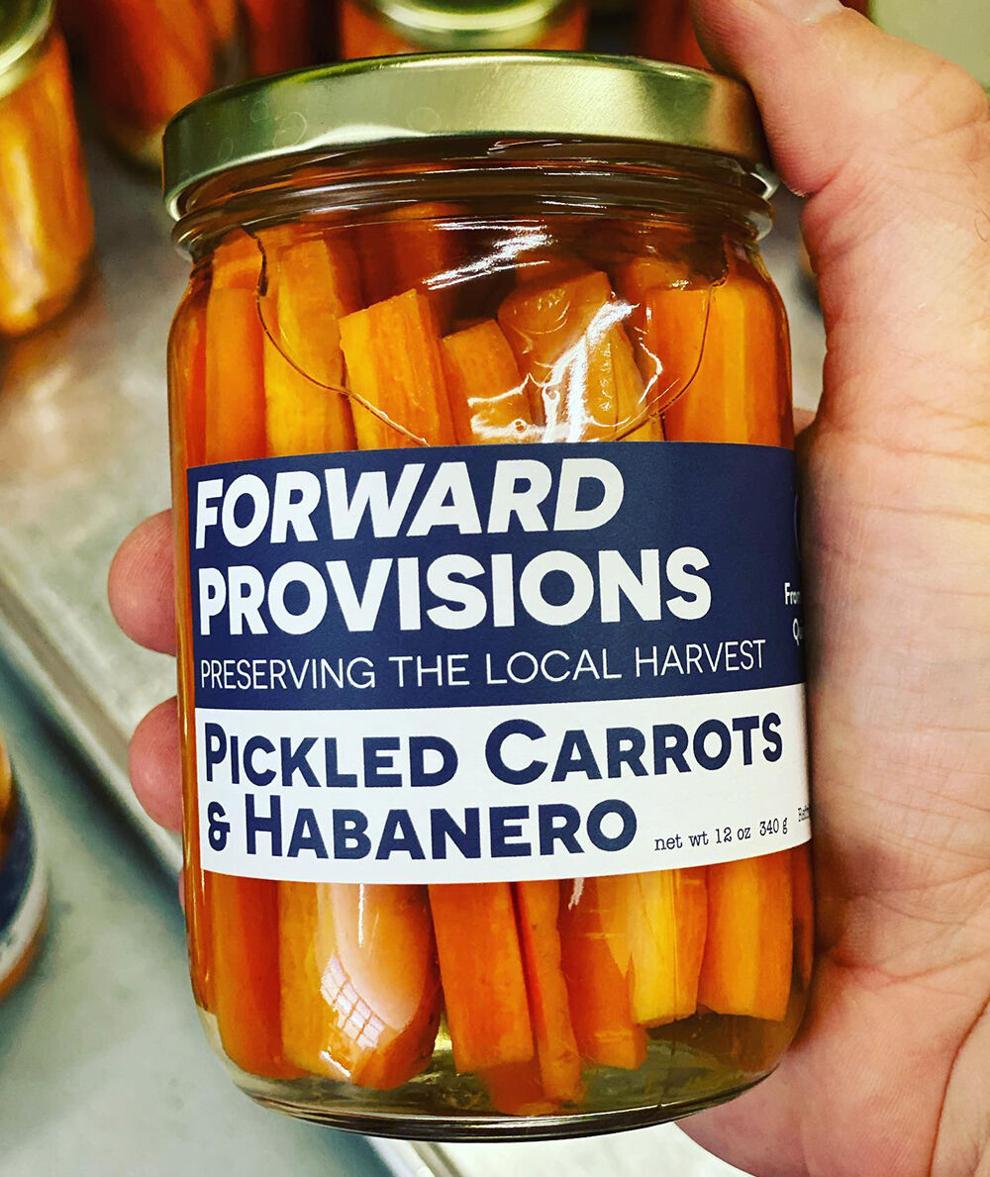 "We thought, we have all the licensing, we have all the equipment," Matt says. "Let's try and buy up as much local produce as we can and help people out."
Similar to those early days, Matt and Quince & Apple director of operations Sarah Woolworth picked up the pickling project as a late-night endeavor. They would work until midnight to jar spicy carrot sticks, pickled turnips and pickled kohlrabi. They pickled cherry tomatoes, cauliflower, garlic scapes, ramps and onions. They made classic bread-and-butter pickles from local cucumbers.
"People liked them so much and they did so well that we are going to bring him back this season," Matt says. "We grow, as a state, way more vegetables than fruit. So we'll be able to source a ton of that locally, which I'm really excited about."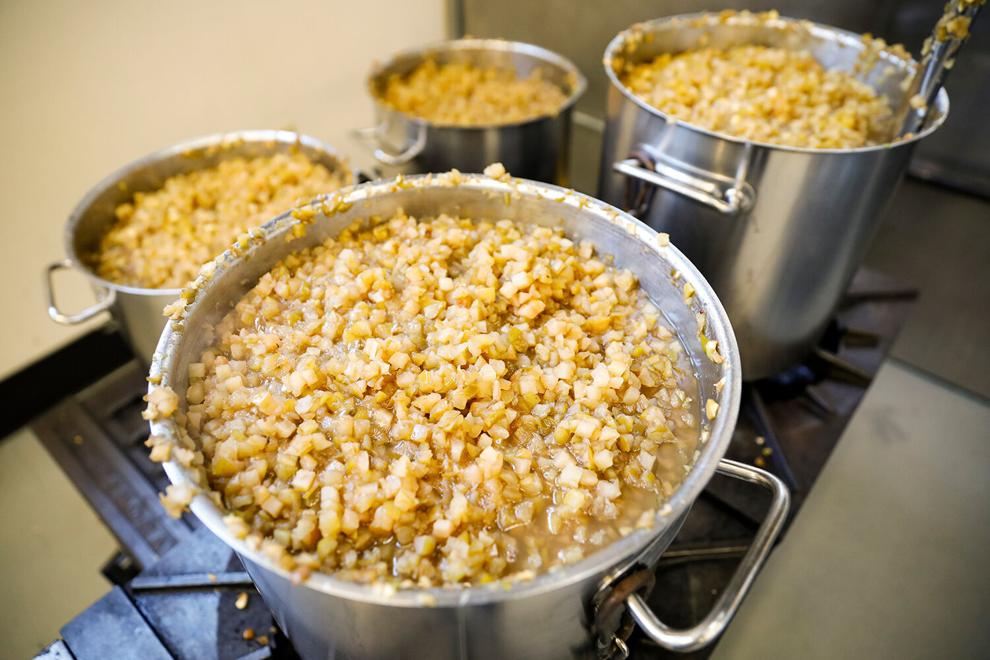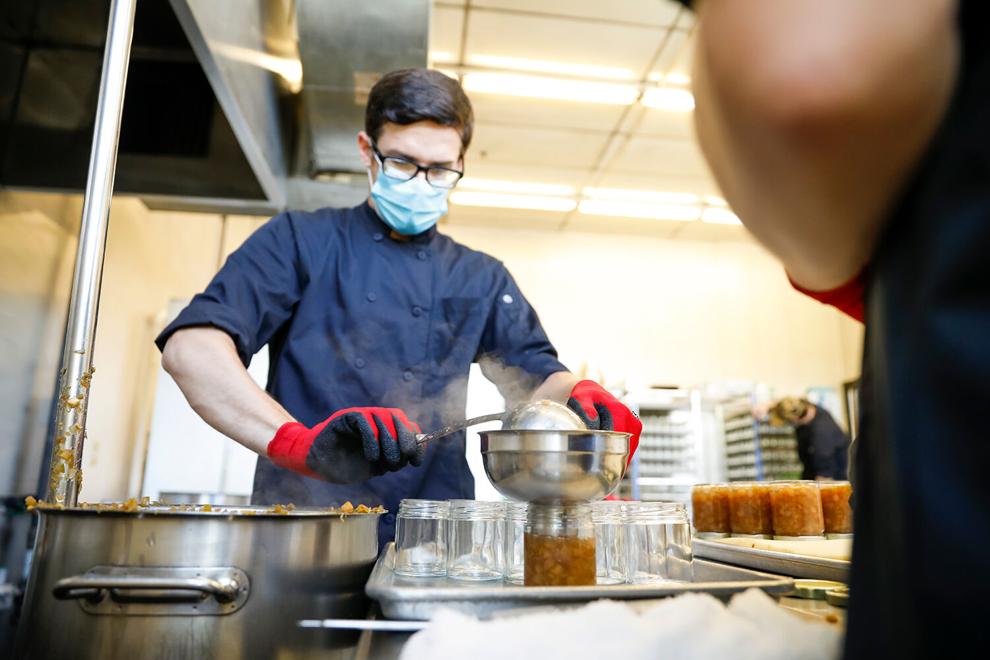 Beyond pickles, Matt said there will be a renewed push behind Quince & Apple's cocktail-ready simple syrups, rebranded Fix in 2019. Sales of those could climb as Wisconsin's restaurants and bars steadily reopen.
What Matt and Clare really want for the future is to be a better employer. This summer, they have plans to join a job-training program for formerly incarcerated workers.
"A lot of times in the food industry we focus on 'How does it taste?'" Matt says. "And I think that's important, but having worked on the back end of things, we need a more holistic view."
At Quince & Apple, "We want to be intentional about how we do things," he adds. "We can grow slow and steady, try to buy as much local produce as we can. We can create good jobs and enjoy our jobs. We have this business — how can we use it to create not just good food, but social good?"