Maple syrup is a uniquely North American product thanks to its many sugar maple trees and a freeze/thaw cycle from late winter into spring that allows sap to flow. It is a staple of the American morning breakfast table, yet no one knows for sure who was the first to make it. 
"Because of the long, rich oral history passed through the centuries by indigenous people, their experiences and practices of using maple is best told by themselves. But there are some things we know today about the origins of maple syrup on this continent," says Mark Isselhardt, a maple specialist at the University of Vermont Extension.
The earliest documentation referencing sap collecting by indigenous people in North American dates back to a French explorer in the 16th century. The practice possibly began when Native Americans saw animals licking sap from trees or discovered that the frozen "sapcicles" that formed during winter tasted sweet. "There are few written accounts about the specific tools used by indigenous people to harvest the sap, but it is pretty well understood they were able to benefit from the sweetness," Isselhardt says. 
It is thought that a wounding or slash would be made in the maple tree and a wedge or twig would be placed at the bottom of the cut. Sap that gathered into shallow bark vessels would freeze overnight, separating the water from the sugar; after discarding the ice, they had a sweet drink, Isselhardt says.
See how weather affects maple syrup production and the ways Pennsylvania's Old State Farms prioritizes being kind to its trees.
European colonists originally used the same methods, but soon switched to using augers to drill sap holes and brought metal pots that made condensing the sap easier.
Although most of today's sap is turned into syrup, those who tapped a tree in the 1800s did so to make maple sugar. Caribbean cane sugar was rare and expensive until after the Civil War. Maple sugar, made by boiling sap until the liquid evaporates and the sugars crystallize, could be crafted close to home and easily transported. Producing it also injected a little cash into farmers' pockets before the main farming season. In agrarian Vermont, in the early 19th century, two of every three families produced sugar, Isselhardt says.
By 1810, wooden spouts directed sap into buckets for boiling in large kettles suspended over an open fire. As maple sugaring was more widely adopted, farmers used animal-drawn sleds or wagons to haul tubs of sap to outdoor buildings known as sugarhouses for processing.
Thin metal pans replaced pots for boiling around the time of the Civil War, Isselhardt notes, hastening boiling and evaporation; the first evaporator was patented in 1858. Plastic sap collection bags arrived in the early 1950s. The biggest innovations, says Isselhardt, were the introduction of reverse-osmosis systems in the late 1940s — which "squeeze" out up to 75% of the water from the sap, greatly reducing boiling time thereby increasing production and reducing production costs — followed by a new system of vacuum pumps and flexible plastic tubing in the 1950s.
---
The rise of artificial sugars — and our taste for them
When white cane sugar became more available and cheaper in the late 1800s, producers sold their maple sugar to companies like Cary Maple Sugar Company to use as flavoring in plug tobacco and, later, cigarettes. They also (ingeniously) refocused their attention on making syrup, which could now be packaged in cans and preserved year-round.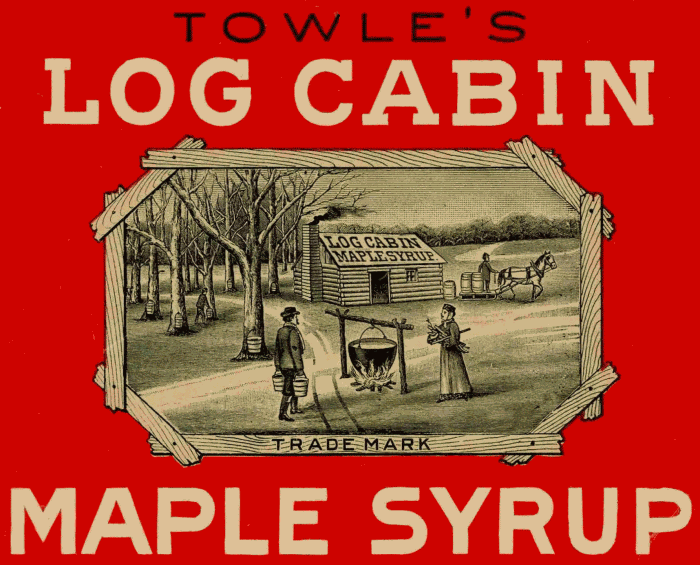 A blended imitation maple syrup with the image of Abraham Lincoln's childhood cabin was introduced by Minnesota grocer Patrick Towle in 1888. Towle's Log Cabin syrup contained less than 50% maple syrup, so it was economical to produce. The popular Log Cabin syrup exists today, though the brand and other mass-produced syrups on store shelves that originally contained pure maple syrup have all but eliminated the ingredient.
With the introduction of high fructose corn syrup around 50 years ago, commercial syrups could be manufactured at a fraction of the cost with no loss of consumer loyalty, says Tony Miga, farm director of Chatham University's Eden Hall Campus near Pittsburgh. Because it was more affordable, consumers developed a taste for imitation syrup; a 2015 survey showed just 25% prefer real maple syrup over artificial brands.
Still, real maple syrup demand has been on the rise for the last two decades. In 2001, the U.S. produced 1.05 million gallons of syrup; in 2020, it topped 4 million gallons.
"People are more interested in where their food comes from," says Miga, who will tap around 120 trees on school grounds this season with students to make syrup for its dining halls.
---
Purity matters once again
Curious about all those different maple grades? Here's a quick guide. You might notice that Grade B and Grade C are missing. That's because maple syrup was given straight As in 2015.
Syrup is graded by its color, clarity, density and flavor. All Grade A maple syrup has the same clarity and density; the new system differentiates syrup by its color and flavor. Generally, the lighter the syrup, the more delicate its flavor and the earlier the sap was tapped.
---
Grade A: Golden Color with Delicate Flavor. This is the lightest, most delicate flavor. It's best on dishes you don't want to overpower with maple flavor, like pancakes and waffles. It's also good stirred into yogurt or oatmeal.
---
Grade A: Amber Color with Rich Flavor. As the label suggests, it's slightly darker in color and has a stronger flavor than golden syrup. It's made mid-season and is best when you want a more pronounced but still smooth flavor. Use in cooking and baking and for sweetening cocktails.
---
Grade A: Dark Color with Robust Flavor. Do you want the maple flavor to really stand out? Formerly labeled Grade B which was incorrectly inferred to be inferior by its perceived lower degree of merit, this dark, complex and boldly flavored syrup is for maple syrup lovers – it is robust and great for everyday use. Use it when a recipe requires a lot of maple flavor, such as baked beans or desserts.
---
Grade A: Very Dark with Strong Flavor: Produced late in the season when the weather is warmer, this commercial grade syrup, previously Grade C, is the most maple-y in flavor and is very dark. It's often used in place of molasses as well as to make maple-flavored candy.
---
Processing Grade: This syrup fails to meet Grade A standards, but it is not considered inferior. It is sold to manufacturers and processors seeking maple flavor when standard qualities such as density and clarity do not need to be met for their commercial products.