Before opening your next bag or bar of chocolate, take a look at the package. 
You'll likely see some descriptive text and certifications that provide a lot of information about that luscious treat — for example, 70% cacao, bittersweet, Fairtrade and bean-to-bar. Maybe USDA Organic or Non-GMO Project Verified are on there, too. But what does it all mean? We'll help decode the varieties and percentages, farming practices and certifications noted on the package.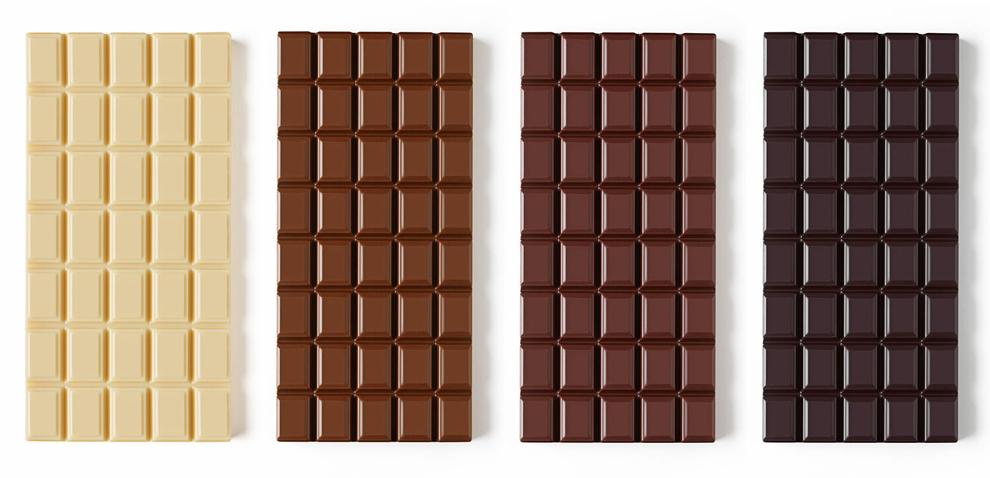 ---
Types of chocolate
From the highest cocoa percentage to the lowest, here's the rundown on the most common types of chocolate you can get your hands on.
100% Cacao Unsweetened Chocolate. Often used for baking (hello, brownies!), this product is made from what's known as chocolate liquor or chocolate mass, which is simply ground cocoa beans. True to the labeling, 100% cacao chocolate is unsweetened, so unless you like your chocolate really bitter, you're not going to want to nibble on this one.
Dark Chocolate. In this category, you'll see options ranging from 50-95% cacao. (In case you're wondering: The percentage of cacao in a bar or package of chocolate is the amount of cocoa mass divided by the total weight of bar or package.) Dark chocolate contains fat only from cocoa butter, not milk or cream, and includes sugar; some brands also add cocoa butter and lecithin. When choosing a dark chocolate indulgence, aiming for 70% cacao or higher means you'll enjoy a darker chocolate with less sugar.
Bittersweet and semisweet are terms that often appear on chocolate products that are marketed for baking (aka, "baking chocolate"). Bittersweet has less sugar than semisweet and typically has a higher percentage of cacao. Unless a recipe specifies one over the other, semisweet and bittersweet chocolate can be used interchangeably. 
Milk Chocolate. One of the best-known chocolate varieties in the U.S., milk chocolate can contain from as little as 10% to as much as 68% cacao. To make milk chocolate, cocoa mass is combined with sugar and powdered, liquid or condensed milk. 
White Chocolate: Made with cocoa butter, white chocolate must contain at least 20% of this key ingredient, according to the U.S. Food and Drug Administration (FDA). Sugar and milk or milk powder are combined with cocoa butter to produce a chocolate that lacks many of the aromatic compounds found in milk and dark varieties, but with a flavor profile that can have elements of cream, butter, vanilla or caramel.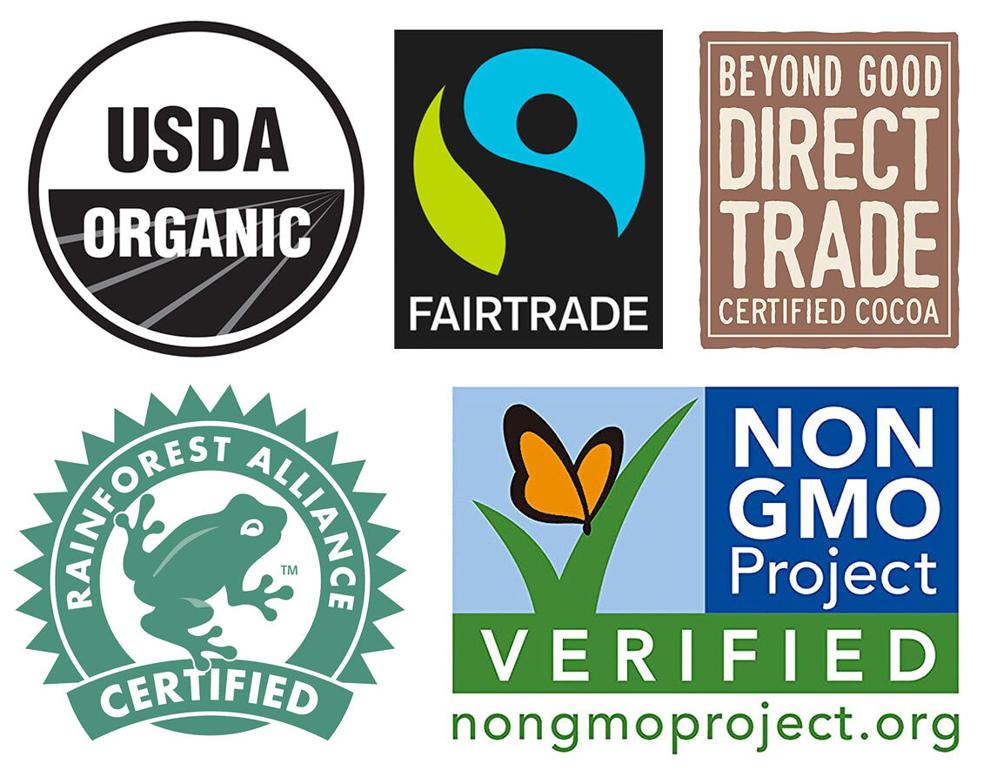 ---
Certifications to know
Certifications can provide additional information about a brand's commitment to ethical and sustainable production practices. Here's what to keep an eye out for as well as what the labels actually mean.
USDA Organic. In order for any food to carry this mark, it must follow federal guidelines regarding how the food item or its ingredients are grown and processed. Growers can only use soil that's been free of prohibited substances for at least three years prior to harvest. Soil quality and pest and weed management must also meet USDA guidelines. Additionally, producers must be vetted annually to retain the USDA Organic accreditation. 
Who doesn't love a bar of quality chocolate? Unwrap our recommendations for ethical chocolate brands that are both tasty and eco-friendly.
Fairtrade. Fairtrade is the mark of Fairtrade International, which first certified cocoa in 1994. Fairtrade-certified cocoa is produced by farmer cooperatives, global producers and suppliers committed to maintaining a fair baseline price for the farmers.
Direct Trade. Using cocoa beans purchased outside of the commodity crop system, Direct Trade chocolate is bought directly from a farmer or co-op. This means 50-300% more money than the market price of commodity cocoa goes into the pockets of Direct Trade farmers; a big win for growers.
Rainforest Alliance. To earn Rainforest Alliance certification, chocolate products are vetted by independent, third-party auditors using methods that support the three pillars of sustainability: social, economic and environmental practices. Chocolate is regularly evaluated on all three pillars before producers can receive or renew certification.
Non-GMO. Genetically modified organisms (GMOs) are sometimes employed by farmers to manage their crops. Seeing a non-GMO mark on your chocolate label means your chocolate is free from any inorganic compounds.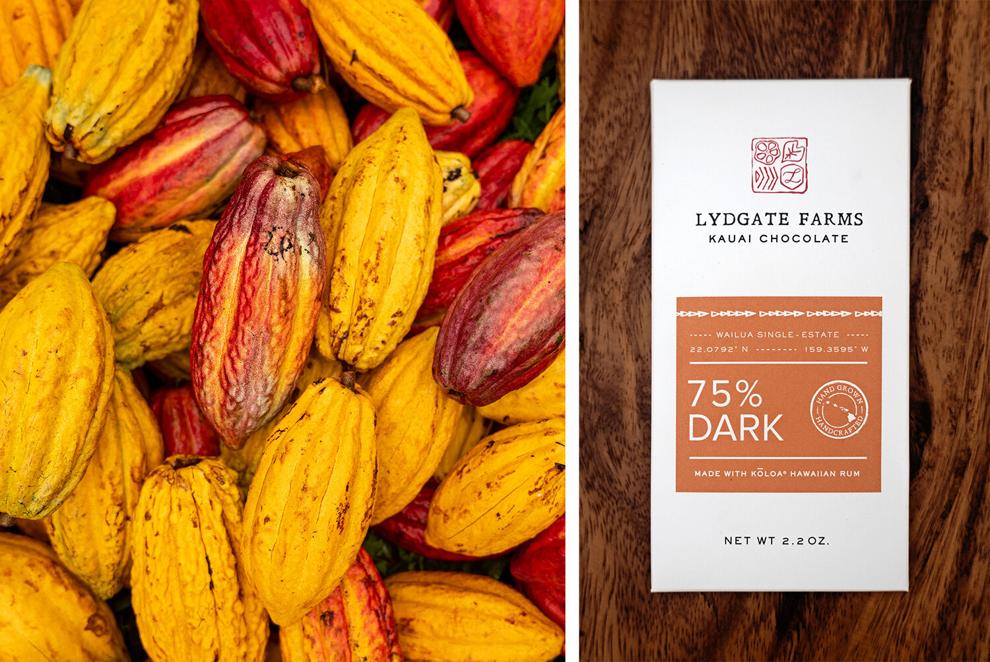 ---
Source and origin insights
In the spirit of full transparency from cultivation to packaging, some chocolate manufacturers are disclosing everything, from the type and origin of the cacao pods they cultivate or cocoa beans they purchase, to how involved they are in the production of the chocolate they sell. If provenance is important to you, look for these terms on the package.
Tree-, blossom-, branch- and bean-to-bar. All four of these designations reference their core source and reflect just how close their ingredients are to the final product.
Single-origin chocolate. A location notation on your chocolate's label is a good sign and indicates the cocoa was farmed in a specific location or "terrior" (a country or region with distinct flavors, much like wine). Labels that don't cite a source could indicate a blend of cocoa beans.