Pie makes the world go 'round — from tarte Tatin in France and crostatas in Italy to buko pie in the Philippines and Pasta Frola in South America. However, one could argue that no country has devoured sweet pies as voraciously as the United States. Each region, state and often, county, boasts a beloved pie tradition that typically incorporates the area's abundant ingredients. Think southern bourbon pecan pie, North Carolina sweet potato pie, Florida Key lime pie, Maine blueberry pie and Michigan cherry pie.
Dessert pies, by definition, can be any pastry filled with fruit, custard, chocolate, cheese, nuts, jam and everything in between. What separates tarts from pies is typically the pan: A tart pan usually has shallow, straight sides, while pie plates are deeper with sloped sides.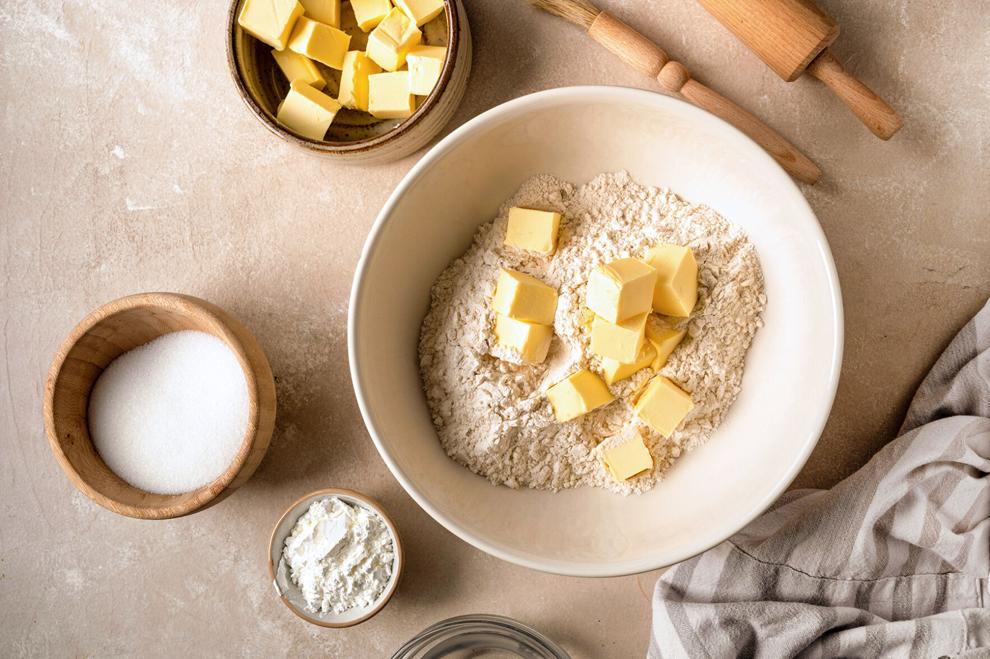 ---
The fundamentals of fat
The secret to spectacular, picture-perfect pie? It starts with a tender, flaky homemade crust, of course. Mastering the measurement and mixture of four simple ingredients — flour, butter, salt and ice water — can turn a pie from mediocre to magnificent. The internet and cookbooks provide thousands of recipes, but most stick to a basic formula.
The single most important factor in creating a tender crust (apart from overworking the dough) is the choice of fat. Options abound: lard, all-butter, all-shortening and butter-shortening combinations. Some recipes insist on using lard, which can be easier to work with and can yield an extra-crisp and tender crust, but it often lends an undesirable savory flavor to sweet pies.
Wow your family and friends with an elevated pie featuring favorite fall flavors, such as walnut, spiced apple and roasted kabocha squash.
Many claim that all-butter crusts are the way to go for a classic rich dough that results in a gorgeous brown color and delicate sweet flavor. European-style butter is the gold standard for pie, as it contains more fat and less water than American butter.
Including a touch of shortening in butter-based pie dough helps decorative edges hold their shape as they bake. All-shortening crusts can be a good option for vegan pies, though many argue they taste bland and too similar to store-bought options. Combining shortening with a vegan butter substitute is a better bet. Be forewarned: using only margarine will yield a crumbly crust.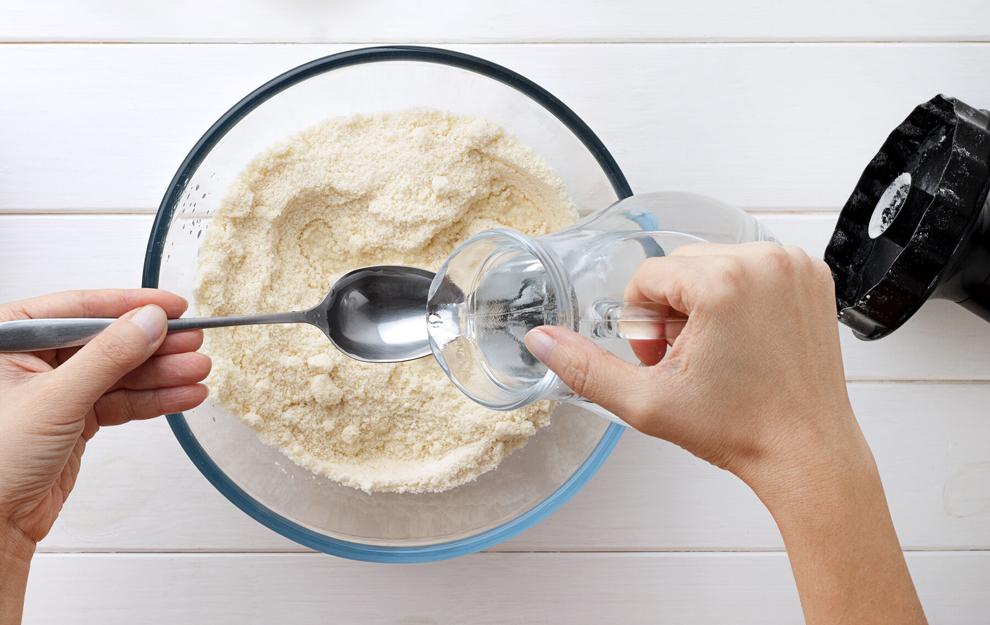 ---
Keeping things chill
Making pie crusts can be intimidating for many home cooks, but it's as easy as 1-2-3: Prepare the dough, let it rest, then roll it out. The first step can be done in minutes with the help of a food processor. Your goal is to keep things cool and work quickly so that the butter doesn't soften, which inhibits the creation of those desirable internal flaky layers. Keep your ingredients cold until you're ready to start making the dough. Chilling the processor's knife blade and bowl in advance and working in a cool kitchen can help, too. Handle the dough as little as possible to minimize gluten formation, which will result in a tougher pie crust.
The amount of ice water you use plays an important role in achieving the dough's optimum consistency. Too little and the dough will crack, making it challenging to roll; too much and the dough can be tough. After combining the flour, butter and salt, add just a tablespoon of water at a time to the bowl and pulse the food processor — especially towards the end of mixing — then do the "pinch test." If the ingredients stick together when pinched, you know you've achieved the proper ratio.
Food scientists, test kitchens and adventurous home cooks have experimented with the chemistry behind making the perfect pie crust. Some swear by substituting a bit of vodka for some of the water to add moisture to the dough for easier rolling, reducing how much you'll have to work the dough. You won't have to worry about added flavor or alcohol taste because vodka is a flavorless liquid, and the majority of the alcohol evaporates during baking, leaving a flaky crust in its wake.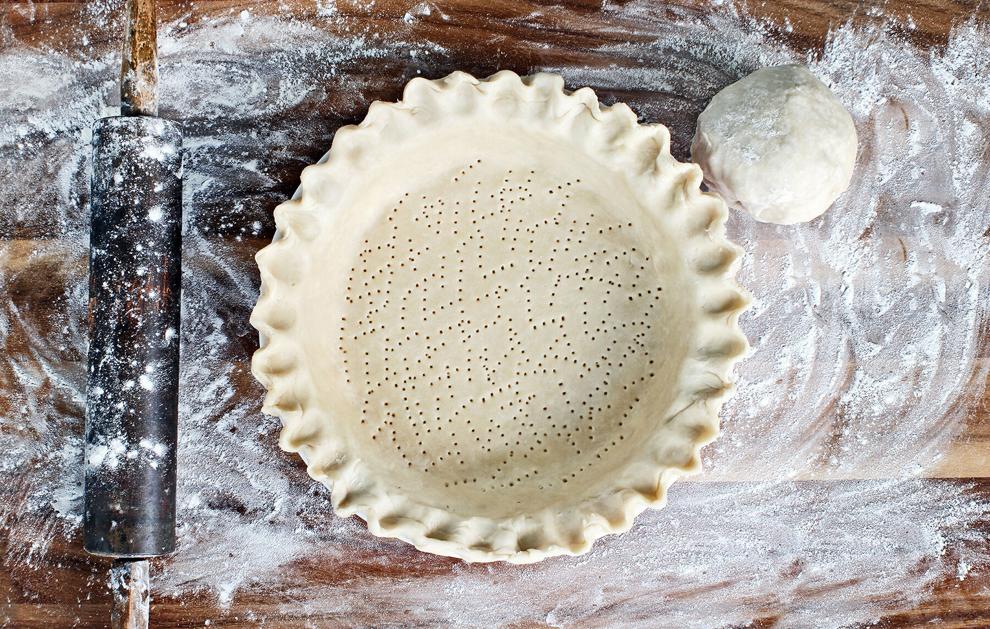 ---
The secret ingredient: patience
After gathering the dough from the bowl, form it into a flat disk and wrap it in plastic or parchment paper. You'll want to let it rest in the refrigerator for least 30 minutes, or even overnight. Resting allows the flour to absorb the water and distribute itself throughout the dough, giving the gluten an opportunity to relax. The result will be dough that's easier to roll and shrinks less while it bakes.
Before rolling the dough, allow it to sit at room temperature for about 30 minutes to make it pliable. After you line the pie pan and press a decorative border into place, additional chilling and resting time can help prevent shrinkage during baking.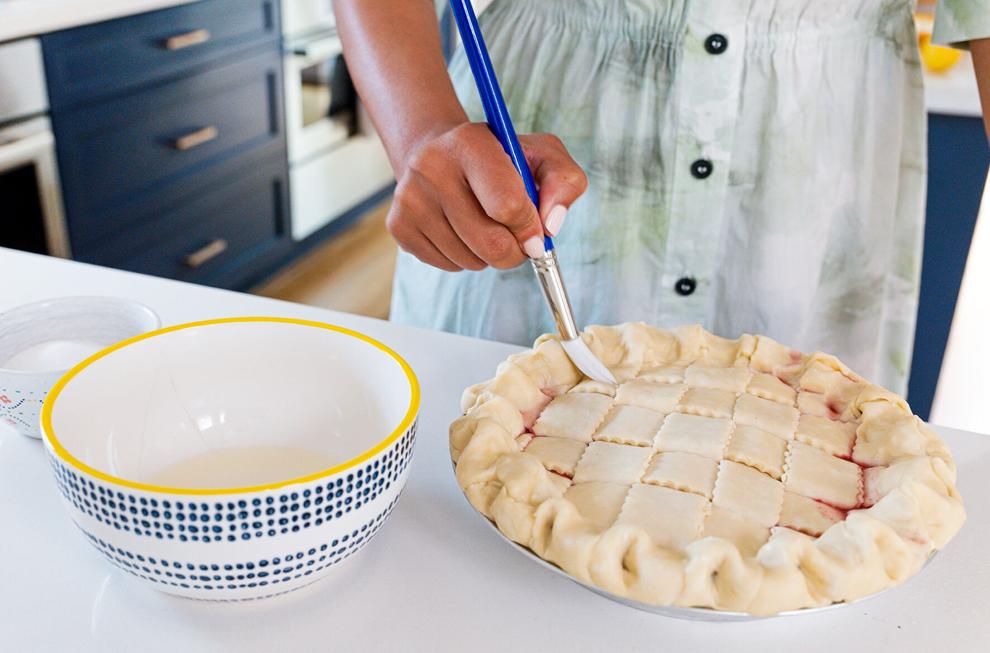 ---
The finishing touches
Once you've filled the pie shell, glazing the edges of a topless pie or top of a double-crust pie can give it that bakery-ready appearance. To encourage browning during baking, simply brush the edges and top crust with a light layer of cream, half-and-half or milk. If a shiny top crust is your goal, brush the pastry with a thin layer of beaten egg white instead of cream or milk. For a darker golden sheen, substitute a beaten egg yolk or whole egg for egg white. Many recipes split the difference and combine an egg yolk with a touch of cream.
Sprinkling some coarse sugar crystals or sanding sugar will add sparkle to the top of a pie as well as a touch of crunch, but even a dusting of granulated sugar will make the pie glisten.