About an hour north of Des Moines near the town of Jewell, Iowa, and perched along the banks of a lake drained in the late-1890s, Kevin and Ranae Dietzel's 80-acre farm is edged by a tall stand of 100-year-old oaks. Right now, the trees mark a stark contrast between the pale, milky sky and the inches of snow coating the expanse of farmland underneath. Standing in a tiny patch of chilly, mid-afternoon sun, a thermos in hand, Ranae shares that the long-gone lake is the inspiration for Lost Lake Farm's name.
The Dietzels both come from farming backgrounds; in fact, Ranae's parents live in the same county on the hog farm where she grew up. Their Radcliffe, Iowa, homestead is where the Dietzels' first cow and namesake of their award-winning Ingrid's Pride cheese now enjoys a well-earned retirement. "She's so fat," says Ranae with a smile, and one of her two children happily nods a knit-capped head in agreement. "My parents love her."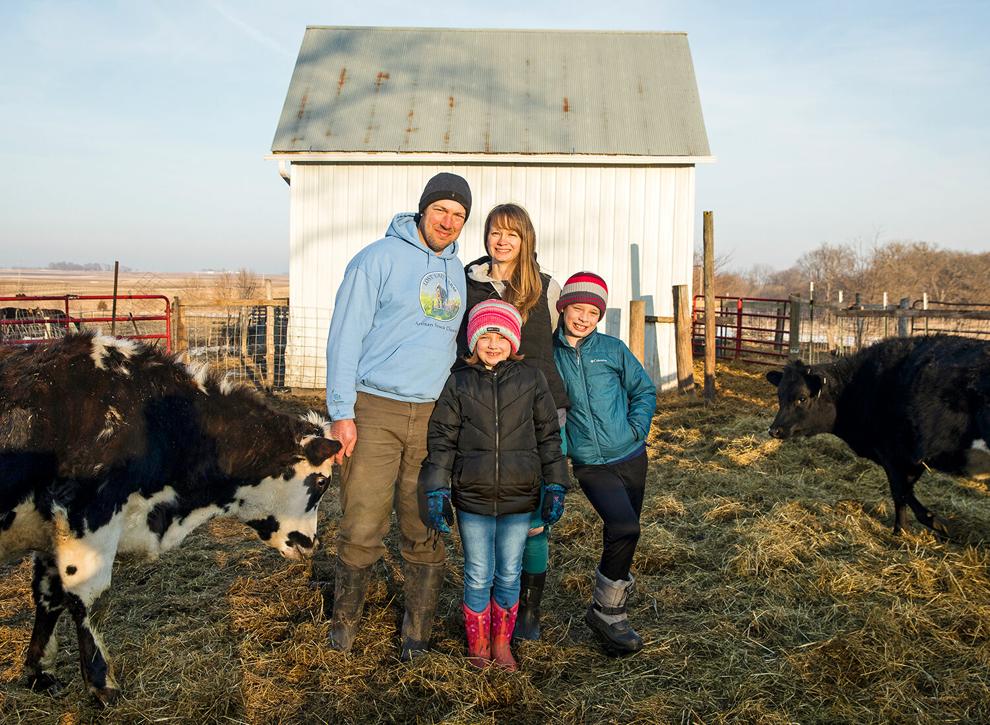 A cheesemaker who farms, or a farmer who makes cheese?
The Dietzels have always wanted to live this life, but farming is expensive and complex, more so if you're starting fresh. But, when these two put their heads together, the result was an impressive combination of skills and backgrounds. Ranae holds a Ph.D. in sustainable agriculture and is an agronomy data scientist for Syngenta in Slater, Iowa. Kevin has a B.A. in biology, has worked with Cornell University as a soil research technician and was a grazing coordinator for Practical Farmers of Iowa.
So, when the couple devised a plan to get a farm of their own, the biggest roadblock wasn't know-how, it was funding. Their relationship with Practical Farmers of Iowa and other agricultural organizations provided a rich network of support and potential investors. But Iowa farmland is a prized commodity and a solid investment, which meant finding land that wasn't already being used by corn and soybean operations was a challenge.
"We created PowerPoint slides, outlined talking points, all of it," remembers Ranae. They finally approached Kevin's uncle and aunt who provided the initial investment for the purchase of the land. Then the couple obtained additional funds from a core group of investors to form a foundation which allowed the Dietzels to grow their farm into what they envisioned.
Today, Kevin is able to devote himself full time to farming and cheesemaking. "It's a constant push-and-pull," he says of the work. "Am I a cheesemaker who farms? Or, a farmer who makes cheese?" Most days, he gravitates to the latter.
---
From the ground up: Pasture and nutrition philosophies
"We may not be certified organic, grass-fed, natural or any other labels you find on food. But we do follow our own rigorous standards," says Kevin of the farm's field philosophy. With a cadre of enviable labels of his own — including being a state-certified agriculturalist or "staatlich anerkannter Landwirt," recognition he received through a biodynamic farming apprenticeship in Germany, Kevin is well-versed and passionate about regenerative, ecological farming. "Our goal is always to improve the land we live on," he says contemplatively, before cracking a smile and adding, "Besides, weeds aren't necessarily bad. The cows like them, especially the dandelions." 
Lost Lake Farm's pastures are covered in seven core species of plants — a diverse mix of perennial grasses, legumes and forb that all contribute to the Dietzels' complex cheese varieties and flavors. To boost pasture production during heat and drought, the Dietzels sometimes integrate annual seed mixes like sorghum-sudangrass for grazing. But they don't till, use pesticides or employ synthetic fertilizers (their cows take care of that job).
At the moment, any hint of green is tucked away under the late-February snow. Living in Iowa means the farm's 100% forage-fed cows graze about seven months out of the year. During colder months, the Dietzels provide hay for their cows, but soon the snow will melt, and the fields will come alive. "Early to late April, we'll start moving the cows to the front part of the pasture. That's the hardest time of the year," says Kevin. "The cows can see the green grass farther out, but just can't get there yet."
When the muddy earth firms up and fields are established, Kevin practices rotational grazing and will move the herd twice daily, giving the cows fresh greens and keeping them in select areas with the aid of portable electric fencing. The system also ensures the grass isn't overstressed and prevents the cows from picking up parasites.
---
Herd hierarchy and contented cows
"I think happy cows make tastier milk," Kevin quips. And today the herd is definitely happy. "This is great weather for cows — their sweet spot is 20 to 60 degrees."  A pair of cows snuggle together on the ground nearby, contentedly chewing their cud and watching the Dietzel children play. Another coffee-colored New Zealand Frisian rubs her neck loudly and energetically on the fence. "These are our 'teenagers,'" says Ranae, as more cows stroll over. Not true teens, but almost as rambunctious, these are instead weaned calves, roughly eight months old.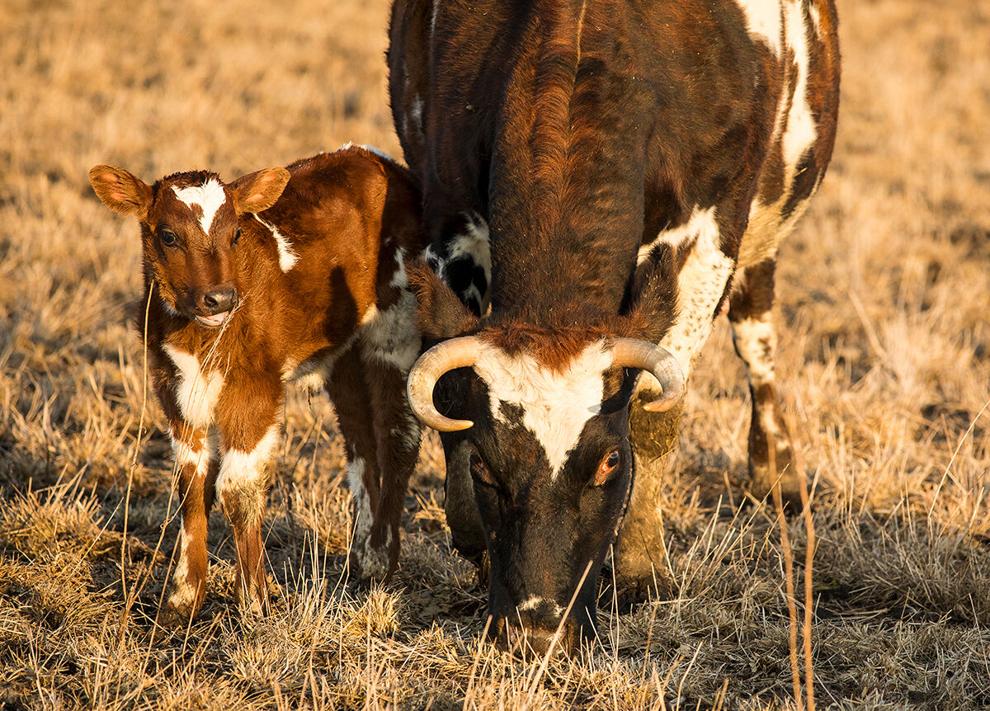 At Lost Lake Farm, calves stay with their mothers much longer than at standard dairy farms where they're often separated as early as six weeks. Instead, calves are socialized into the larger herd before transitioning to this paddock. Kevin later mentions that during the weaning process, mothers share milk between their calves and the farm until the transition is fully made to farm-milking only.
Ranae points out two big, brown heifers with short horns and longer, fluffier coats in a separate area designated for milking cows. "Those two Brown Swiss are our newest cows," she says. "There's definitely a hierarchy here. We have a couple that think they're in charge — and a few wild ones," she adds, nodding back toward the younger calves.
In addition to the Brown Swiss and New Zealand Frisian, the Dietzels' herd is an eclectic mix featuring Ayrshire, Normande and Kiwi cow crosses (New Zealand Frisian and New Zealand Jersey). Most of the cows are raised on the farm from birth, and all 20 animals are free to roam outdoors as much as possible. When the weather is inclement or there's snow, the animals are moved to an open-air, bedded pack, as they are now.
The farm's approach is likely why these cows remain so healthy. "Vets don't need to come often," Kevin explains. Instead of pushing for high milk production quantities, the farm focuses on quality production from their animals and aims for minimal intervention — and maximum nutrition.
---
Cheese is a series of happy accidents
A farmer's life can be hard, but farming in the Midwest is even harder. The hours are grueling, the work exhausting and the weather can be brutal. But Kevin and Ranae seem to have found a comfortable working balance between tending the land, minding the animals, raising a family — and making and selling their own cheese.
Kevin's journey to award-winning cheesemaker began at the kitchen table where he first started as a hobbyist, tweaking recipes from books and taking copious notes along the way. "Tasting and figuring out what I like — and making each process my own," has been the key to Kevin's process, and his success.
"And, experimentation sometimes leads to happy accidents," Kevin reports. This is how he discovered the recipe for Lost Lake Farm's Emmentaler. Kevin has always taken good notes, which makes those preliminary happy accidents something he can go back to and replicate again and again. This process is what also led him to Lost Lake Farm's first breakout recipe: Ingrid's Pride, a cheese similar to mozzarella. A fast favorite, Ingrid's Pride won Best in Show at the Iowa State Fair in 2018.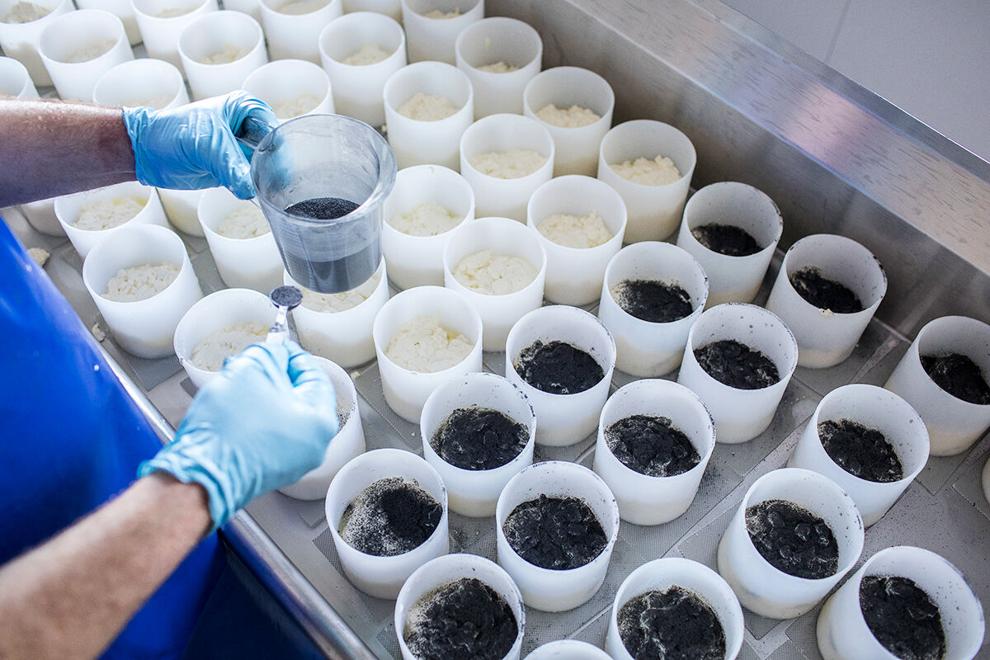 Although Kevin no longer makes Ingrid's Pride (it's a labor-intensive, stretched cheese), he continues to brainstorm and explore new ideas and reaches out to cheesemonger friends throughout the state for input. "Everyone in Iowa likes provolone and Cheddar, but I want to be a bit more creative," he says. Striving to have cheese for every purpose, the farm currently makes Iowa Alpine, Emmentaler, a white Cheddar, Farmstead Feta, Lost Lake Blue, Camembert and Burrnt Oak. The latter of which is a Morbier-style cheese traditionally made by layering ash into the cheese — in this case, ash from a 200-year-old burr oak tree that once stood on their property.
"People ask about us doing a pepper Jack or a Muenster. Maybe." Kevin says, before chuckling and quickly adding, "But, I have no interest in making stinky cheese, like Limburger."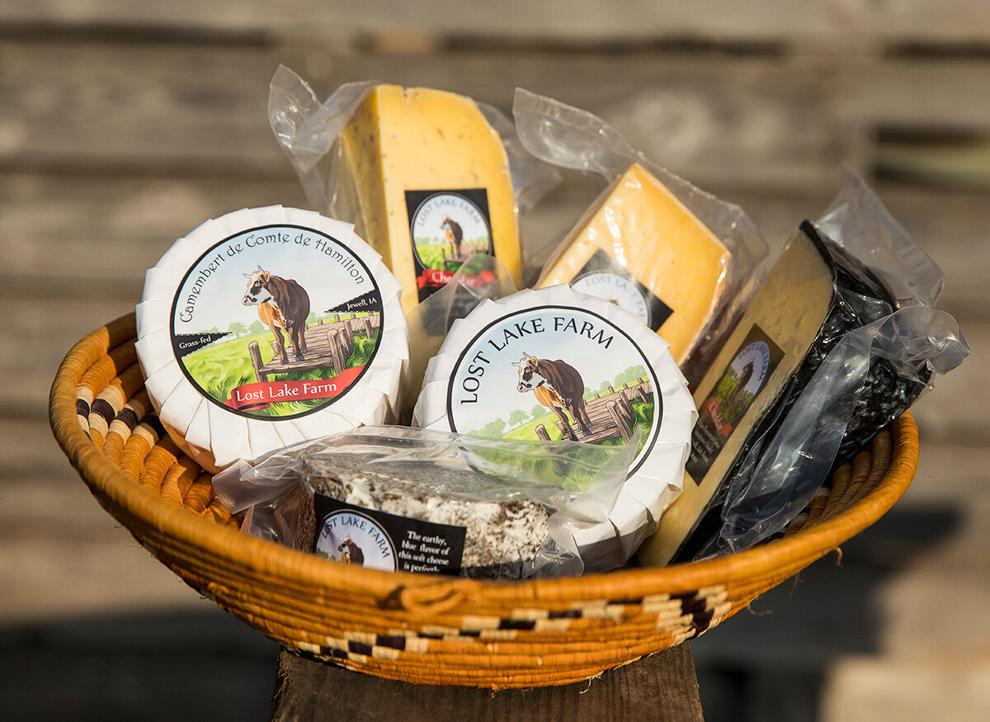 ---
The business of cheese
While Lost Lake Farm is glad to work with local food cooperatives, they have moved toward a seasonal sales model that allows for more direct contact with customers instead of selling exclusively through stores. "We don't make enough cheese to build an empire," says Ranae. "But we do make enough to build a good community in central Iowa." 
For example, in warmer weather, the Dietzels participate in farmers' markets, and, when the weather is cold, they ship cheese through online sales. Lost Lake Farm has a good relationship with chefs in Des Moines and nearby Story City, as well as partnerships with several other area farms, including Blue Gate Farm, Ebersole Cattle Company and Root to Rise Organic Farm. These collaborations pair local produce with Lost Lake Farm's mature beef, pork and cheese for delivery throughout the area and are managed through online sign-ups and mailing lists.
Most cheese, anyway. Iowa's Lost Lake Farm details how their artisanal cheese is made, from pasteurization to aging.
---
Zen and the art of cheesemaking
The afternoon shadows lengthen as Kevin and Ranae talk about their milking parlor. The cozy, enclosed area comfortably houses four cows at a time, which Kevin milks every day, except on cheesemaking days when a part-time employee helps. The process takes about 30 minutes for each foursome. The milk is then stored in a large, refrigerated tank in the adjacent cheesery connected to the milking parlor. Here, the milk can sit for up to five days before the quality of the milk risks degradation.
It's time for Kevin to check on cheese he started processing earlier this morning, and he leads the way past the milking stall, through a heavy door and into the cheesery's entryway. Here, he carefully takes off his coat and work boots and slips into a pair of clean, white rubber galoshes, a hairnet and a surgical mask before entering the cheesemaking room. 
Lost Lake Farm in Iowa uses the whey from cheesemaking to feed their hogs—a tasty & nutritious treat for the pigs.
The room hums as Kevin begins scooping curd from a pasteurization vat into hoops set in stacked rows across a stainless steel table. Behind him, two large windows capture bucolic pasture views as several cows walk by. A steady dripping of whey punctuates Kevin's speech as it drains into large white buckets just below. This precious liquid is collected and used to soak oats for the farm's pigs. Highly nutritious and heavy in fats and protein, whey makes for a great addition to the pigs' diet and infuses the farm's pork with a rich and uniquely cheesy taste.
"I'm working on an aged, stronger blue," Kevin says, as he moves back and forth from the cheese vat to the worktable, ladling fresh curds into the molds. This process started before sunrise when Kevin first pulled milk from the tank into the cheese vat, and although already late-afternoon, he'll continue processing this batch into the evening.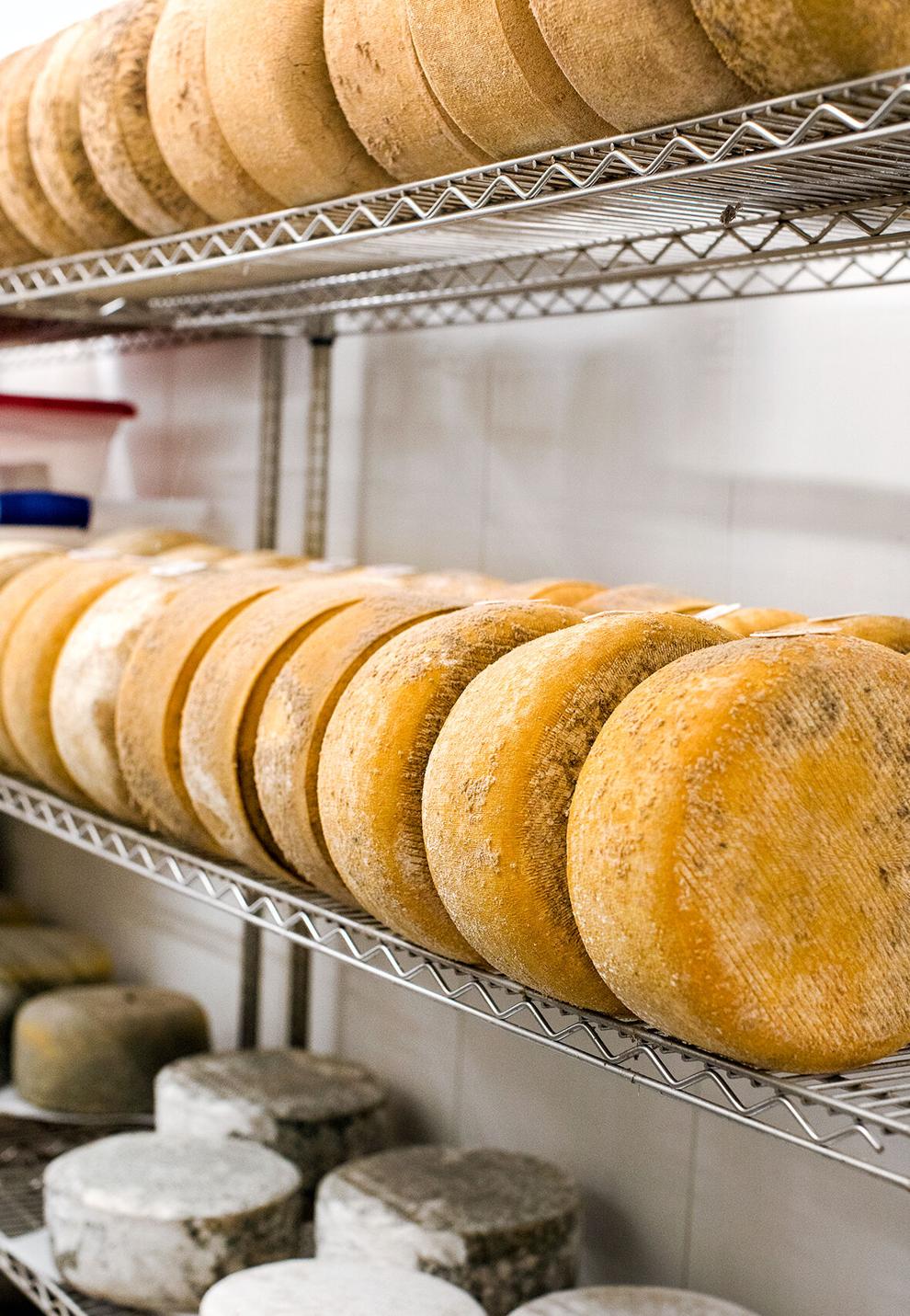 The farm uses only pasteurized milk for its cheese and employs an LTLT (low temperature, long time) process, which Kevin explains is slower and gentler on the milk, retaining flavor and nutrients. The cheese Kevin is "hooping" now will sit and drain for several days, before he moves it into plastic storage tubs stacked atop shelves nearby.
"You can make a great cheese, but how it's preserved or packaged can make or break it," he says while opening the door to the aging room. The space, not much larger than a walk-in closet, is carefully regulated for precise humidity and temperature levels. "The taste and texture of cheese can change so much over time—this can work for you or against you," he adds while gesturing to the rows upon rows of cheese sitting on metal shelves.
This little room — seemingly the smallest space on Lost Lake Farm — holds a treasure trove of cheese, the result of the Dietzels' years of experience and hard work. The sales from this room's wares support day-to-day farm costs. In turn, the farm's cows contribute to Kevin's cheesemaking, building a beautiful and successful yin-and-yang balance.
"I always wanted to be a farmer," Kevin confides, as he starts to hose down the floor of the cheesery. "But the whole reason we got into this life was to start a small dairy farm. I love being a farmer who makes cheese."