Meticulously etched into the walls of ancient Egyptian hieroglyphics nearly 4,000 years ago, depictions of watermelon harvests from the desert sands of the Sahara demonstrate their importance to the pharaohs. Seeds found in North Africa date the nightshade's origin 1,000 years earlier. Several millennia later on the other side of the world in Vincennes, Indiana, Mouzin Brothers Farms is proudly carrying on the tradition, though the quality of their watermelons has vastly improved compared to the original tough and bitter version that was primarily savored for its high water content along the equator.
Julius Mouzin, Sr. broke ground on his farm in 1935, raising livestock and growing produce for a nearby orphanage, later shifting his focus to the local markets after the facility shut down. His sons, Julius Jr. and Paul, were the original Mouzin brothers, passing the torch to Paul's sons, Dennis and Ed. Today, Dennis' sons, Brady and Blake, are taking on leadership roles within the operation, as well as their brother Colten, who is currently enrolled in college but also involved in many endeavors on the farm.
The farm grew from its original 35 acres to a few thousand at the turn of the 20th century. Now into its fourth generation of family ownership, Mouzin Brothers Farms claims a whopping 12,000-acre spread among Indiana, Illinois, Florida and Georgia properties. The staff of around 30 full-time permanent employees swells to around 450 with an influx of seasonal workers during the busiest summer months.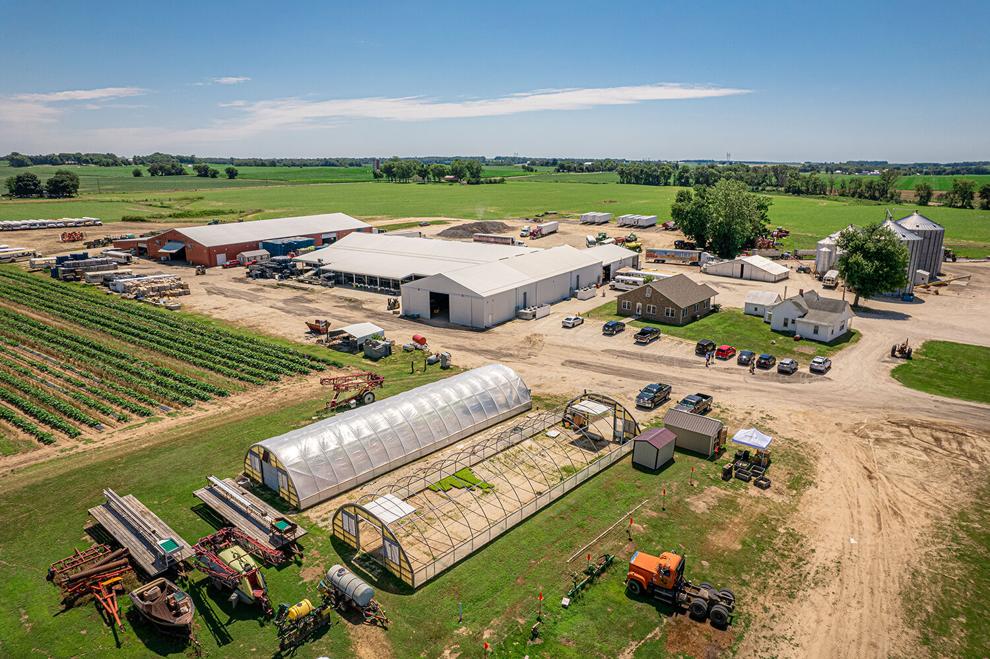 Although the Mouzin brothers admit that everyone who works on the farm wears a number of different hats, Brady, 27 and a graduate of the Indiana University Kelley School of Business, primarily manages sales and administrative responsibilities. Blake, 25, earned an agribusiness degree from Southern Illinois University at Carbondale and oversees field scouting as well as the farms' the food safety and certified organic programs.
Dennis remains heavily involved in high-level operational aspects of the farm. At age 85, Paul still stops by every day at 5 a.m. His wife continued to pick cantaloupes in the field up until about a decade ago, well into her mid-70s.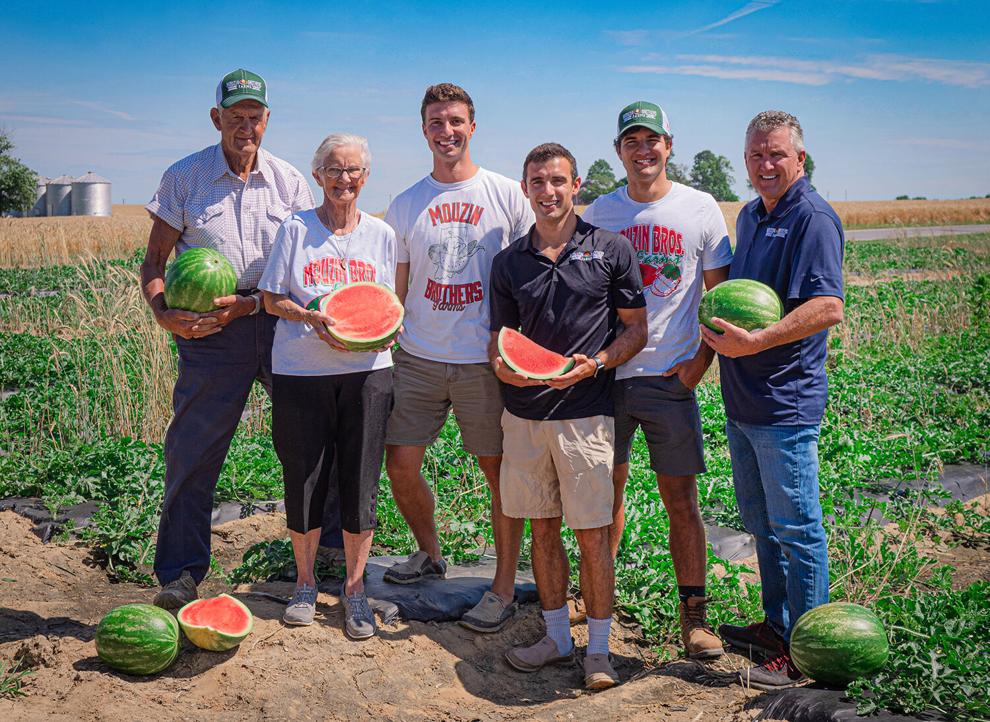 ---
All in the family
At first, neither Brady nor Blake were keen on joining the family business, having spent the summers of their youth working in the fields as their friends enjoyed vacations and downtime. After they went away to college, their mindset began to evolve.
"As we got older, we started to consider the potential of management opportunities with the farm and we began to lean into the idea of returning to work here," Brady says. "My dad, uncle, grandma and grandpa all urged me to explore my options, but once Blake and I had removed ourselves enough to get some perspective on the whole operation, we realized that we both wanted to come back home."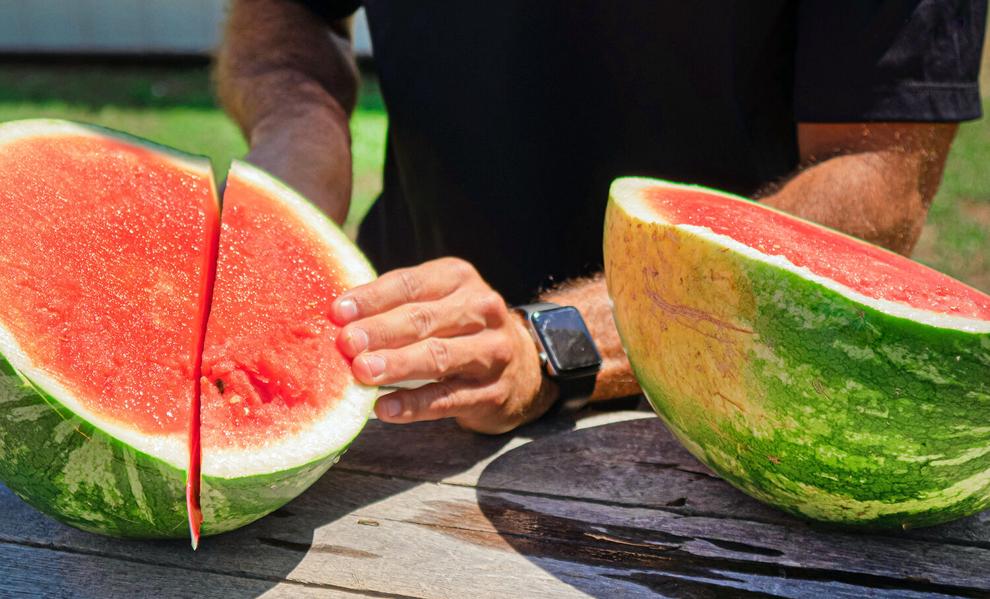 Watermelon has been a Mouzin Brothers staple crop from the very beginning. The farm grows between 10 and 15 different varieties annually — mostly seedless varieties, but also seeded, jumbo seeded and specialty offerings.
"They all have different genetic qualities," Blake describes. "Some grow quicker than others, so our season really depends on where we're growing them and when we want to harvest."
Typical watermelons that shoppers might find at the grocery store or farmers' market include the large oval Excursion, the glossy deep-striped Fascination and the dark green Sweet Gem varieties, all with sweet, firm red flesh.
"Our Black Diamond watermelons seem to be everybody's favorite; we grow a couple hundred acres of those," Blake says.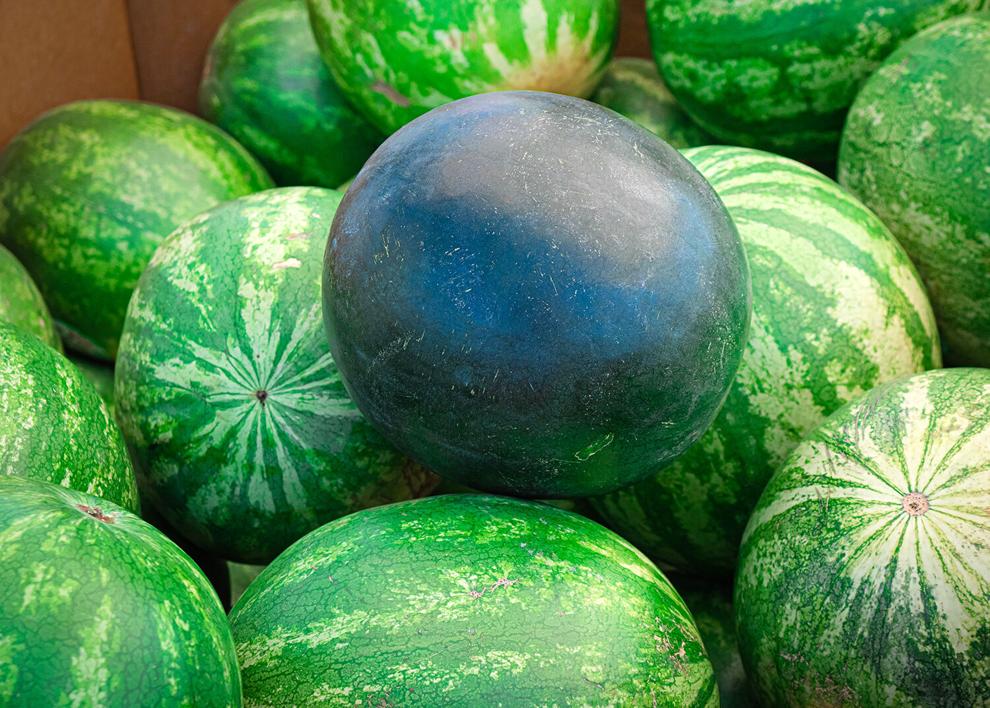 ---
Down on the farm
Farms and rustic market stands punctuate the drive down rural U.S. Route 41 between Terre Haute and Evansville, mainly because the sandy, fertile earth and rolling topography of southwestern Indiana lend themselves so well to growing watermelons. However, the Mouzins are quick to point out that relationships between the regional melon producers here are more collaborative than competitive.
"We get along with the other farmers; we're all part of the same associations, and we're in close communication most days," Brady says. "We all grow by working together to expand the industry, not by taking market share away from each other. We don't step on each other's toes."
"I always tell the boys, if you're worried about your neighbor, you'd better figure out why," Dennis notes. "If you think they're doing something better than you are, that's something that needs to be addressed. Your competition should make you better, not worse."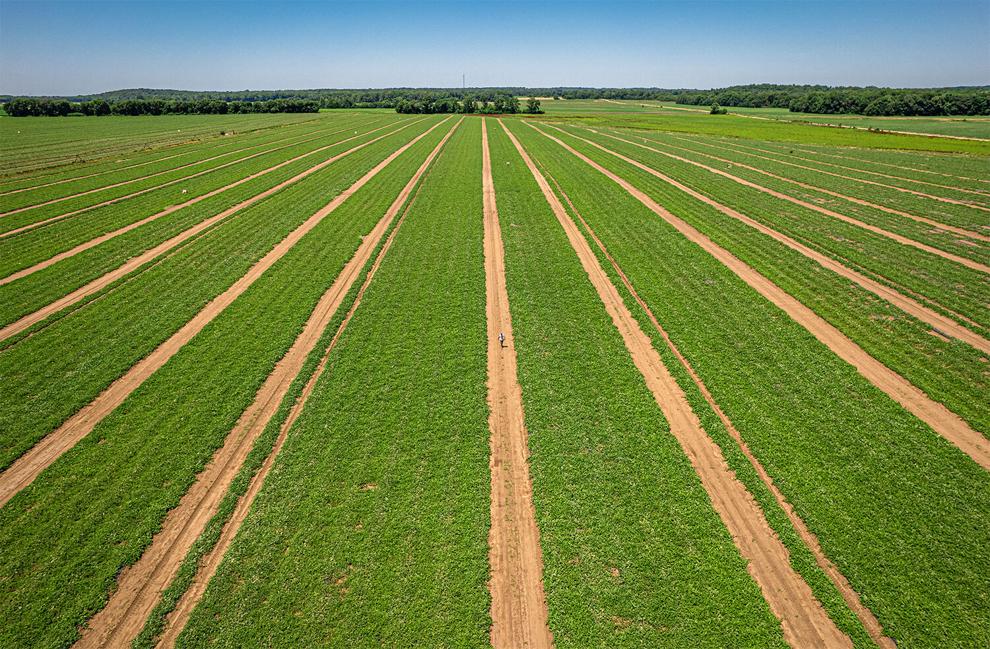 ---
Cream of the crop
Following watermelon, sweet corn is the Mouzin Brothers' largest crop sold in the produce aisle for customers.
"All of our corn is grown for food consumption, not livestock feed, so it has to meet certain qualifications," Blake says. "We also grow and ship conventional field corn for Azteca Milling in Evansville, which supplies the corn flour used to make Mission Foods tortilla chips."
The Mouzins grow a full complement of additional produce on their farms, including pumpkins, squash, cauliflower, broccoli, green beans, soybeans, ornamental gourds and hemp for CBD and textile/fiber applications.
"We sell all of our own produce directly to retail; that's one of the things that makes us unique," Brady adds. "Right now, I'm currently working with buyers from Walmart, Kroger, Jewel-Osco and Meijer."
Distribution-wise, Mouzin Brothers Farms services a core customer base within a 500-mile radius of their Indiana and Illinois farms.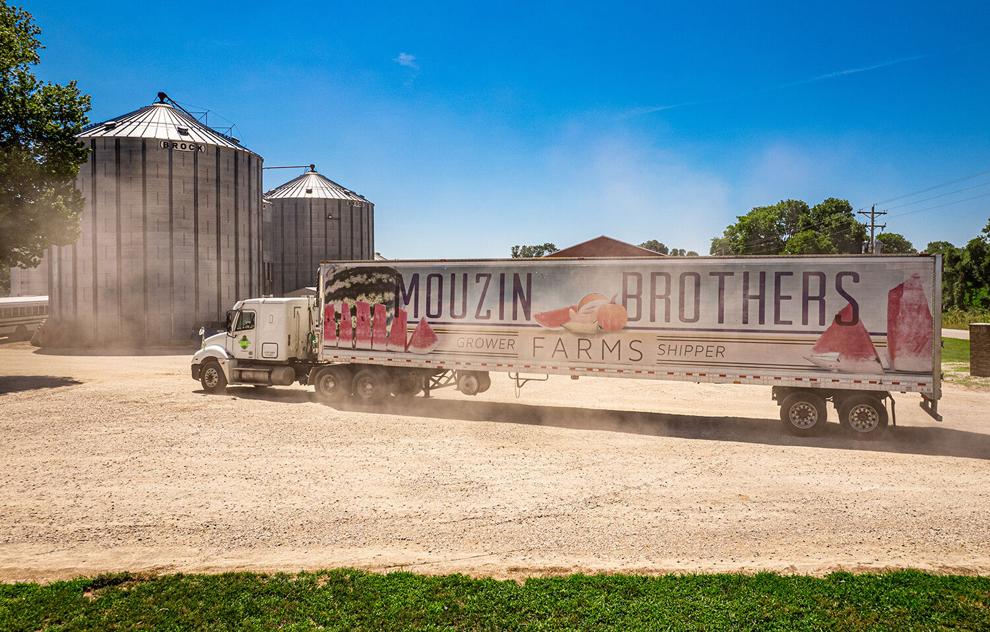 "We like to push local to the Midwest," Brady says. "There's a basic industry understanding that if you can get a product from the field to the store within a day, it's considered local. But we also ship all over — out to Colorado, Texas and Maine — and we do a lot of business in Minnesota. I have friends in New York and around the country who will see our label in stores and call or text me about it."
The addition of the Florida and Georgia facilities has extended the Mouzins' standard Midwestern growing season from spring through fall into a nearly year-round operation.
"We start in Florida in January with field prep, and we don't stop harvesting until our crops are out of the field in Indiana in November," Brady explains. "There are slow times, but we never really get time off."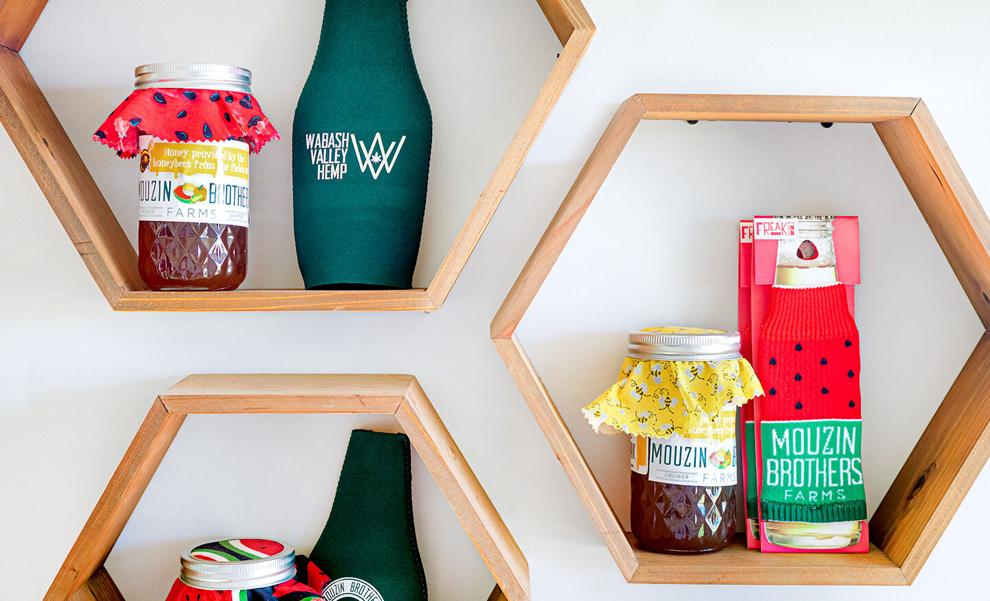 ---
Keeping up with trends
Creative chefs might be experimenting with watermelon in terms of culinary recipes and cocktails, but in the way people consume the fruit, nothing has really changed over time.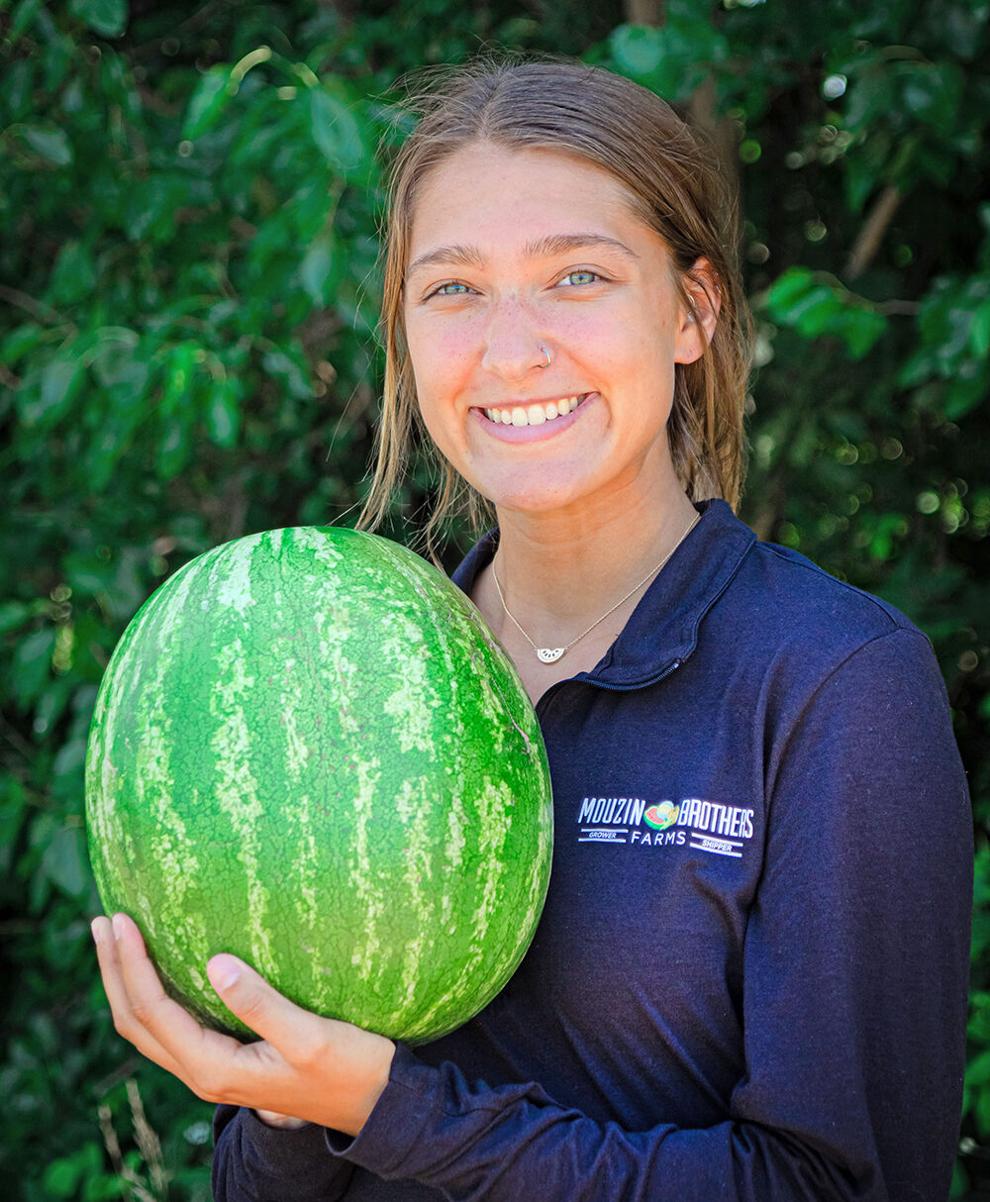 "Four or five years ago, we saw a big spike in watermelon-themed apparel," Brady chuckles. "Watermelon everything was in!"
Savvy consumers want to know where their food is coming from, leading to more direct communication between farmers and their customers. To that end, Mouzin Brothers brought Madison Heiden on board in May 2020. A former queen ambassador for the Illiana Watermelon Association, she manages the farms' social media accounts and community engagement efforts.
"She's helped us so much in those areas," Brady says. "I used to be in charge of our Facebook page, and it was a disaster. I posted something maybe once every five months? She's really taken that responsibility on and grown it exponentially."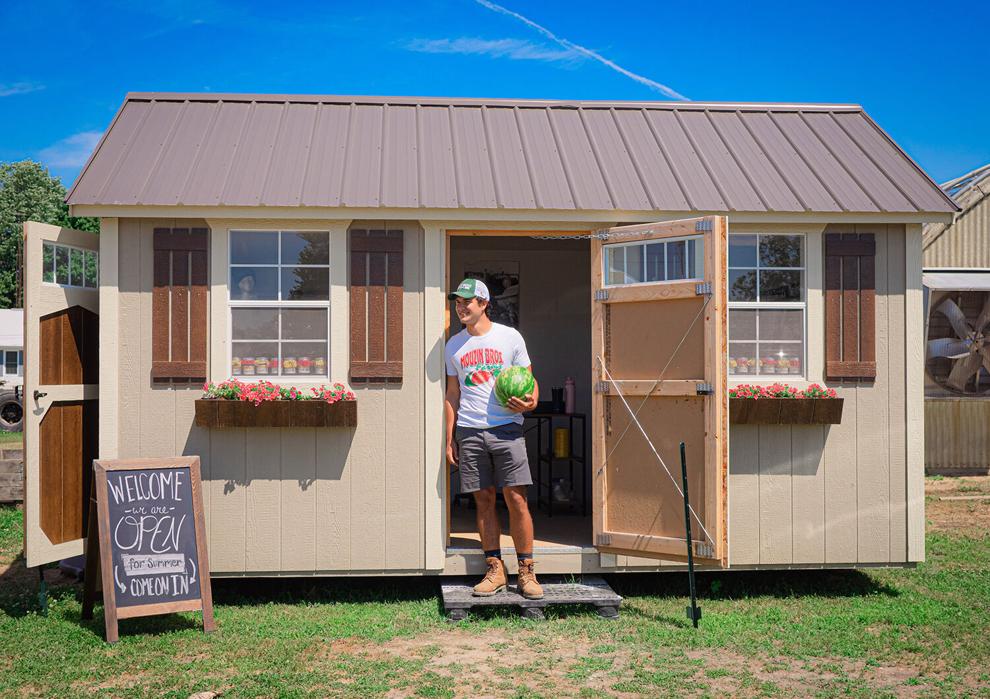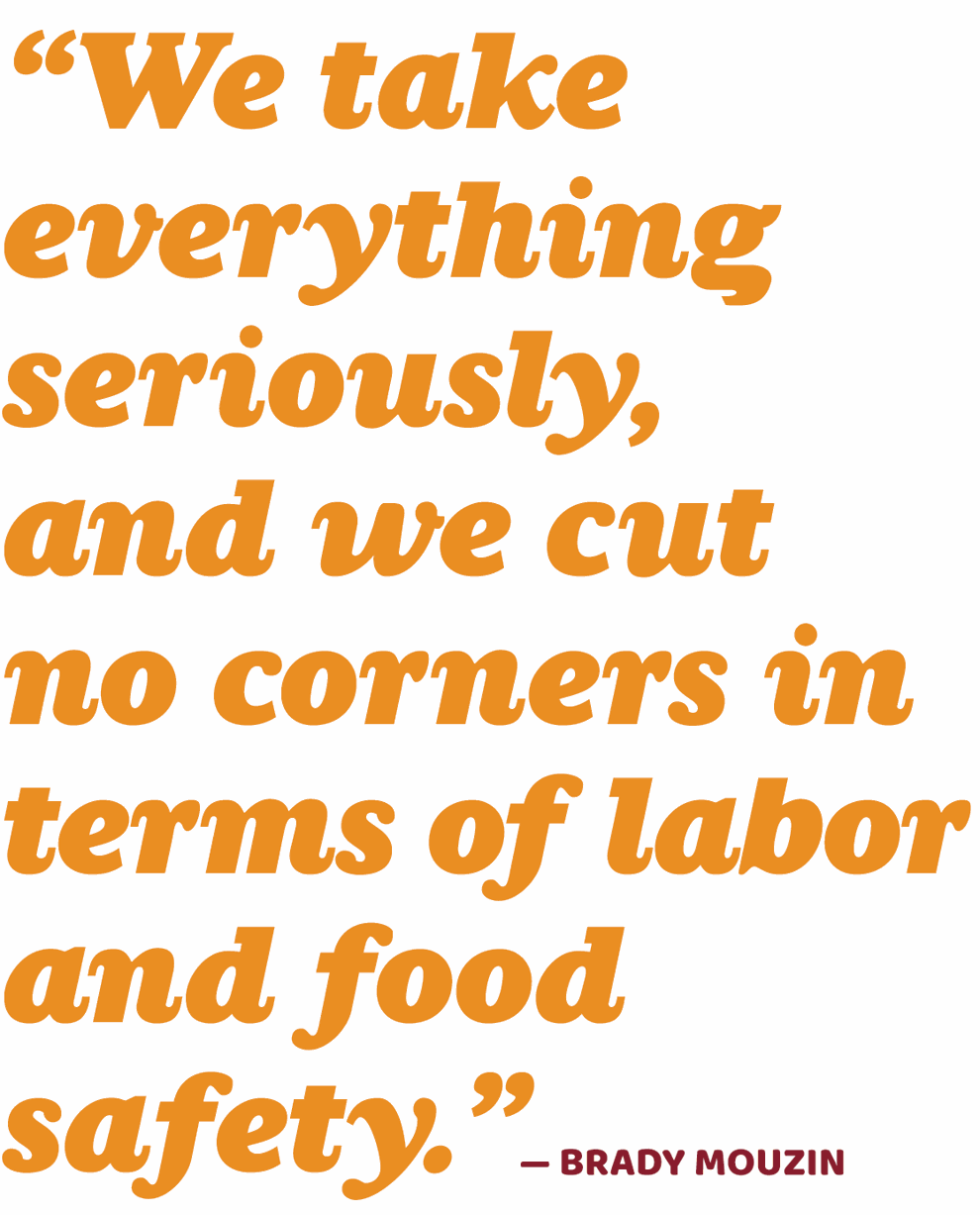 Under Heiden's watch, the farm is getting increasingly more involved with local events and charities, setting up partnerships with local schools for fall pumpkin giveaways and pumpkin patch field trips. Promoting a new roadside produce stand at the Vincennes headquarters online proved fruitful last summer as well.
"It was great," Heiden says. "We had so much traffic some days, you couldn't see the road because of all of the cars stopping."
Like any produce farmers worth their salt, all the Mouzins really want to do is grow and provide a great-quality product to their customers.
"We take everything seriously, and we cut no corners in terms of labor and food safety," Brady says. "It's expensive, and it's a lot of work. But that's how we believe in doing it, how we've always done it, and how we'll continue to do it."