What's the difference between microgreens and sprouts? Welcome to microgreens 101, where we cover everything from nutrition to cosmetics (yes, cosmetics).
If you've visited a local café or perused your farmers' market recently, you've surely come across a tangled nest of flavor-packed microgreens like the ones sold by Vertical Harvest in Jackson, Wyoming, sprinkled atop your avocado toast, butternut squash soup or spicy taco. These gorgeous greens are much more than a pretty garnish. They are a superfood with up to 40 times more vital nutrients than their fully grown counterparts. And, it turns out, they are incredibly easy to grow at home. 
Microgreens and microherbs are the seedling versions of leafy greens, vegetables and herbs. They are a few days older than sprouts, but are younger than "baby greens." Depending on the plant, they are harvested in as little as three days or up to 10 days after germination. 
The best thing about growing microgreens indoors is that you don't have to worry about bad weather or pests, even if you live somewhere with hot summers or cold winters. You can have fresh microgreens year-round harvested in as little as two weeks.
For the freshest greens at your fingertips, here are the basics for growing at home.
---
Supplies:
Trays or shallow containers (2-inches deep or so) with holes for draining water. If you love to reuse and repurpose, check your recycling bin for containers like egg cartons, berry boxes, foil muffin tins or pie plates, small paper or wax cups, or cut off the bottoms of milk containers. It helps to place small containers on a baking sheet if you need to move them.


A cover to block light during germination, such as a plastic lid or piece of cardboard.


Potting mix, soil or a growing medium (such as coconut fiber or hemp for roots to grab on to if growing hydroponically).


Find a sunny spot. You can grow your microgreens near a window if it gets four to six hours of sunshine a day, or consider an LED grow light to shine more rays.


A warm location — 70 degrees is ideal.


A spray bottle for spritzing.


Choose your seeds: Buy seeds that offer a colorful mix of sweet, spicy and nutty flavors. A spice shaker is a great way to evenly distribute seeds over your growing medium.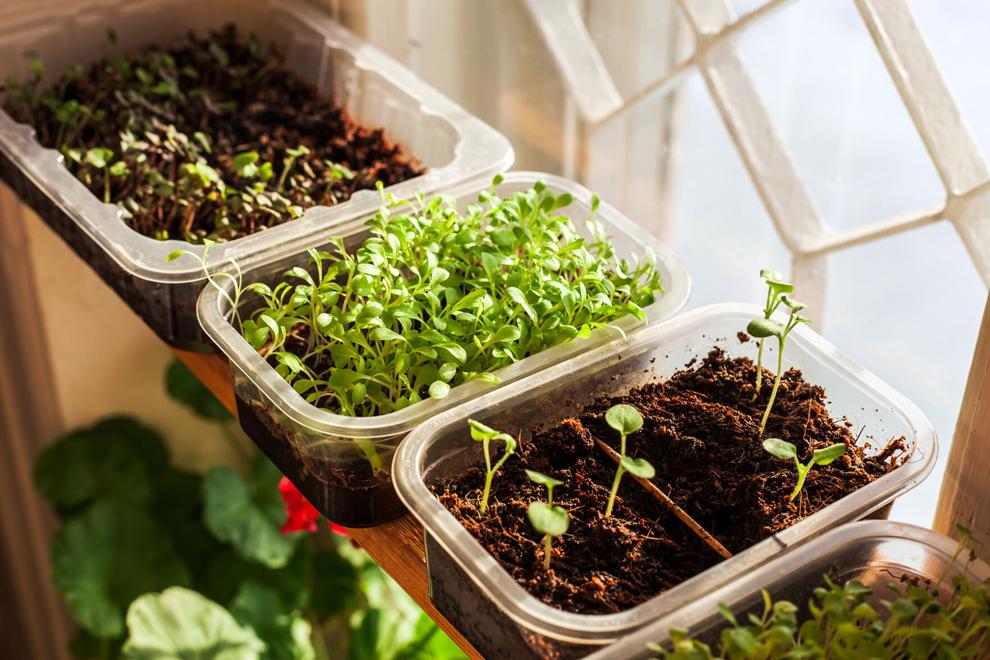 To plant the seeds, cover the bottom of your container with an inch or two of potting soil or a nonsoil medium, and scatter a layer of seeds evenly on top — they can be much tighter than seeds planted outdoors that are intended to reach full maturity. If using soil, press seeds gently into the dirt, cover with a thin layer of soil, and then spray with water to moisten. If using a nonsoil medium, simply sprinkle seeds on top of the medium and spritz with water. Place a lid over the top to create a dark environment for spouting, and mist daily until you see seeds germinating. This will take approximately three days. Once sprouted, you can remove the lid and place the plants in a sunny spot. Spritz the sprouts and soil whenever it appears to be drying out.
Note: Soaking the seeds and sprouting them before planting is not mandatory, but some pros recommend it for better results.
Learning how to use microgreens in cooking doesn't have to be hard; we break down health benefits, flavors and pairing suggestions.
The best time to pick your microgreens is when the first leaves appear, seven to 14 days after planting, depending on the variety. To reap the maximum nutritional benefits, flavor and color from your greens, only harvest what you need immediately before use. Snip just above the soil level with your scissors. Wash very gently and give them a whirl in a salad spinner to dry. Microgreens can be wrapped loosely in a damp paper towel placed inside a plastic bag. They will stay fresh for about five days in the refrigerator. Some varieties will regrow after you harvest them.
Enjoy microgreens on top of soups, sandwiches, bruschetta, pizza and other entrées. They can also be used in salads, omelets, smoothies or in place of herbs for pesto, slaw and potato salads.