A beloved addition to dinner plates around the world, potatoes offer versatility, health benefits and, of course, delicious flavor in whatever form they happen to take. Here's everything you ever wanted to know about the humble spud.
---
Where did potatoes come from?
Not so fast, Ireland. It's believed that potatoes actually originated in the South American region of Peru thousands of years ago. Spanish explorers introduced them to Europe after discovering that potatoes traveled well on the long voyage home. Through the centuries that followed, folks developed a taste for the tubers, finding them cheap and easy to cultivate, harvest and cook.
Although India and China are the biggest global potato producers today, Idaho leads the charge when it comes to potato farming in America, claiming nearly one-third of all potatoes grown throughout the country and producing a whopping 13 billion pounds of product each year.
Three Chicago chefs serve up their favorite potato recipes, from sweet frites to au gratin and even a potato salad.
---
Are potatoes the perfect food?
According to the National Potato Council, potatoes are a good source of vitamin C, B6 and potassium, naturally fat- and cholesterol-free, low in sodium and high in fiber, especially if you eat the skin.
In addition, a medium-sized, five-ounce potato clocks in at just 110 calories and boasts 26 grams of complex carbohydrates.
Part of the nightshade family along with tomatoes and eggplant, potatoes are a starchy root vegetable in which the edible portion of the plant grows beneath the ground.
In and of themselves, potatoes are a nutritional food choice. However, it's important to keep in mind that frying, processing and slathering potatoes with butter and sour cream not only ups their calorie count, it also counteracts many of the health benefits you'll receive from eating them.
---
One potato, two potato, three potato, four
The lion's share of potatoes grown in America fall into one of six main varieties.
Developed by American botanist Luther Burbank around the turn of the 20th century, Russet Burbank potatoes account for the vast majority of all product grown in the United States. Their high starch content lends itself nicely to fried preparations like hash browns, French fries and latkes (potato pancakes), as well as roasting, baking and mashing.
Small in stature with smooth light skins, round white potatoes feature denser flesh than a Russet and hold up well to boiling or steaming for potato salads yet are versatile enough to be used in nearly any recipe.
Many people enjoy eating red potatoes to reap the added antioxidant health benefits. Thanks to a thin skin, there's no need to peel first; just scrub them well before boiling, roasting or mashing. Many red varieties are considered waxy potatoes, meaning they contain less starch and hold their shape better, making them a great candidate for potato salads, soups and stews. Their colorful skins also make for a pretty presentation on the plate.
In keeping with their hue, all-purpose yellow potatoes such as Yukon Golds boast a rich, buttery flavor and creamy texture, making them a natural choice for mashing.
Native to South America, purple or blue potatoes can be a little harder to source than their white, yellow or red counterparts, but they're also considered all-purpose and every bit as adaptable when it comes to cooking.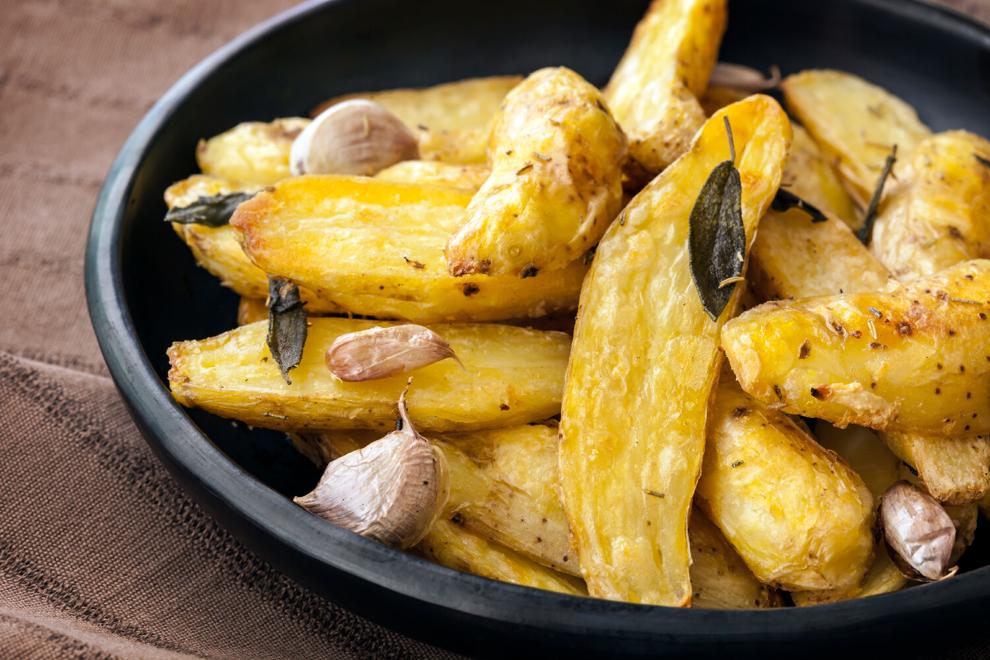 Small and oblong in shape, fingerling potatoes feature a firm texture and mildly nutty flavor. To preserve their distinctive shape, they're best presented whole or halved after roasting, boiling or frying.  
Although it is categorized as a root vegetable and originated in South America, sweet potatoes aren't technically the same as the more standard-variety potatoes. A form of morning glory, sweet potatoes feature thin, brown skins and bright-orange flesh high in vitamins A, B6 and C. Complicating things even further, yams are a different variety altogether.
Whatever form of potato you prefer, you'll want to store your spuds in a cool, dark, humid environment for the longest shelf life, but never the refrigerator. Stored in ideal conditions at temperatures between 45 and 50 degrees F (think a well-ventilated pantry, basement or root cellar), potatoes can keep up to several months. Darkness slows chlorophyll growth which turns potatoes green, and cooler temperatures inhibit sprouting. It is okay to use potatoes with a tinge of green by peeling them first, and cut off any sprouts that form before cooking, but don't eat any potatoes that have turned mushy.