On a cloudy, damp day in March, the smell of wet earth and fermented fruit hangs thick in the air at South Tex Organics farm in Mission, Texas, as a layer of grapefruit rots on the grove floor. Acres of carefully tended plants dropped their fruit due to the freeze that had swept Texas a few weeks prior, blanketing the ground in plump orbs of sweet citrus now unfit for harvest and sale.
The unprecedented – and unpredictable – climate challenges associated with farming are an ongoing reality for those who dedicate their livelihood to the agricultural industry. For Dennis Holbrook, this is no exception.
One could say his journey as president and owner of Texas' largest organic citrus and vegetable business has been in his cards since birth. Although his vision for the family business had always included exponential expansion, the rigorous additional effort required to provide organic certification is a relatively new aspect.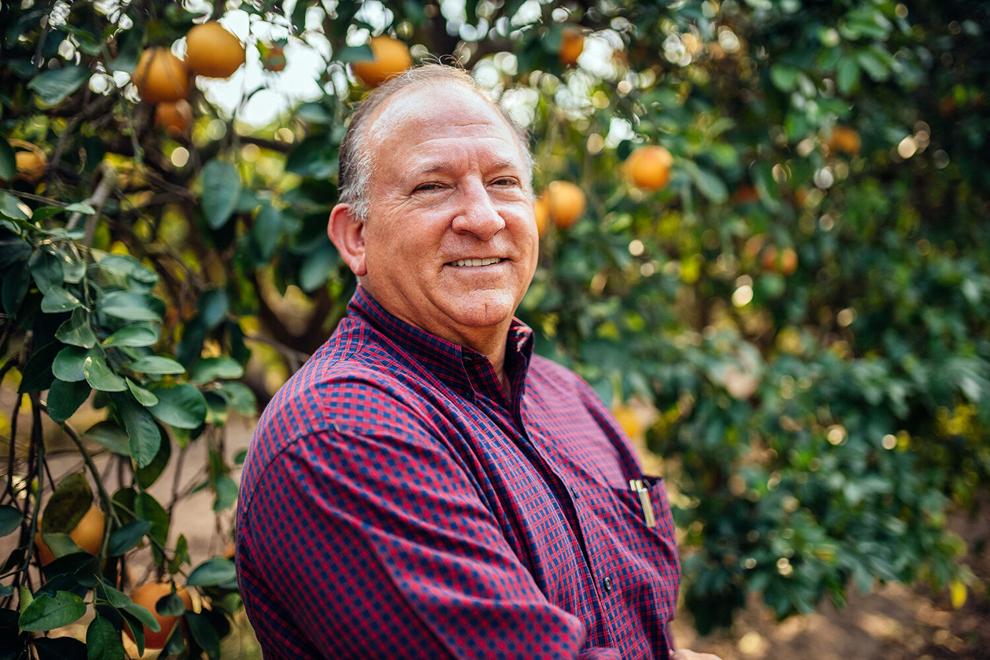 ---
Humble beginnings
Dennis Holbrook's parents visited Mission, Texas, for the first time in November 1954 and fell in love. Bougainvillea was in bloom, citrus was on the trees, palm trees swayed in the breeze, and the balmy temperatures were like a paradise to the couple, who'd taken the trip to escape a bitter northern winter.
The couple settled down in Mission in 1955 and immediately began work in the Texas citrus business, purchasing a small number of their own groves as well as managing several acres for absentee landowners and investors.
Throughout young adulthood, Dennis Holbrook operated insecticide and herbicide spray rigs for the family business, eventually mixing the chemicals that went into spray application airplanes. In 1977, he purchased the grove-management company from his father and began to craft a path for himself in Mission. Then just 23 years old, Holbrook had big plans to build a family — and the family business.
---
Preemptive measures
For the next few years, Holbrook developed maintenance systems and purchased more land to grow the business. With each harvest, he began to notice that his properties were consuming more water — as many as nine irrigations a year in the early 1980s compared to the three to four he recalled from working on the farm as a young adult in the '60s. The fields were also requiring increased amounts of fertilization with every passing season.
Holbrook conducted tests on the soil, eventually concluding that the quality of the earth used in the company's groves and fields had been all but depleted of beneficial organic matter. He began to research alternative growing methods that would replenish the soil without putting any groves out of commission.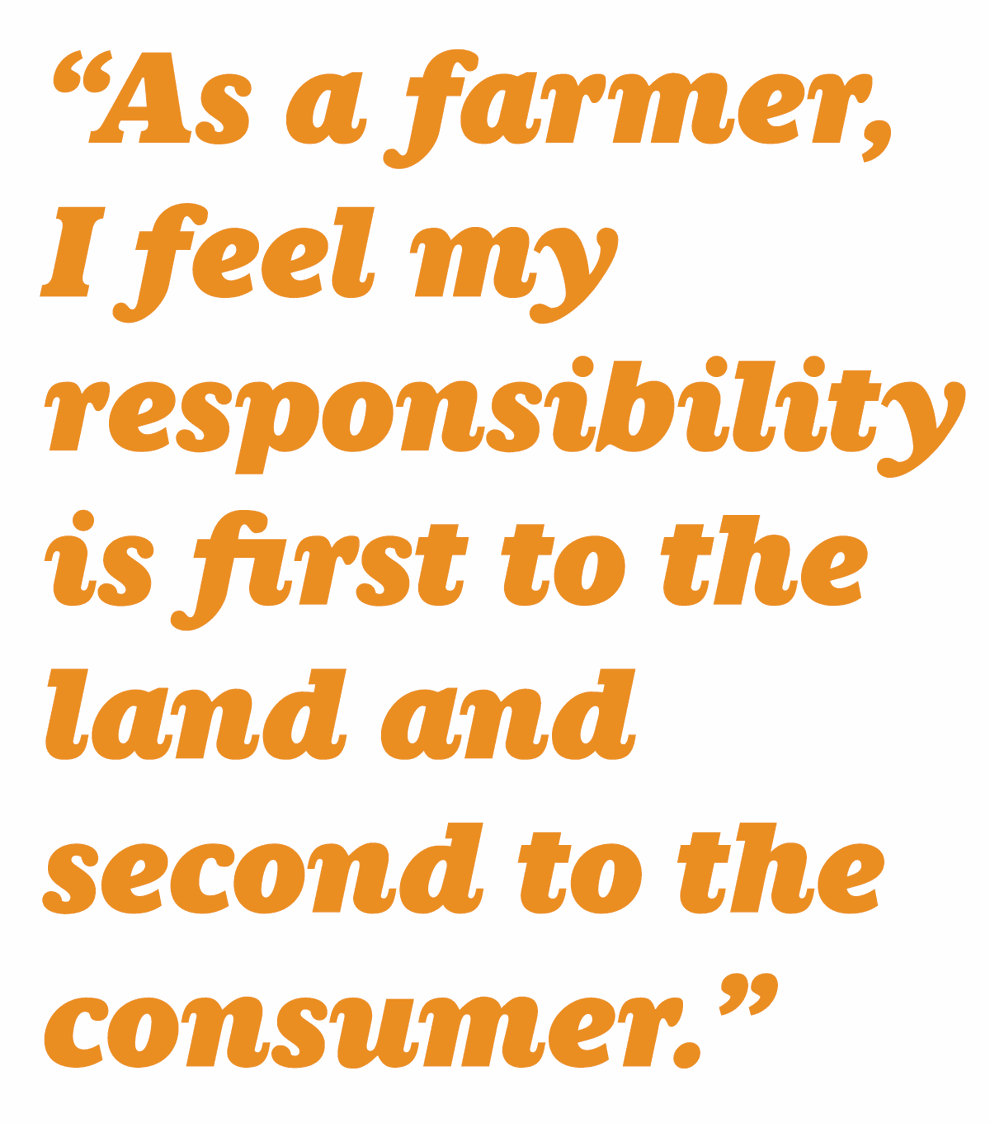 Concurrently, Texas Tech University had been contacting farms across the state asking for participants for a blind test of agriculture workers for pesticide residues. In Holbrook's opinion, he believes their hope was to establish that there were no higher levels in farm workers compared to factory workers, in order to allay concerns expressed by the Texas Farm Workers Union at that time.
"There weren't a lot of companies that were willing to have their employees tested, just because there were so many unknowns, so many concerns about the chemicals back then, and the potential liability if tests proved elevated levels in their employees," Holbrook says. "I felt like I probably had some fairly high exposure to pesticides in my lifetime, and at a pretty young age, and no one really knew what kind of effect they could have."
Although he hadn't worked with chemicals in years, his results showed he was in the upper 90th percentile of the workers who were tested. In his late 20s and starting a family with his wife, Lynda, Holbrook was shaken by the findings.
"Your body doesn't have the ability to expel these types of chemicals, you know," he says. "They get stored in fat tissue and muscle tissue, and at that point in my life, young and starting a family … seeing proof of the long-term effects was just very concerning."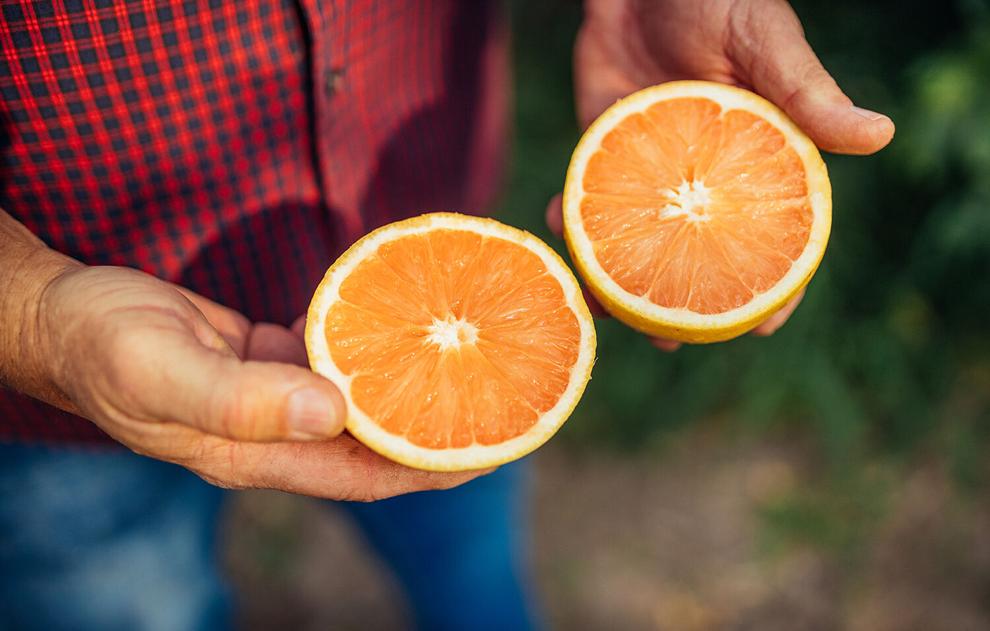 ---
Mother Nature's influence
Fast forward a few years to 1981 and 1982, when Texas had its second and third largest grapefruit crops ever recorded. Surplus was far outweighing demand, forcing growers to sell their fruit for around $15 a ton — not nearly enough revenue to meet the costs associated with producing the fruit. At today's prices, $15 would purchase a single 40-pound box.
On Christmas Eve of 1983, Mother Nature pushed arctic temperatures across the nation, wiping out half of the area's total citrus production — about 35,000 acres.
The economic state of the industry, Holbrook's pesticide residue test results and winter-ravaged fields gave the business owner the push he needed to make a change.
"I took that as an opportunity, really," he says. "I thought, 'Now is a good time to convert to an organic program, to get off the chemical merry-go-round.'"
Converting from decades of chemical-assisted farming to organic growing methods is no small task. The certification process requires rigorous research, planning, record-keeping, inspections and assessments — not to mention a significant annual monetary investment.
When, in 1984, Holbrook told his father he would be converting the family business to an organic model, the response wasn't altogether positive.
"He told me I'd lost my mind," Holbrook says. "He said, 'There's no way you can be successful doing this.'" 
Today, South Tex Organics is the largest organic citrus and vegetable grower in Texas, with more than 500 certified acres in operation. The farm grows primarily Rio Star grapefruit that features a blush peel with a deep red pulp seven to 10 times redder — and considerably sweeter — than the famous Ruby Red variety.
It's believed that grapefruit made its way to the United States in the form of seeds brought by either Spanish or French settlers to Florida sometime in the 1800s. According to Texas horticulturist David Rodriguez, the grapefruit likely made its way to South Texas via visiting Spanish missionaries. The first reported planting of a grapefruit grove in Texas was in 1893.
The Rio Star debuted considerably more recently — just thirty years ago — and its production now accounts for nearly 90% of all grapefruit grown in Texas.
"The Ruby Red variety is almost nonexistent in Texas today, and that's really what made Texas grapefruit famous," Holbrook says. "When you look at the redder varieties, like the Rio Red and the Star Ruby, it's obvious that we've lost some of the other good varieties that we had in the past because we made the mistake, as an industry, to go in the direction that preaches that 'redder is better.'"
---
Wait and see
Holbrook believes in being a steward of the land, even in arguably one of the most tumultuous industries in existence.
"Farming is a risky business," he says. "We are literally the biggest gamblers there ever was, because so much of what we do is contingent on things we have no control over."
The region's citrus groves that occupy nearly 27,000 acres in and around Mission, Texas, currently bear the battle scars of the most unpredictable variable: weather. This year, winter ravaged the Lone Star State from February 13 to 17, hitting the area's citrus crop with a financial loss greater than any other industry. Texas A&M AgriLife Extension Service economists estimate Texas citrus crop losses of at least $230 million as a direct result of the storm.
Fortunately, Holbrook says, South Tex Organics had seen consistent demand for the Rio Star fruits the farm is known for since the beginning of the season, and most of the farm's haul had already been harvested by the time the storm blew in. Unbelievably, South Tex Organics lost less than 5% of their 2021 grapefruit harvest.
"It's a bit of a tough road right now, because, even though we were fortunate to save as much as we did, you figure we will have a reduced return from this year's crop. And potentially minimal to no crop next year," Holbrook says. "This freeze has displaced my employees, and they are part of my family. Obviously, I'm concerned for them and their well-being, so there's still a challenge."

---
Freeze aftermath
One could say that standing between two groves in Mission — one operated by South Tex Organics, the other operated by another local farm that had been unable to harvest its fruit before the storm — is surreal. The tree canopies in both groves are brown and dry, leaves brittle to the touch. But in the grove to the left, a sea of orange covers the ground.
The majority of the South Tex Organics' fruit might have escaped the storm, but acres of citrus groves remain devastated, in need of rehabilitation to remain productive for future seasons. Holbrook says it's too early to tell how much damage has been done and that his team can only hedge the trees to remove the majority of the damaged limbs and foliage and then take a "wait-and-see approach."
In the meantime, fields of red and white onions await harvest, bouncing back from the record temperatures in champion form. Holbrook learned how to cultivate the root vegetables as another source of income after a different big freeze — this time in 1989 — devastated a large portion of his citrus operation.
As a casual bystander, one can easily see the richness of the soil without even touching it, a comment that evokes a sense of pride from Holbrook.
"As a farmer, I feel my responsibility is first to the land and second to the consumer," he explains. "I have a responsibility to be a steward of the land, caring for it as best I can, so that we can continue to provide a food source to our consumers for years to come."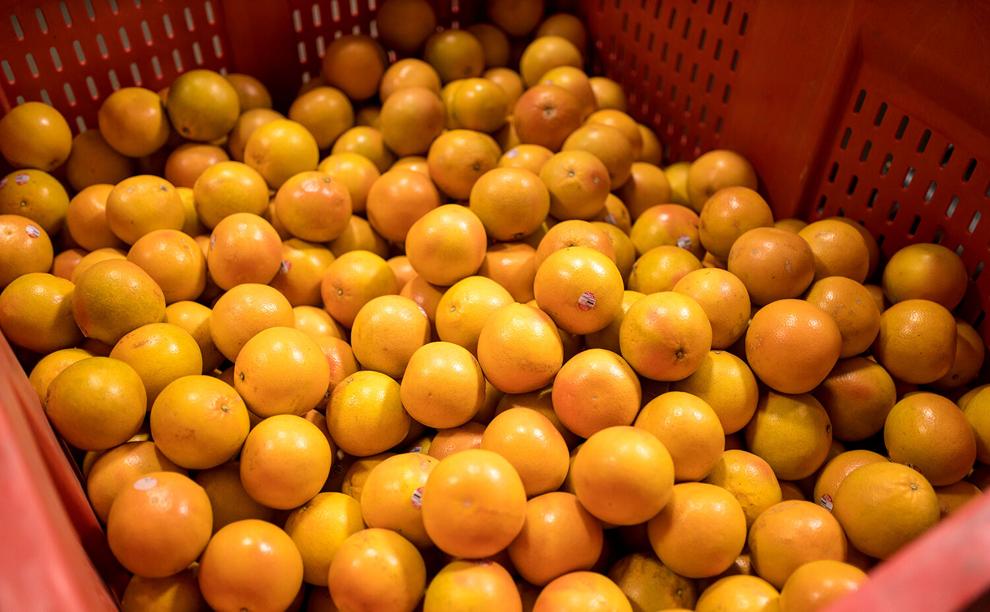 ---
Realizing the vision
Although being the largest certified organic citrus operation in Texas is surely a feather in its proverbial cap, the company is also responsible for blazing a technological trail in the industry. South Tex Organics was the first organic citrus company to label each piece of fruit before the packed boxes left the facility, and also developed a proprietary grading system that separates and packs fruit by size. 
Holbrook's vision to convert his many acres to an organic program might have been met with skepticism in the early 1980s, when the use of pesticides in agricultural applications was peaking, but he says his vision for the company wouldn't be deterred. 
"Philosophically, it was an idea I could get behind, and I had a plan to make my vision a reality," Holbrook says. "I was the butt of many, many jokes back then, but it worked out. Eventually, my father pulled me aside and said, 'You know, I just didn't see it. But I'm so grateful that you did.'"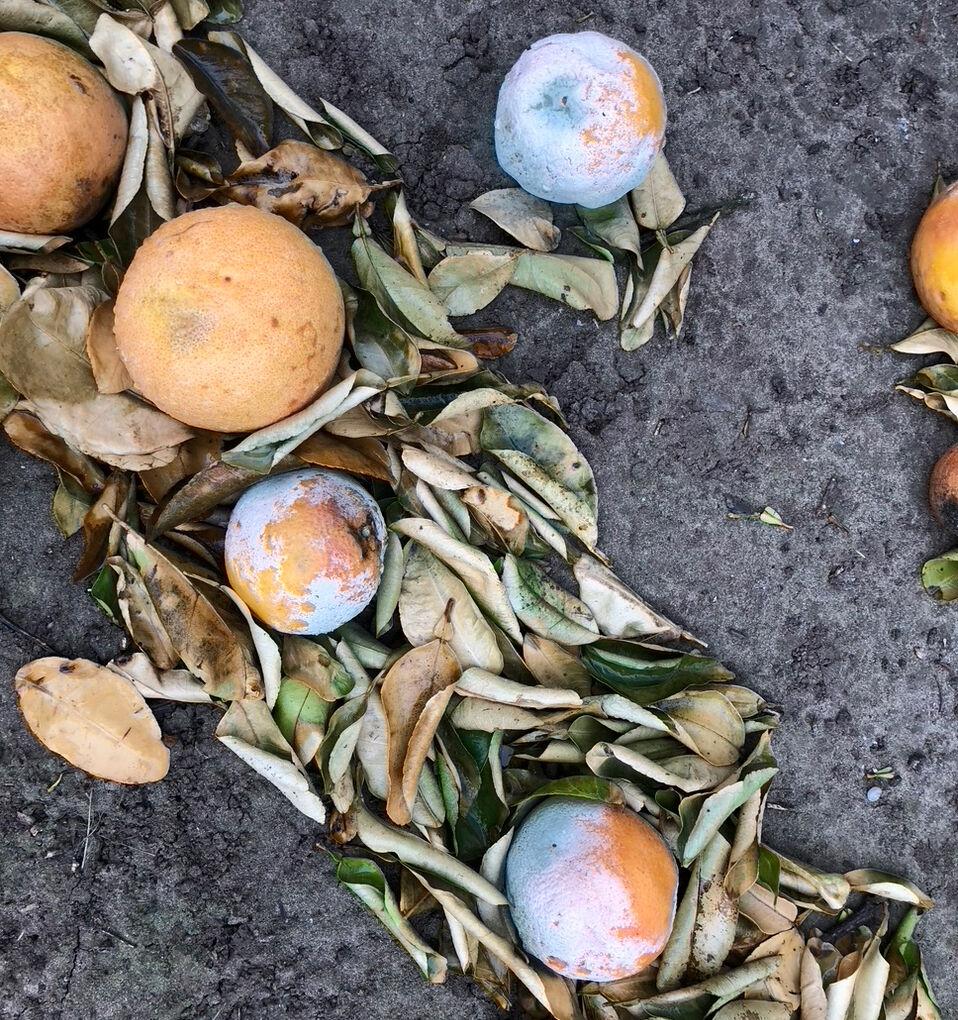 ---
Since the devastating freeze that took hold of his crop, along with the rest of Texas, we reconnected with Holbrook for an update on the current state of his groves as well as his business.
While pandemic-related health concerns and the growing demand for food high in vitamin C proved to be a positive for South Tex Organics this past year, Holbrook's main worry remains for his employees whose lives, as a result of the freeze, are somewhat uprooted.
"Because we can't really do anything in our citrus groves until we see what the trees are going to manifest, there is not a lot going on," Holbrook says. "Fortunately, we are a whole lot more optimistic about our crops than when the interview took place. But we have people out of work which is a challenge to figure out ways to support them."
Still, Holbrook feels appreciative and continues to stay positive. He understands the devastation some of his fellow Texans have had to endure, a fortune he does not take lightly.
"Compared to those impacted by everything, I am grateful for our blessings."