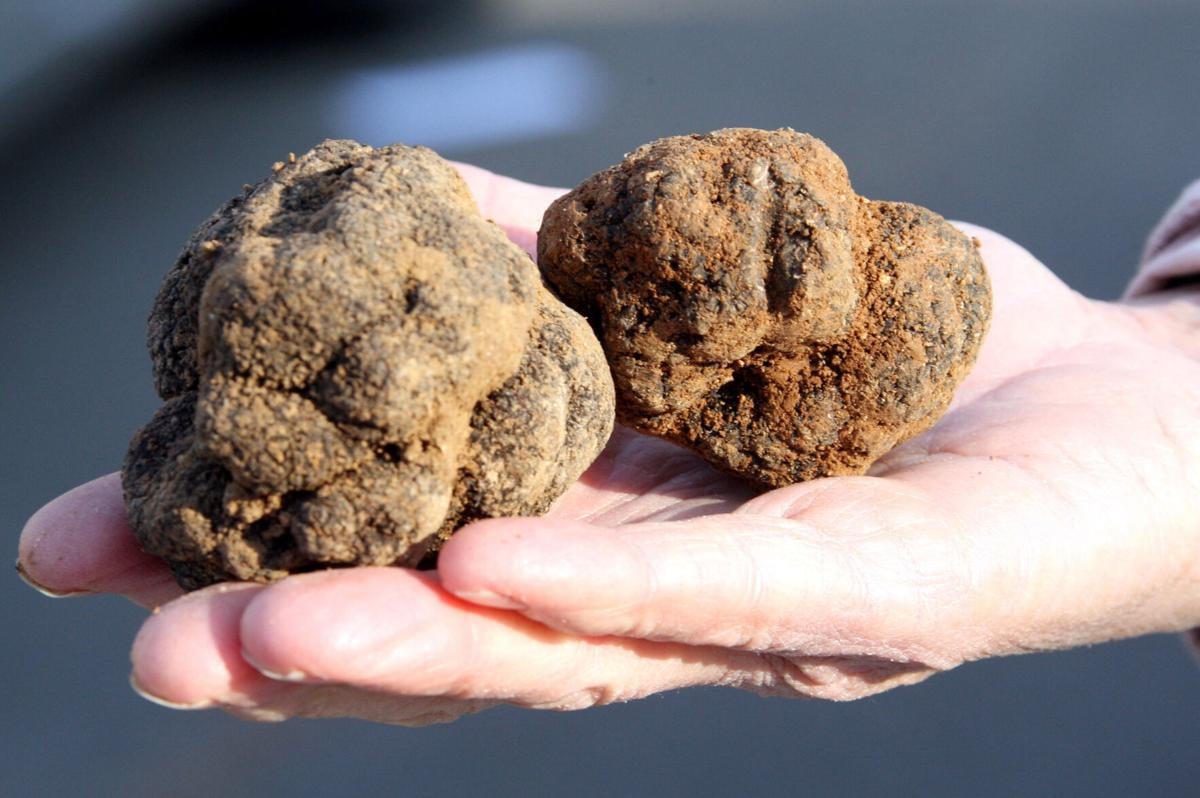 One of the world's most treasured culinary delicacies, the mere thought of fragrant truffles immediately calls to mind mouthwatering dreams of decadent dining. But whatever you do, don't call them mushrooms. Truffles are actually the fruit of the mycorrhizal fungi, a naturally occurring organism that develops underground as part of a symbiotic relationship with the roots of certain trees.
"Truffles grow wild everywhere around the world with the exception of Antarctica and a few small islands, but not all wild truffles are culinary truffles," says Dr. Charles Lefevre, President of Eugene-based New World Truffieres cultivation specialists and co-founder of the Oregon Truffle Festival.
Often associated with rural France, several native truffle species can be found in the American Pacific Northwest, including the Oregon Winter White Truffle, the Oregon Spring White Truffle, the Oregon Black Truffle and the Oregon Brown Truffle. While these truffles tend to grow well in young Douglas fir forests situated atop pasture ground, the European truffle varieties can thrive under any number of host trees and in a variety of different soils and environmental habitats.
"European truffles can be grown in truffle orchards in North America by inoculating the roots of trees," Dr. Lefevre adds. "We have more than a dozen productive orchards in Oregon, Washington and British Columbia growing European winter black truffles, bianchetto truffles and Burgundy truffles."
Traditionally harvested by foragers with the assistance of highly skilled hunting dogs that have been trained to sniff out the distinctive scent at its peak of ripeness, Oregon truffles are in season between January and June with their European counterparts usually appearing a month or so earlier. Fortunately, thanks to current widespread cultivation in the Southern Hemisphere and other locations, it's possible to source fresh truffles all year long if you know where to look for them and when.
"Rarity, seasonality and the delicate handling required to transport them from soil to plate all account for their high prices," Dr. Lefevre points out. "The prestige lies in the quality of dog-harvested truffles. Only dogs can sniff out the ripest truffles, which are then carefully and quickly handled for delivery, dropped off at local restaurants or shipped further afield."
Fresh truffles are in high demand when available. Wholesale prices for sought-after European winter black truffles can fluctuate anywhere from $600 up to a staggering $1,100 per pound, while the Oregon black and white truffles typically sell for anywhere between $400 to $800 a pound.
Just what makes truffles so delicious is a matter of opinion.
"It's very hard to describe the flavor of truffles, and each is different from the others," Dr. Lefevre mentions. "In the case of Oregon white truffles, I like to say that they add 'electricity' to food. Oregon black truffles often add fruit flavors, where other truffles add garlic and animal musk."
To store truffles, refrigerate them in a sealed plastic container lined with a paper towel to preserve their precious aroma and expose them to fresh air a few times each day. Also, plan to use them quickly. The shelf life of a fresh Oregon truffle is only 10 days or so; European truffle varieties last slightly longer, but keep in mind, they spend part of that time in transit. Because the appeal of the truffle lies heavily in its intoxicating earthy aroma, it plays beautifully with rich foods that can readily absorb and highlight the scent and flavor, especially butter, eggs, cheese, pasta and avocado.
"At the Oregon Truffle Festival, you can have the experience of [enjoying] truffles in every course of every meal, from amuse to dessert, starting first thing with the cream in your coffee!" Dr. Lefevre laughs.