For many cooks who work in restaurant kitchens, the day not only requires prepping the mise en place — ingredients necessary to prepare all of the day's menu offerings — but they must also take turns squeezing in family meal, the community buffet that fuels everyone on staff from bartenders to porters.
This task fell on me twice a week at Danny Meyer's highly acclaimed restaurant, Tabla, in New York, where I worked the 10-hour day shift. Staff became bored with scrambled eggs and roasted potatoes served by harried cooks, and I felt a duty to set the bar higher.
Each week, I would produce a large tub of this granola to have on hand to supplement our mid-morning meal just prior to the lunch rush. The staff loved this grab-and-go option, and it was an easy dish for me to whip up. I was aiming to create a recipe that uses ingredients most of us have in our pantry, and it allows for customization. It somehow stays crunchy, yet moist. It needed to hold together and provide larger clumps, which is my preference over the granular style in many breakfast cereal boxes.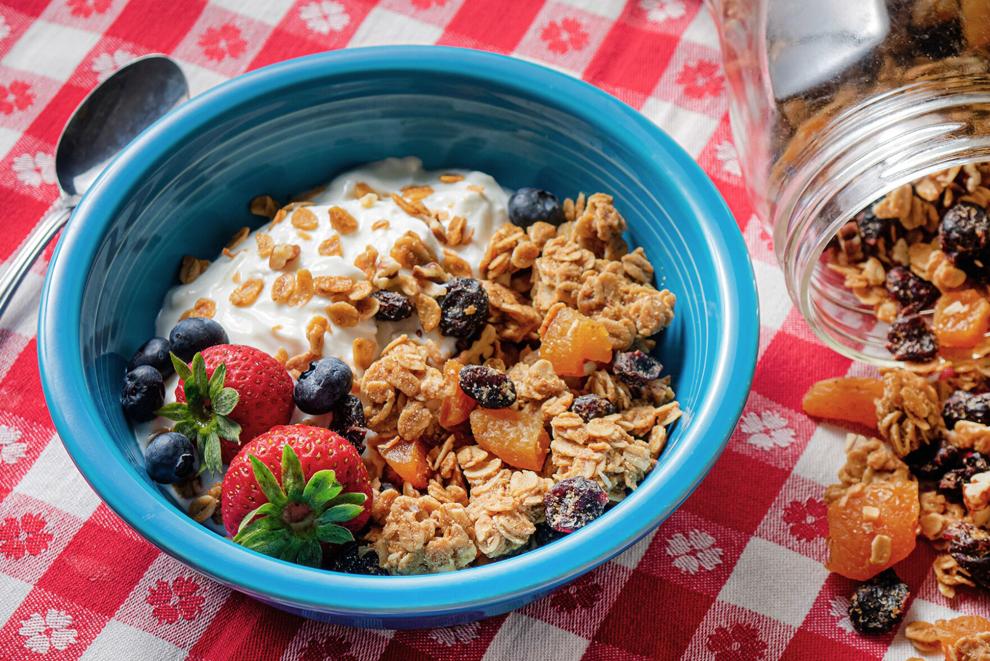 ---
Chunky, Crunchy Granola
Yields: about 16 cups or 3¾ lbs
4 Tbsp salted or unsalted butter
¾ cup packed light brown sugar
½ cup smooth peanut butter
⅓ cup honey
⅓ cup maple syrup
¼ cup vegetable or canola oil
2 tsp ground cinnamon
½ tsp salt
1 container (18 oz or about 5¾ cups) old-fashioned oats (do not use quick oats)
5 cups desired add-ins, such as toasted and sliced almonds, chopped pecans or walnuts or sesame seeds, dark or golden raisins, dried cranberries, cherries or blueberries, diced dates, dried figs or apricots, toasted sweetened flaked coconut, chocolate chips or dehydrated fruit such as berries, bananas and/or pineapple
Preheat oven to 300°F. Meanwhile, in large microwave-safe bowl, heat butter in microwave oven on high 50 to 60 seconds or until melted. With whisk, stir in remaining ingredients except for oats and add-ins until well combined. Add oats and stir with spatula until well-coated with peanut-butter mixture.
Line large rimmed baking pan with parchment paper. Spread and gently press oat mixture evenly in pan. Bake 45 to 50 minutes or until granola becomes deep brown in color, rotating pan once halfway through baking, but do not stir granola while it bakes. Cool granola completely in its pan on cooling rack.
Break granola into desired-sized pieces. Stir in desired add-ins. Store granola in opaque, airtight container in cool, dark place up to 1 month.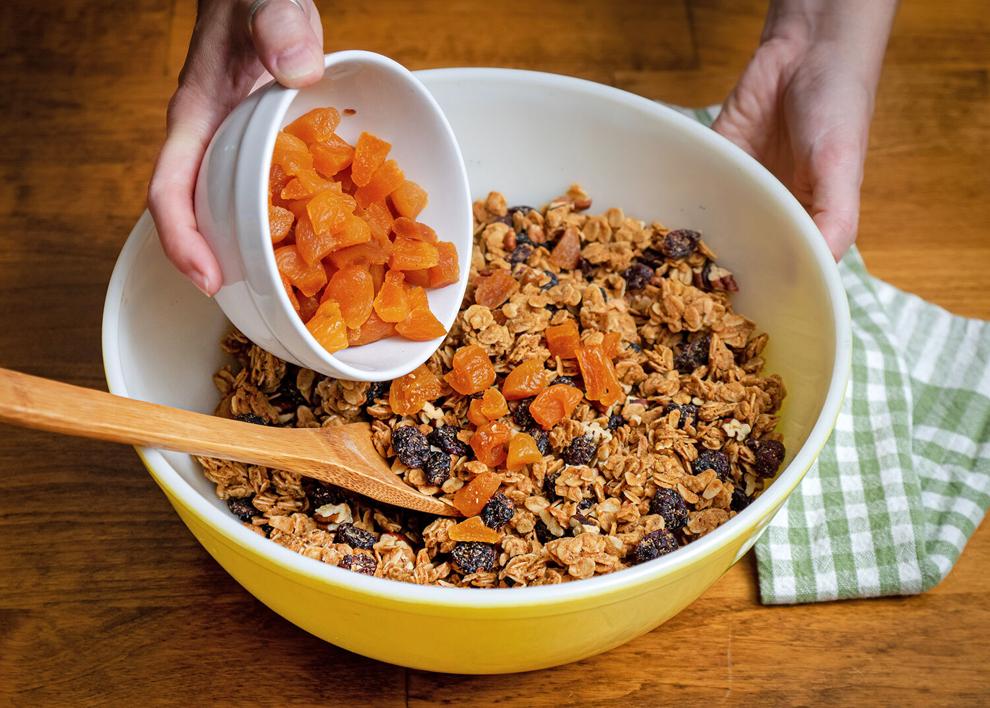 ---
Other granola tips:
I often break this version into larger pieces to add to my trail mix or store separately for snacking. If it is removed from the oven five to 10 minutes sooner, it can be cut into squares.
I tend to prefer roasted pecans or sliced almonds in mine, but the nut options are nearly endless, from hazelnuts to pistachios. Toasting them while the granola bakes is a great way to multitask. Seeds and kernels such as pepitas, sunflower and chia add variety.
Freeze-dried fruit, such as berries, adds a sweet-tart crunch and vibrant splash of color to any granola, and baking chips such as toffee, cinnamon, butterscotch and chocolate (white, dark and everything in-between) never hurt as well.
From oatmeal cookies to sourdough bread, these recipes show the versatility of oats in your baking.
If you love granola, check out Madeleine Bistro & Bakery's version. Abigail and Andrew Stump created this unique recipe for their Pittsburgh French-inspired American bakery that includes a secret ingredient you will also want to try.
Do you have other favorite ways to use granola? Share your ideas with Feast and Field on Instagram at @feast_field!