The next time you open a can of chickpeas or cook them at home, think twice before pouring the liquid down the drain. This liquid actually has a name — aquafaba — and it's fast becoming a staple ingredient in the kitchen. 
---
What is it?
Derived from a combination of the Latin words for bean (faba) and water (aqua), aquafaba makes an excellent emulsifier, thickener and binder and can be used in many of your favorite recipes.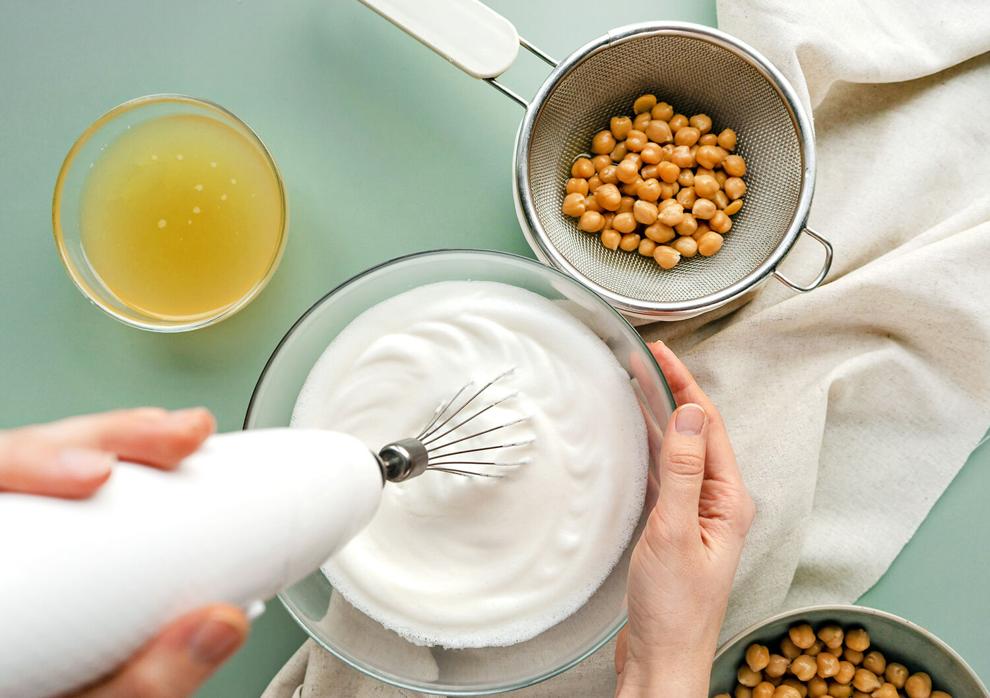 ---
Not just for the vegan community
While aquafaba became popular in vegan cooking as a plant-based alternative to eggs, the lightweight liquid isn't just for vegans.
It adds fluffiness and structure to foods, from pancakes to mayonnaise, and is popular in baked goods like cookies and cakes and even pizza dough. Aquafaba can also be whipped into a thick foam and used to make meringue, whipped topping, frosting or mousse.
---
How do you use it?
To start using aquafaba at home, try substituting it for eggs in your favorite recipes. You might experience a bit of trial and error to get the ratio just right, but as a general rule substitute one tablespoon of aquafaba for one egg yolk, two tablespoons for one egg white and three tablespoons for one egg. Ready to get cooking with aquafaba right now? Try one of these aquafaba-based dessert recipes.
Chickpeas are surprisingly easy to incorporate into every course (yes, even dessert!).
Worried about a bean taste? Don't fret! While aquafaba might have a mild chickpea flavor, it's almost flavorless when used as an ingredient. Combining it with other ingredients like sugar or vanilla further masks the beany taste.
Once you try aquafaba, you'll quickly start looking for opportunities to use it in your favorite dishes and wonder how you ever poured the liquid from your chickpeas down the drain.