From pies and tarts to savory garnishes, pecans are a symbol of abundance, and they're a fitting inclusion to celebratory meals.
---
Pecans are the stars of both savory and sweet treats in recipes from this Tulsa, Oklahoma baker.
Use pecans in all of your holiday cooking
Spiced pecans especially revel in that symbolism with the addition of sugar and spices, items that were once symbols of prosperity and wealth themselves.
Consider making a large batch of the spiced pecan recipe below to keep on-hand for holiday cooking. They are a great addition to a snack plate but can also be added to various forms of salad (green, fruit, and yes, even Jell-O molds), used as a garnish on desserts and pies and incorporated into vegetable side dishes. (Think sautéed Brussels sprouts with bacon, grapes, sherry and chopped spiced pecans.)
---
Taking out the tannins
Pecans tend to have a woody flavor that is more pronounced than other nuts and have a reputation for being bitter. A warm bath helps draw out some of that bitterness: Soak pecans in warm water for 10 minutes, stirring from time to time. Don't worry if the water becomes discolored; that's a sign that the bitter tannins are being released. Drain and rinse pecans and proceed with your recipe.
Another suggestion: Toasting pecans (like with any nut) helps to draw out the flavorful oils within. If you are not heating your pecans at any point in a recipe (or if you are adding them to a baked item, like cookies or a loaf of bread), consider putting your pecans on a parchment-lined baking sheet and toasting in a 350 degree oven for 10 minutes, or until they become fragrant.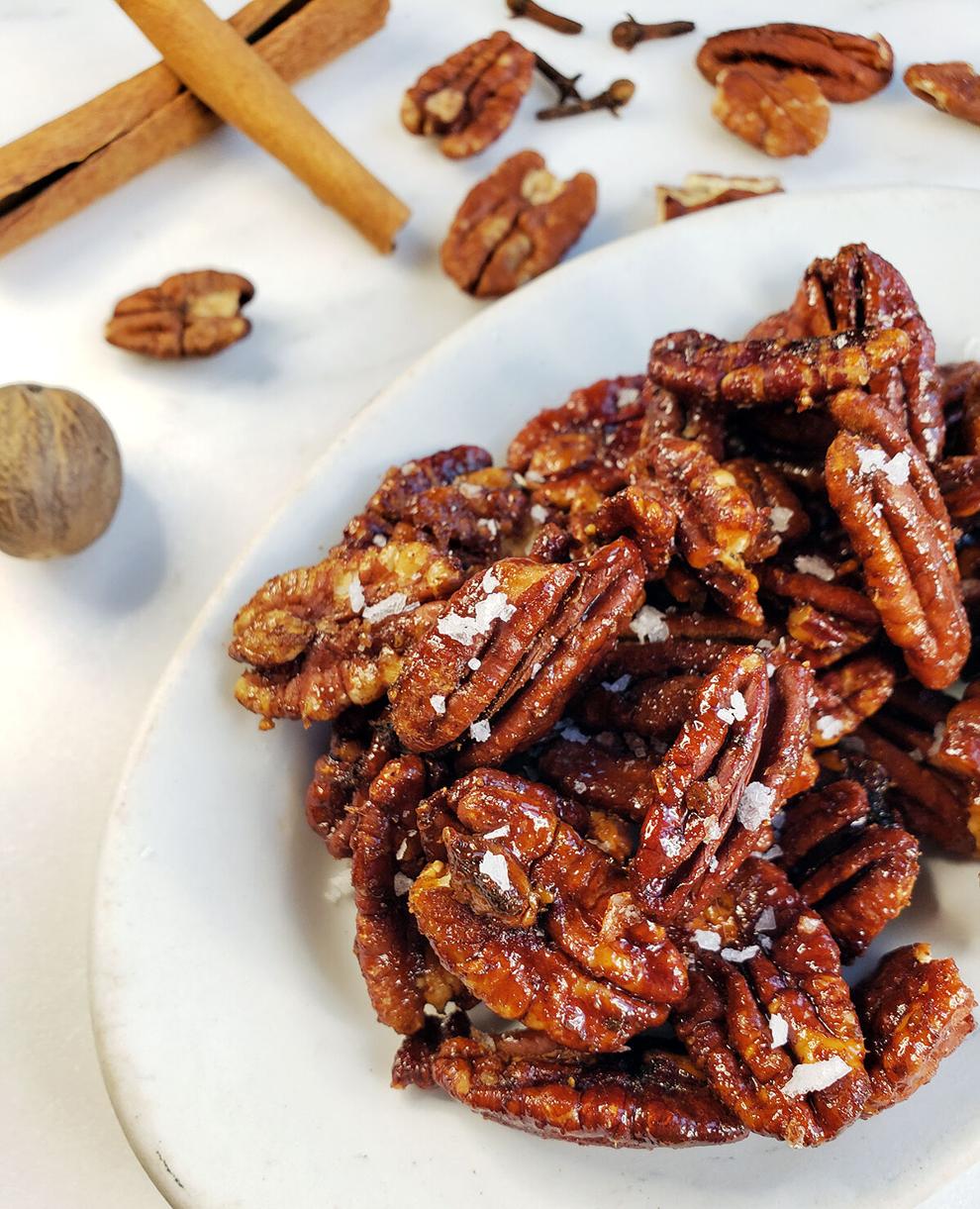 ---
Spiced Pecans
3 cups pecan halves
1/4 cup maple syrup or honey
1 tsp ground cinnamon
1/2 tsp ground ginger
1/4 tsp ground cloves
1/4 tsp nutmeg (fresh grated is best)
1/4 tsp fresh black pepper
Flaky sea salt
Preheat oven to 350°F. Line rimmed baking pan with parchment paper or nonstick baking mat. Set aside.
In a large bowl, stir together pecans and maple syrup until nuts are lightly coated. Add more syrup a tablespoon at a time if needed. Once pecans are coated, add cinnamon, ginger, cloves, nutmeg and black pepper. Stir until pecans are uniformly covered.
Pour pecans onto prepared baking pan in a single layer. Sprinkle generously with flaky sea salt. Bake for 10 minutes, then stir and continue baking for another 5 to 10 minutes, or until the pecans are fragrant and golden, but not burnt. Remove from oven and let cool on pan; pecans should be slightly tacky but not sticky. Store in airtight container for up to a week. 
Note: Instead of warm spices, substitute one tablespoon each of minced fresh rosemary and minced fresh thyme for the cinnamon, ginger, cloves and nutmeg. The result is a bright and herbaceous twist that works great for snacking or incorporated into baked goods and other recipes. Continue with the recipe as directed.