Bison have roamed North American prairies and grasslands for thousands of years. Just recently, in 2016, they were officially named the national mammal when President Barack Obama signed the National Bison Legacy Act. According to the National Park Service, "This majestic animal joins the ranks of the bald eagle as the official symbol of our country — and much like the eagle, it's one of the greatest conservation success stories of all time." 
---
But first: What's the difference between bison and buffalo?
Although these terms are often used interchangeably due to their similar body structure and coloring, they are actually different animals.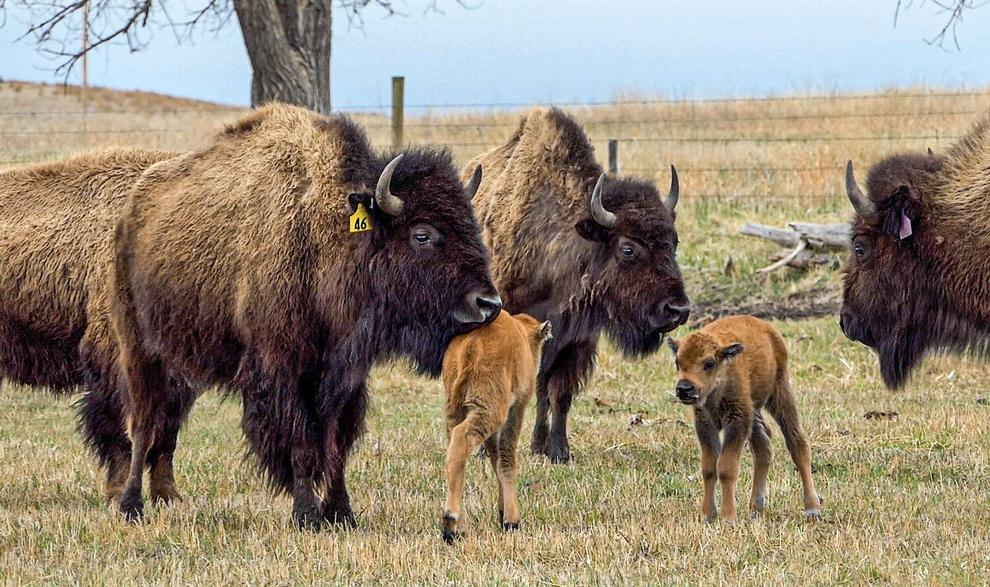 Both bison and buffalo are in the Bovidae family, along with sheep, goat and domestic cattle. One can spot bison from a protruding hump near their shoulders and long goatee. Their horns are shorter than a buffalo's, and they have larger heads, as well.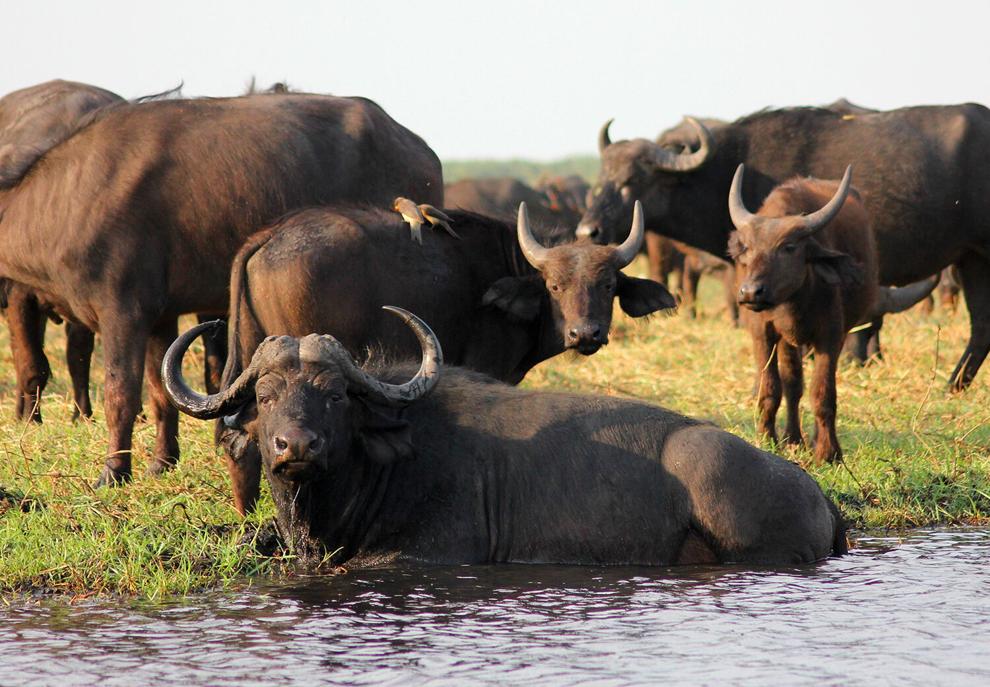 There are two types of buffalo: those native to Africa (African or Cape buffalo) and Asia (water buffalo), the latter of which were introduced in Europe (think buffalo-milk mozzarella). Bison are found in North America and Europe.
---
Gentle giants they are not
Bison are not particularly docile animals. Males can weigh up to 2,000 pounds, and females weigh up to 1,000 pounds. Although nearsighted, they have keen hearing and smell, and they can run up to 35 miles per hour. If they feel threatened, bison will show aggression and should be treated with caution. 
---
It's all in a name

So how did buffalo become synonymous with American bison?
There is no definitive answer why or when bison became synonymous with buffalo. According to the National Park Service, it's possible it stemmed from the French word "boeuf," meaning beef. Others suggest explorers called them buffalo because they resemble the familiar water buffalo seen throughout Europe. Another theory speculates that bison hides resemble those used to make the European buff coats commonly worn by military men at the time, inspiring the name.
The analogy continues today, even among those who raise bison.
South Dakota's Lakota Sioux refer to bison either as buffalo or with the word in their native language, tatanka. This has been the case for hundreds of years. The word, buffalo, meaning bison, is mentioned in Lakota treaties with the United States in the 19th century.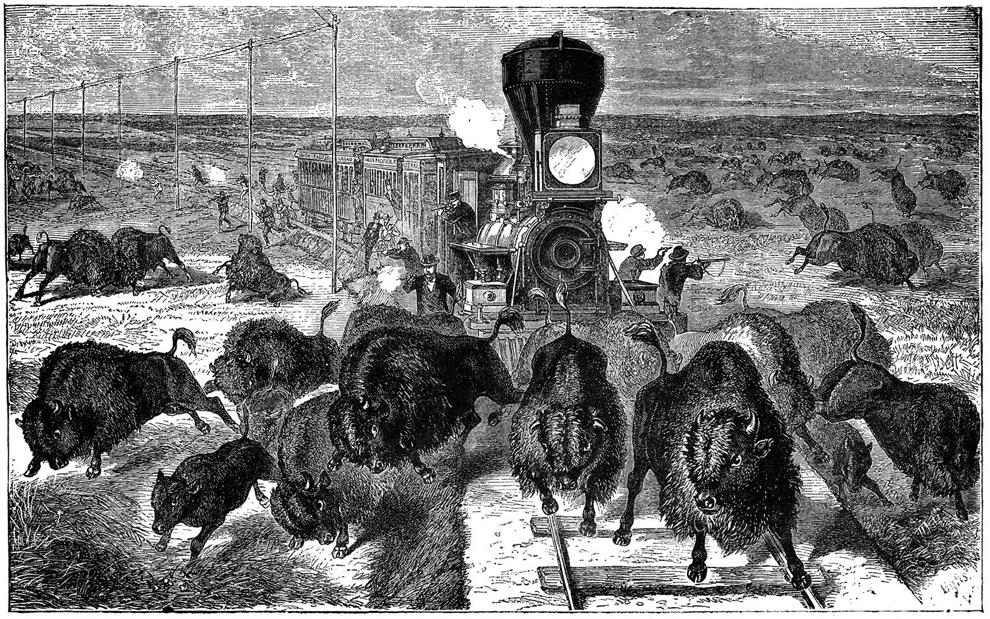 ---
The history of the bison — and where they stand today
"In prehistoric times, millions of bison roamed North America — from the forests of Alaska and the grasslands of Mexico to Nevada's Great Basin and the eastern Appalachian Mountains. But by the late 1800s, there were only a few hundred bison left in the United States after European settlers pushed west, reducing the animal's habitat and hunting the bison to near extinction. Had it not been for a few private individuals working with tribes, states and the Interior Department, the bison would be extinct today," according to the U.S. Department of the Interior.
See what life is like on South Dakota's Wolakota Buffalo Range and why the bison is a critical part of Lakota's past, present and future.
Today, there are roughly a half million bison in the United States. Nearly all are raised for livestock, which will be processed for meat. It is estimated that about 30,000 are managed on tribal property and federal land including some national parks.
Although their numbers have steadily increased over the past 100 years, they are still considered threatened, and bison's survival is dependent on conservation efforts. Fortunately, there are programs today, such as the Wolakota Buffalo Range , which aims to reconnect the bison with their native habitat on the Lakota Rosebud Reservation in South Dakota. Once it is fully stocked with 1,500 bison, the project will be the largest Native-owned and -managed buffalo herd.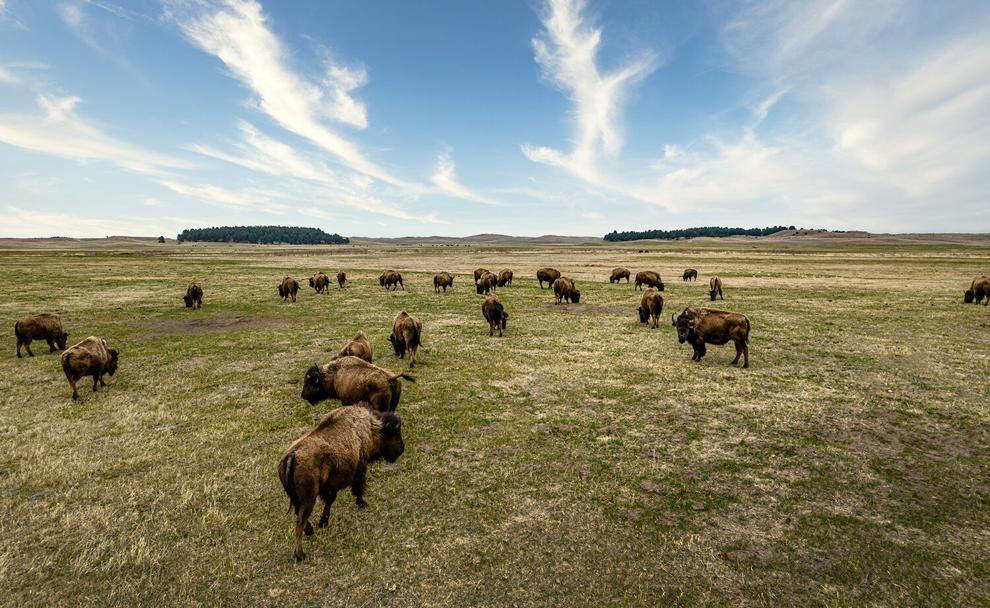 ---
Essential for environmental harmony
Bison are a keystone species and play a role in their biome. Keystone animals have a symbiotic relationship with other species and their environment; plants and animals are interdependent. When a keystone species is removed from its native habitat, its loss impacts the environment, resulting in an imbalance of the ecosystem.
The American bison creates favorable habitats for the variety of animals and plants of the Great Plains grasslands. Accordingly, the bison trap plant seeds within their fur resulting in the distribution of those seeds across the region as the bison move about the Plains. The bison also use their large head and horns to search for food, scooping large swaths of snow out of the way which exposes vegetation. This allows prairie dogs, another keystone species, to find spots to burrow for shelter, according to North American Nature.
The loss of a keystone species ultimately has cascading effects on humans. The threat to these habitats have lasting economic and social consequences globally. Establishing environmental harmony and biodiversity, including the reintroduction of bison to North America, is one way to preserve the fragile ecosystem for future generations.