There's an old saying that says "Laws are like sausages. It's better not to see how they're made." But at Smoking Goose in Indianapolis, owner Chris Eley's got nothing to hide.
Eley launched Smoking Goose downtown in 2011 as a second act to follow the success of his Goose the Market enterprise, a gourmet deli/meat counter/enoteca he opened in 2007. Not exactly a butcher shop, Eley prefers to categorize Smoking Goose instead as a "meatery." Over the past five years, the USDA-inspected facility has also earned quite a loyal fan following for its salumi and its creatively flavored sausages.
"Small-scale batches of smoked, cured and aged meats are our bread and butter," Eley explains. "We don't really do fresh cuts at Smoking Goose, but we do have them at Goose the Market."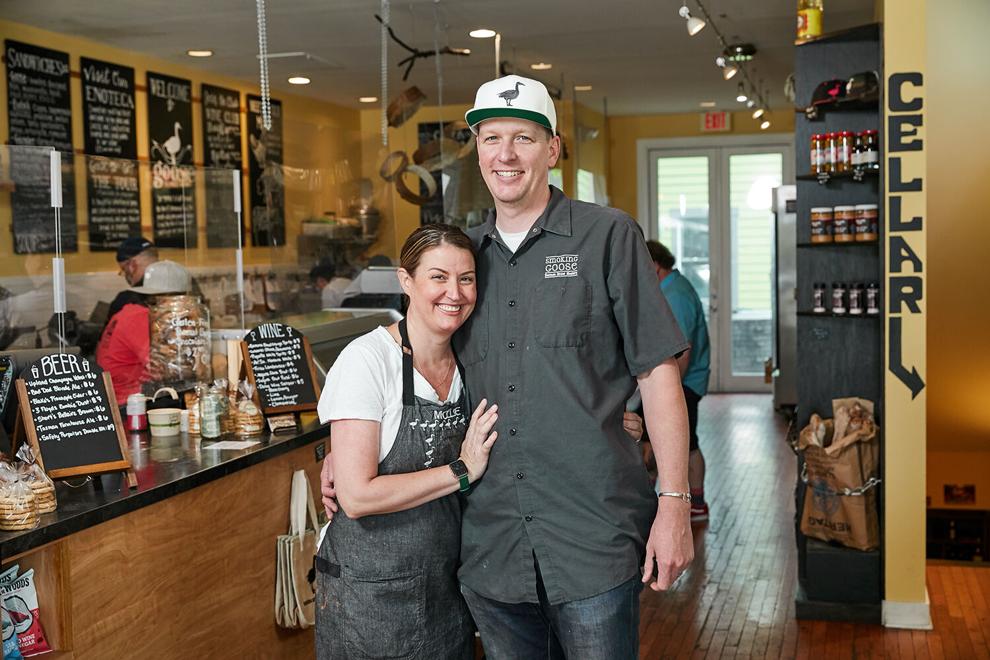 ---
Coming full circle
An Indianapolis native, Eley met his wife and business partner, Mollie, in high school while both were working at a local restaurant. After attending Johnson & Wales University in Providence, Rhode Island, Eley worked on St. John in the U.S. Virgin Islands for a stint before returning to the Hoosier state to earn a degree in hotel and restaurant management from Purdue University.
Eley helped open several restaurants in Indianapolis, then took off to Chicago where he spent six years working his way around the fine dining scene before finally coming back home again to Indiana for good. Now, he lives with his wife, their 10-year-old son and 4-year-old daughter back in the same Lawrence Township community where he grew up. 
For Eley, meat has always been a fascinating subject.
"My restaurant background was in high-end steakhouses, and one of the things I built my reputation on was on creating menus around using the entire animal, nose to tail, not just cutting steaks," he says. "I started getting into butchering, and it became a specialty for me. With cooking, the trends are always changing, and it feels like you have to be good at 20 different skills all at once. When I started to gravitate toward butchering and smoking meats, I decided to focus on doing one thing and doing it as well as I possibly could." 
Walk into your butcher shop with confidence! We're talking cuts, freshness and how much you should pay for meat.
Once Goose the Market had firmly established itself in the Indy food diaspora, Eley began to contemplate his next big move. He started experimenting at home with fermenting and drying meats after he burned out on the idea of going in a craft brewing direction.
"I know there's much more to it, but I realized quickly that I just don't like drinking beer all day," he laughs.
Transitioning from beer to meat proved a trial-and-error process. Self-trained, Eley immersed himself in learning about the science, the microbiology and the safety requirements of his new pursuit. His initial intention behind setting up Smoking Goose was to build it and bill it as a business-to-business operation.
"Originally, we figured we'd make extremely small batches of product to sell at farmers' markets and then expand from there," he recalls. "We also sold to some local restaurants, but that was about it."
Smoking Goose grew in phases thanks to the popularity of the products, Eley's contacts in Chicago, and the connections he'd already cemented through Goose the Market. Although he's had opportunities to franchise, Eley decided he wanted to keep expansion of both businesses steadily controlled and manageable.
"I got to the realization that I didn't want to open 30 Goose the Markets," he says. "I like it for what it is — an intimate, hyper-local, neighborhood store where we can build personal relationships with our customers. If we tried to grow too much, I feel like we'd lose the vision and that hospitality we've worked so hard to establish."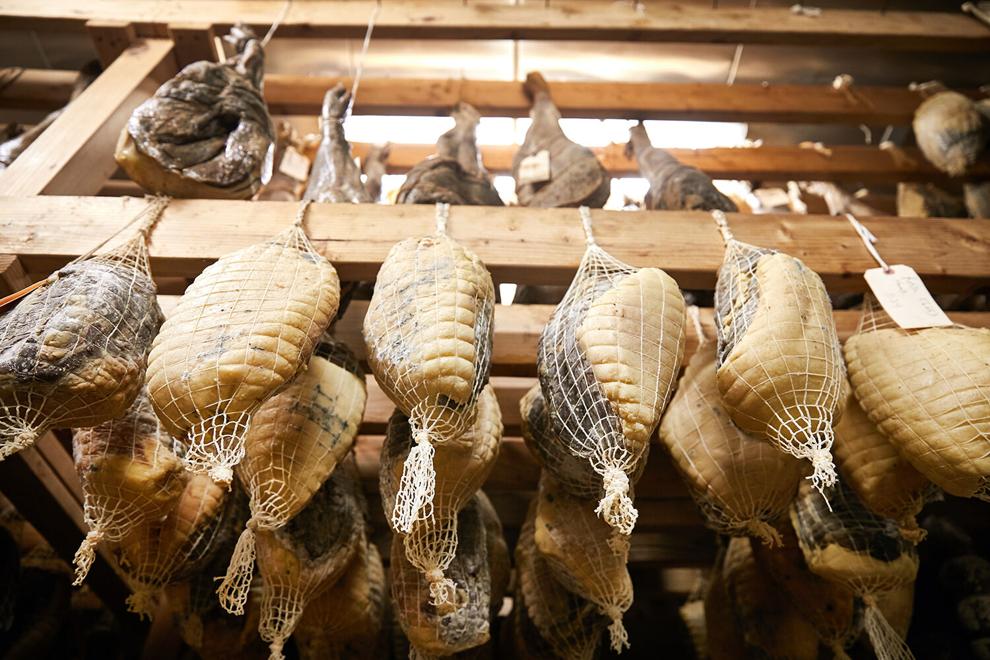 ---
Ready, set, smoke
The first Smoking Goose product to take off and fly? Bacon.
"There was no one out there doing local dry-cured bacon like we were at that time," Eley remembers. "It's actually a very simple thing to make and only requires two to four ingredients. What made ours different was in the details, the techniques we use and a little bit of lucky timing. The bacon craze hit very soon after we opened, and we didn't see it coming. For a while, we couldn't make enough to keep up with the local push!"
Charcuterie is another curve Eley was able to get auspiciously ahead of, though he says the trend isn't a flash in the pan as much as people tend to think.
"We've all eaten hot dogs and bologna forever," he says. "Charcuterie has always been around, just in different forms and with less emphasis on quality. The more recent attention to it has opened people's eyes to what's out there, but in terms of longevity, it'll never go away."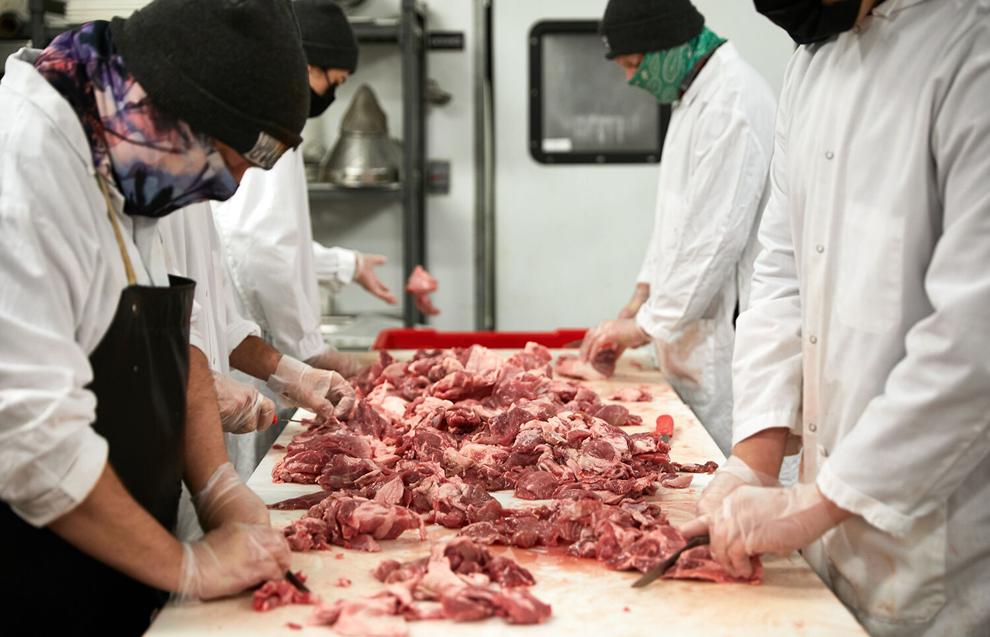 Inspired by German meat products, Eley set out through Smoking Goose to elevate old-world sausage techniques using Indiana ingredients and Midwest flavors to create something entirely new. The results were deliciously surprising — think duck sausage flavored with pears and port wine, for instance. 
"In the different regions of Europe, they focus on ingredients that are readily available, in-season and of the highest quality," Eley says. "We've followed that simplistic approach, too. Look around, see what's available and what looks good. Let the ingredients speak to you and go from there."
Most of the Smoking Goose sausages are pork-based and made using traditional techniques like seam butchering processes, hand tying each sausage, and curing without additional compound nitrates. Beyond brainstorming new flavor profiles, Eley enjoys toying around with different grind settings to set his products further apart.
"For sausage made with smaller casings, you usually have to use a finer grind with lower fat levels," he describes. "As the casing diameter gets larger, you have more freedom to try different grind sizes, shapes and even different inlay garnishes." Inlay garnishes can be anything that adds texture, flavor, color and/or a desired appearance such as vegetables, herbs, spices and additional protein.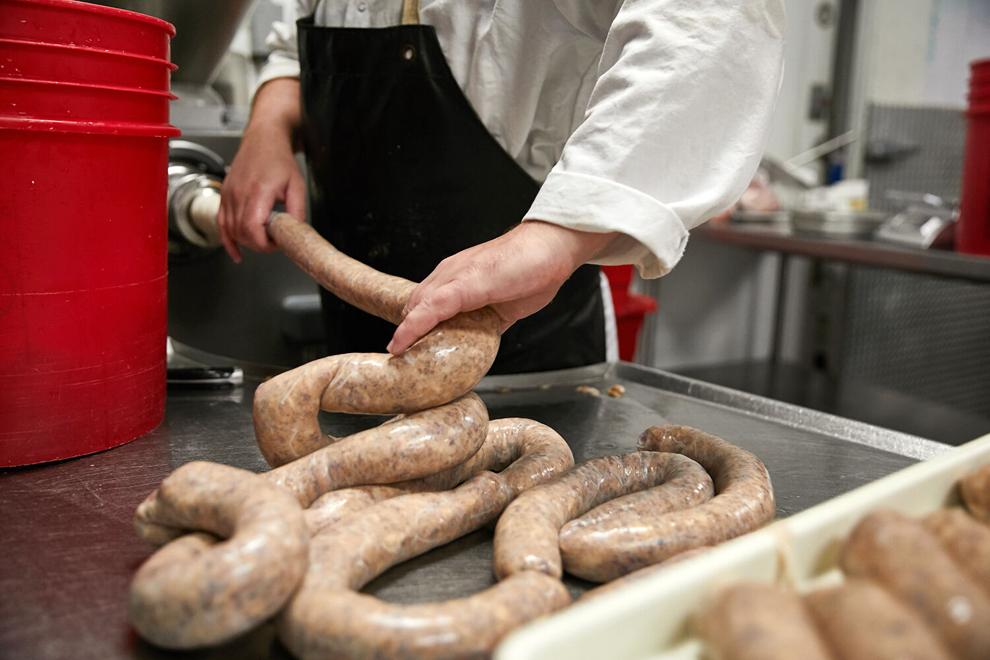 Although Smoking Goose does make breakfast sausages and chorizo, Eley and his team have detoured away from uncooked freshly ground sausages, going more in the direction of fully cooked varieties like the company's best-seller — an aromatic, flavorful fennel sausage made with high-quality, fresh, organic fennel seeds imported from Italy.
"The shelf life of the fully cooked products is longer, and they travel better," Eley says. "The benefit to customers is that we can cook these sausages for you under perfect conditions, which is sometimes hard to recreate at home. It offers us better quality control over the finished product, and the sausage can be served and eaten straight out of the package if you like."
These days, the busy Smoking Goose nest includes a production facility, a retail shop and classroom space for "meat school," workshops and other events. Products are also available for purchase at Goose the Market in Indianapolis; through retail outlets, wholesalers and restaurants around the country; and via online orders through the company's web site.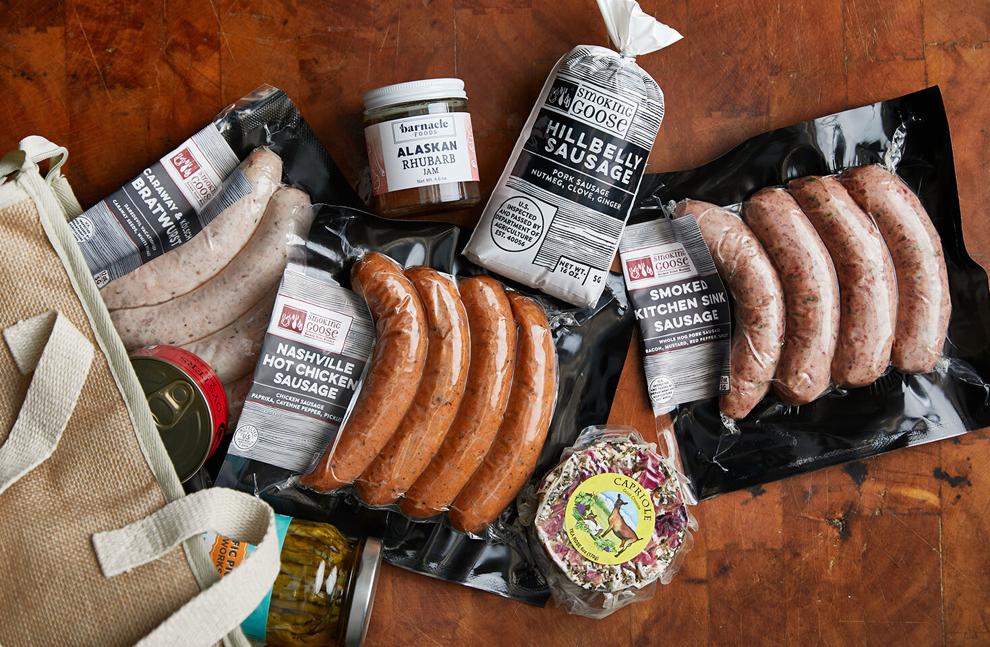 ---
Keeping it local
Eley has always been a proud locavore, working with small regional producers long before the farm-to-table concept was cool. His supplier list includes Fischer Farms in Jasper, Indiana for pork; Sakura Wagyu Farms in Westerville, Ohio for beef; Viking Lamb in Morristown, Indiana; and Gunthorp Farms in LaGrange, Indiana for duck. 
Loosely based on Whole Foods Market's Global Animal Partnership certification program, Eley created his own three-tiered system for the Smoking Goose business model, emphasizing the exclusive use of hormone-free heritage breeds that have been completely pasture-raised on independent family-owned farms. Eley's efforts have definitely paid off, earning him Good Food Awards for seven different products over the past five years.
"This is the only food awards program with such strict entry requirements, and the judges do confirm all claims for authenticity," Eley says. "It's a good mission, and it's cool to be honored in this way by your peers." 
Although Smoking Goose has certainly thrived since its launch five years ago, not all of Eley's experiments have been wildly successful.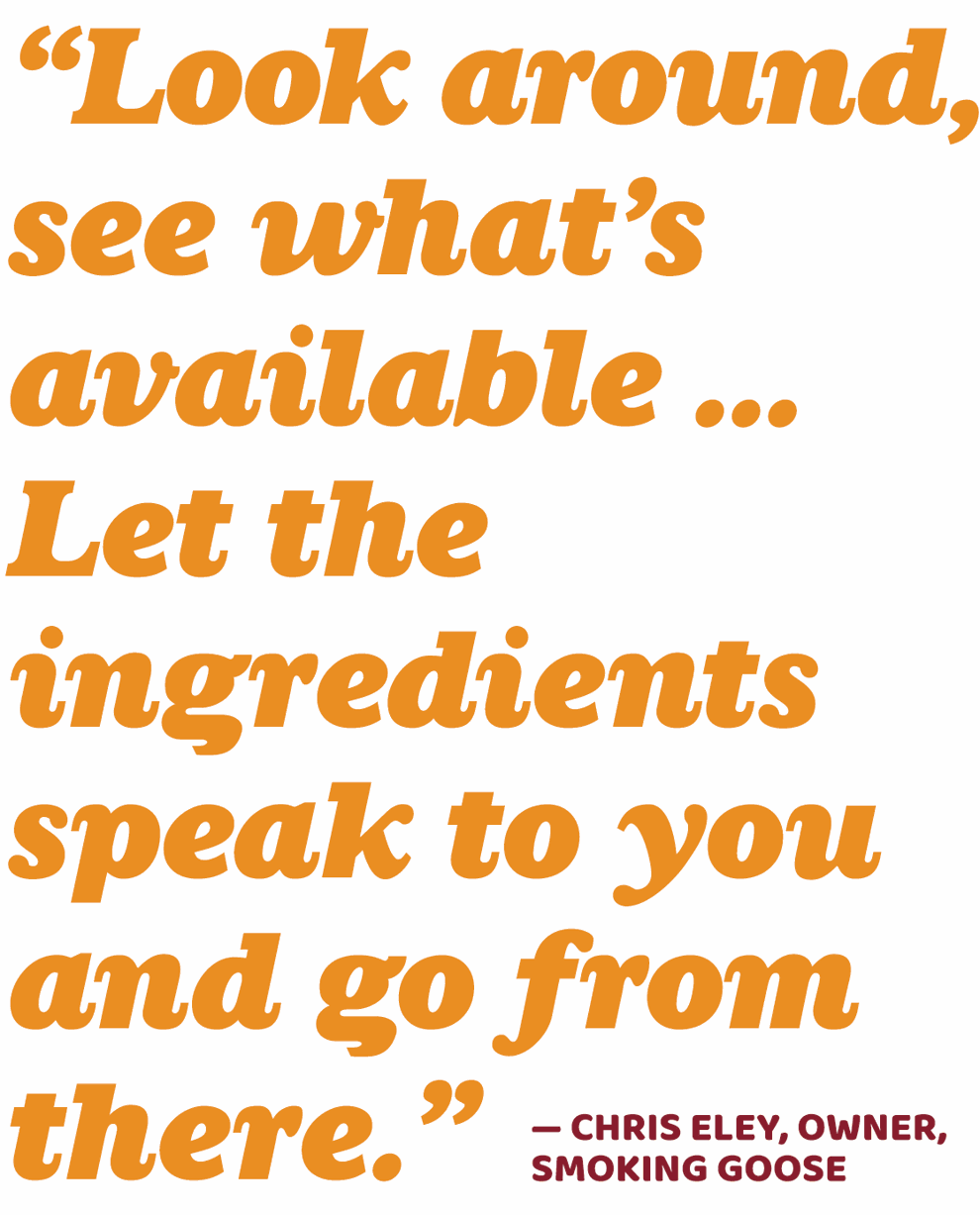 "Our Umami Salami was a big fail," Eley chuckles. "It was terrible. We tried to include all the umami ingredients we could think of — porcini mushrooms, tomatoes, fish sauce … People liked the name, but that was about it."
Still, customers stalk the Smoking Goose meatery and Goose the Market for their favorite items, as well as a rotating selection of blink-and-you-might-miss-them seasonal offerings, some made with unexpectedly unusual proteins. 
"We make an alligator sausage every year," Eley says. "I've played around with kangaroo and bear meat, but we aren't always able to sell those to the public. We do work with a lot of elk; I think elk meat is so underrated. It has such great flavor and texture. I also love using duck and pheasant."
Eley admits he's a bit of a perfectionist and doesn't apologize for having high expectations, saying the products probably won't ever completely get to where he wants them to be.
"You know how people say doctors 'practice' medicine?" he asks. "That's how I feel about what I do. I always think there's something we can be doing better."