We've all enjoyed pepperoni on a pizza, salami on a sandwich and bacon for breakfast, but how much do you really know about charcuterie?
Simply defined, charcuterie is a French term describing meats that have been preserved through curing or smoking and aging. (The Italian counterpart to charcuterie is called salumi.)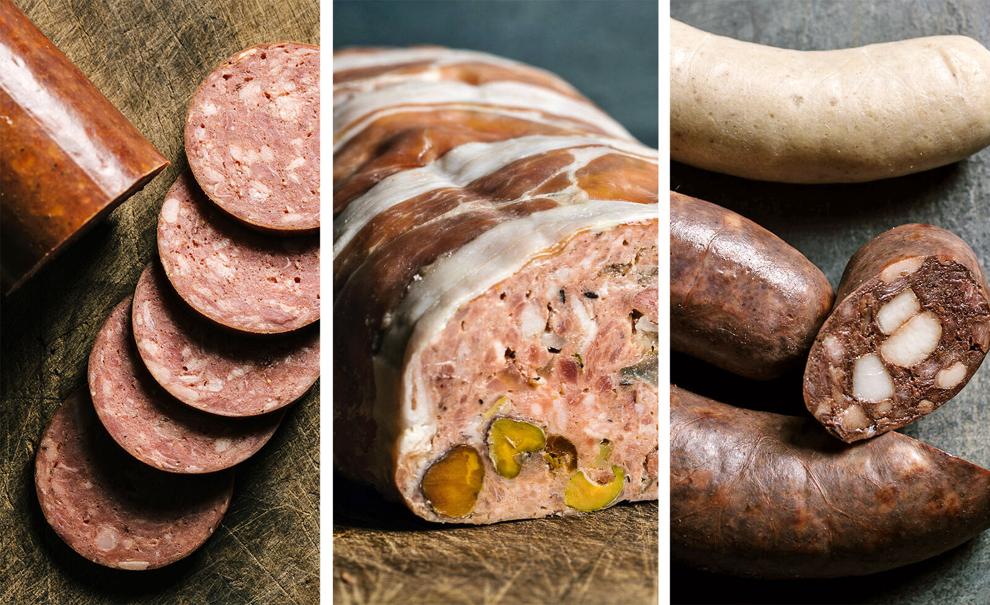 ---
How it's made
Translating to "cooked flesh," charcuterie originated in France as a way to preserve meat for long-term storage well before the days of refrigeration. The meat can be ground with seasonings and forced into casings to create sausage or kept in whole form. It's then cured with salt, spices or smoke to draw out the moisture and prevent spoilage during the subsequent aging process, which can take weeks to months or longer.
Although most frequently made with pork, other proteins such as chicken, beef and game meats can also be used to create charcuterie. Classical French charcuterie also includes rillettes and pâtés — cooked meats that have been minced to a spreadable consistency and stored in a jar under a layer of fat for preservation.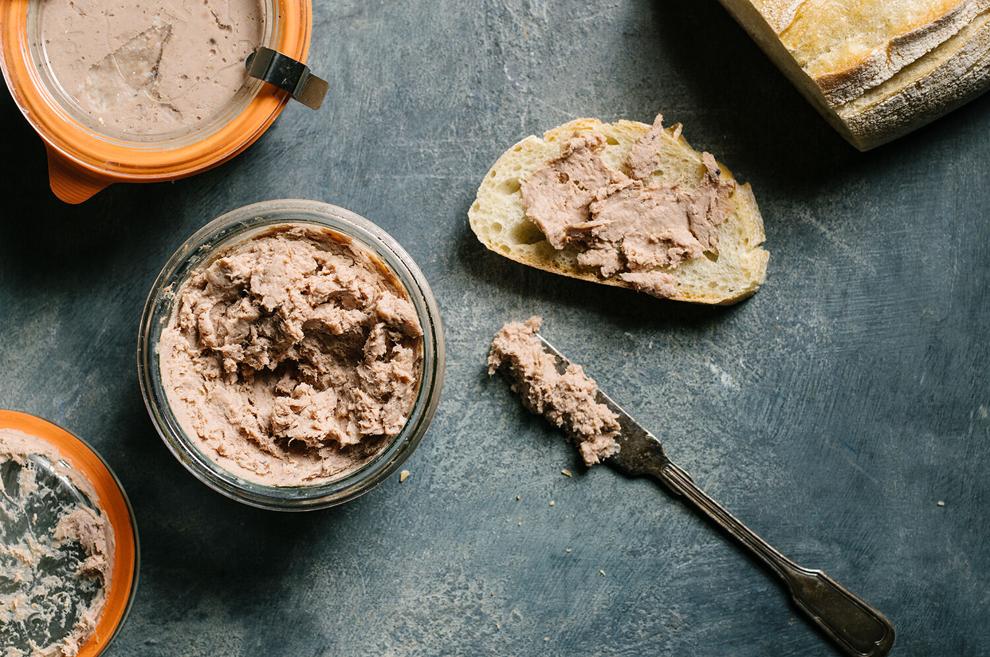 ---
Riding the charcuterie wave
Thanks to growing interest among savvy consumers who want to know more about where their food comes from and how it's made, charcuterie has seen an uptick in popularity over the past decade.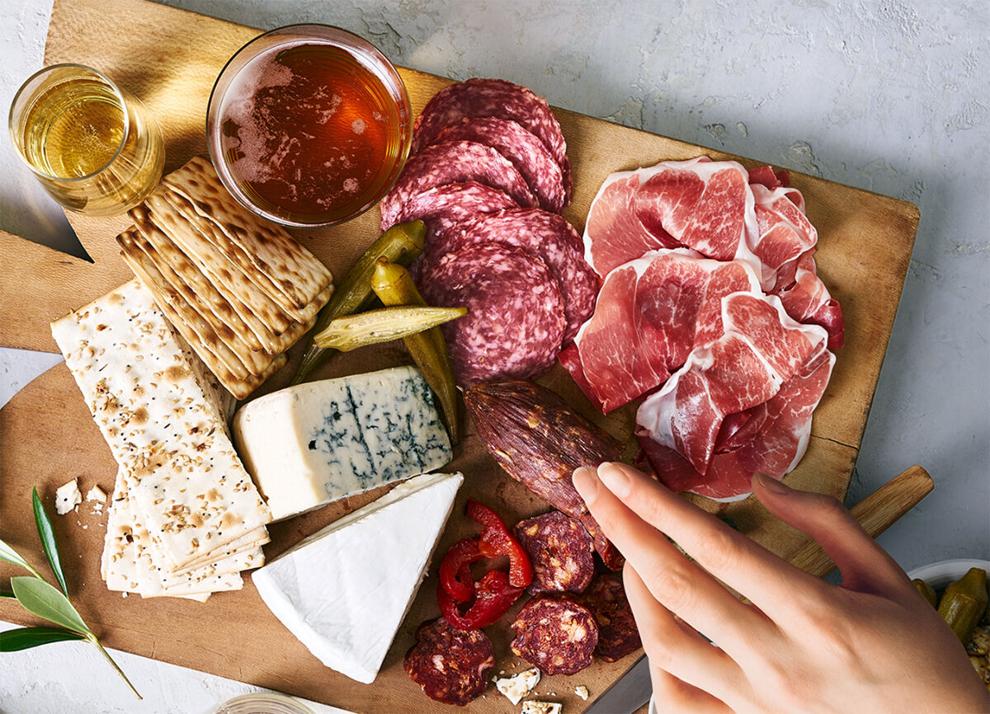 "One of the driving factors is accessibility," explains Deanna Depke, marketing manager of Volpi Foods in St. Louis. "Not long ago, it simply wasn't as easy to find quality charcuterie at a supermarket or a ready-to-eat prosciutto snack at your local corner store. Likewise, charcuterie items often find themselves at the center point of a variety of trends — all-natural, unique in flavor, authentic and with a story to tell." 
A stroll through your average grocery store deli or gourmet food shop is likely to reveal charcuterie in a range of flavors and styles, sometimes packaged with cheese to make serving or snacking simple and convenient.
"Pre-sliced charcuterie options have proven to be a popular format with a growing emphasis on variety packs," Depke mentions. "In terms of meat varietals, prosciutto and Genoa salame have long been crowd favorites. We've seen a surge in demand for jamon serrano [prosciutto's Spanish cousin] and mortadella over the last 12 months as well."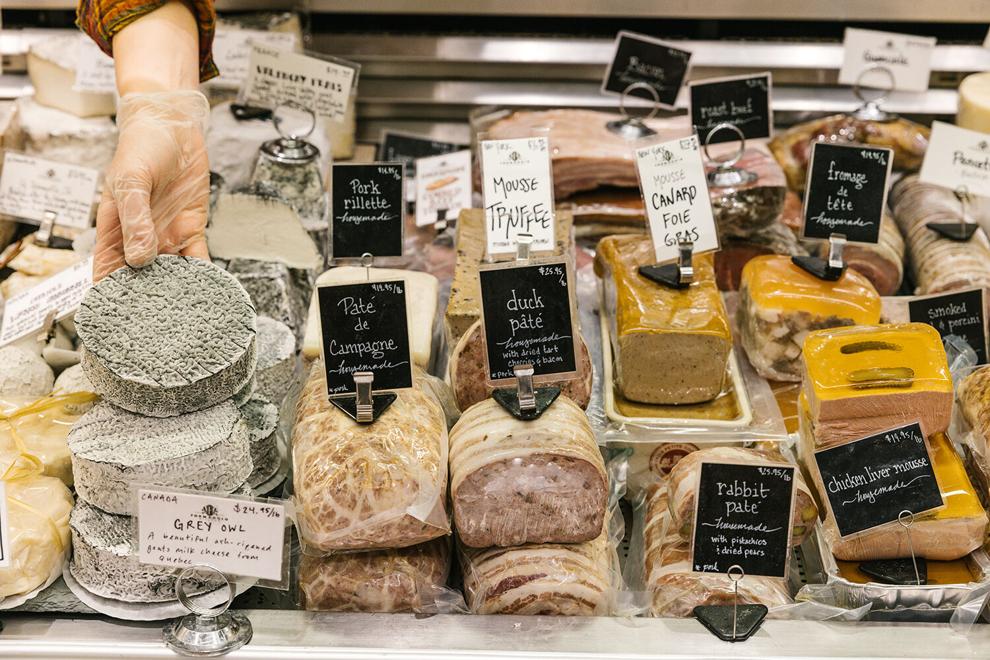 ---
Common kinds of charcuterie
These are just a few of the more recognizable forms of charcuterie that you'll typically find on an appetizer board (or in a grocery aisle near you):
Bacon — Traditionally made from cured smoked pork belly, bacon is perhaps the most familiar form of charcuterie for many Americans. Italian pancetta is similar to American bacon, but is dry-cured rather than smoked. Guanciale is made from pork jowl — or cheek — instead of pork belly.
Prosciutto — Prosciutto is what happens when Italians give the hind leg of a pig (i.e., the ham) a heavy salt cure and then wait. The resulting delicacy can be thinly shaved to serve on a charcuterie board, especially delicious wrapped around a slice of sweet melon. Popular jamon serrano represents the Spanish interpretation.
Bologna — An American sandwich mainstay, garlicky bologna is technically considered a sausage made using pork and/or beef.
Salami — Denser and spicier than bologna, salami consists of seasoned beef or pork that's been ground with fat and fitted into casings before hanging to age. Slices often make appearances in sandwiches, on cheese boards and atop pizzas. Variations include spicy soppressata, saucisson and pepperoni. 
Pepperoni — Consider pepperoni a skinnier version of salami with its own distinctive seasonings (paprika, fennel) and flavor. It's made from a mixture of finely ground beef and/or pork.
Pastrami — Made with brine-cured beef, pastrami undergoes an intensive process of drying, smoking and steaming before slicing to end up in your sandwich, classically served with mustard on rye bread.
Mortadella — A large emulsified sausage, mortadella is made of finely hashed or ground heat-cured (slow-roasted) pork. It is often added to sandwiches.
Sausages — Every culture and country has its own version of cured sausage links, from chorizo, kielbasa and lap cheong to andouille and black pudding (blood sausage).
Pairing meat and cheese can be intimidating. Here are a few rules to follow when building your board.
---
Serving and storing
Depke advises refrigerating sliced charcuterie in a sealed airtight bag or container and consuming the meat within 5 days once the package has been opened.
"To serve charcuterie on a grazing board, follow similar steps as the cheese you are preparing," she adds. "It's easiest to slice the meats when they're chilled, so be sure to remove them from the refrigerator right before you slice. For an optimal flavor experience, though, allow the meats to come to room temperature before serving."