The frozen food industry has made tremendous strides to debunk the long-standing misconception that fresh is best. On the contrary, thanks to innovation and advances in technology, equipment and packaging, many of the frozen fruits and vegetables in grocery stores today are flash frozen in the field.
Wild-caught Alaskan salmon are no easy catch, but Alaskans Own is doing so and going a step further by promoting healthy oceans and fisher advocacy.
Nowhere is this innovation more prevalent than the wild seafood industry, where conscientious fishers use their vessels to reel in, clean, fillet and freeze fish directly on the boat, allowing them to remain out at sea for days at a time and still deliver fresh-caught flavor to the dinner table.
Linda Behnken, founder of Alaskans Own, has been a fisher out of Sitka, Alaska for almost 40 years. Frozen fish is exactly what you find inside her well-stocked freezer. And that's true for most Alaskans. How else would they eat fresh-frozen salmon all winter long? 
---
Frozen on the boat
"Over the last few decades, the technology to make premium frozen fish has come a long way," Behnken says.
A salmon frozen at its peak preserves the nutrients, structure and texture of fish. The faster and colder the freeze, the better the quality maintained.
Some fishers flash freeze fish at sea, glazing them in coats of seawater at temperatures exceeding 35 degrees below zero.
So, what's the benefit of frozen fish?
---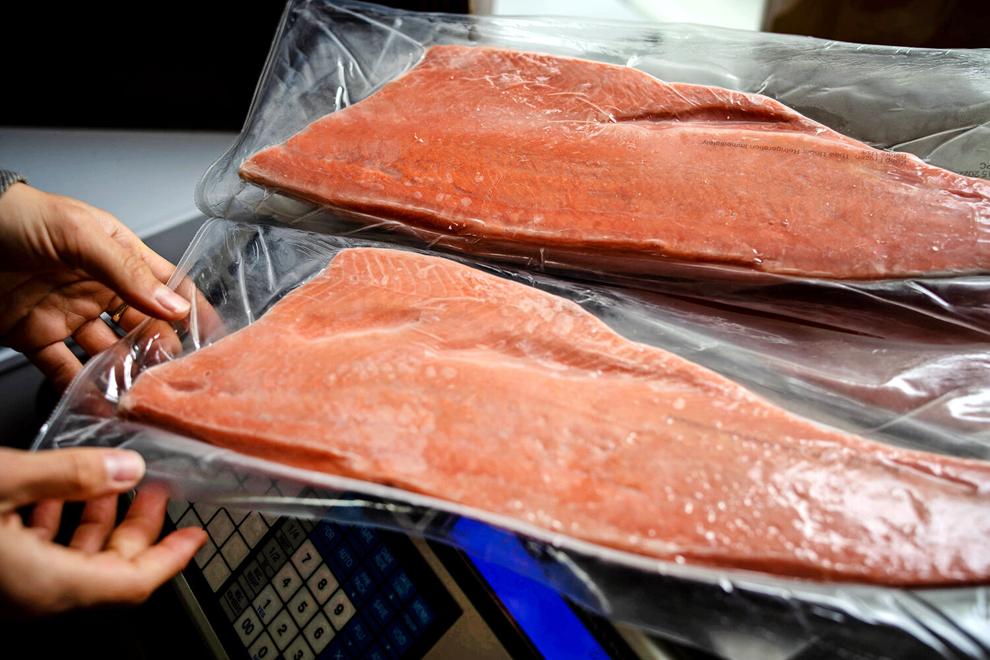 ---
Preservation of nutrients
Freezing salmon and other seafood at its source, straight out of the water, preserves its just-caught nutrient value. Freezing is a natural method of preservation that prevents the growth of microorganisms that can cause illness or food to go bad. No additional additives are needed for preservation. Compared to fresh, perishable seafood, there are fewer temperature areas of concern along the distribution chain that can result in the denigration of the product.
Like pressing the pause button on nature, freshly caught and quickly frozen wild salmon has its vitamins and minerals sealed in ensuring maximum quality reaches the plate when the daily catch is unavailable. Buying frozen wild salmon in-season offers the ability to feed the body with essential "good" polyunsaturated fats that the body requires but doesn't produce on its own. Omega-3s are abundant in seafood, but only wild salmon can claim to provide the highest level. Freezing in-season salmon guarantees a natural source year-round.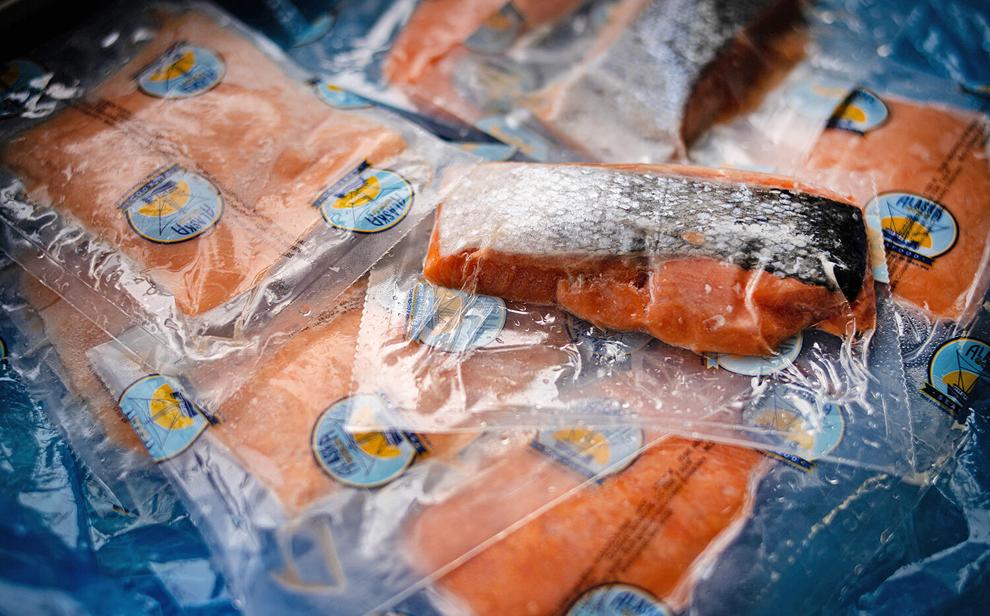 ---
From the fishers themselves 
Purchasing frozen vacuum-packed salmon directly from small-boat fishers — including from businesses like Alaskans Own — guarantees transparency of the product's packing and shipping conditions from hook to home, taking the distribution chain out of the mix. Yet, buying wild salmon from a reputable grocery store or seafood shop still supports many independent Alaska salmon fisheries. Another win-win opportunity for customers choosing in-season salmon to freeze at home includes lower prices for a premium product thanks to its abundance and accessibility in the market, prices often less than the cost of farmed salmon.
---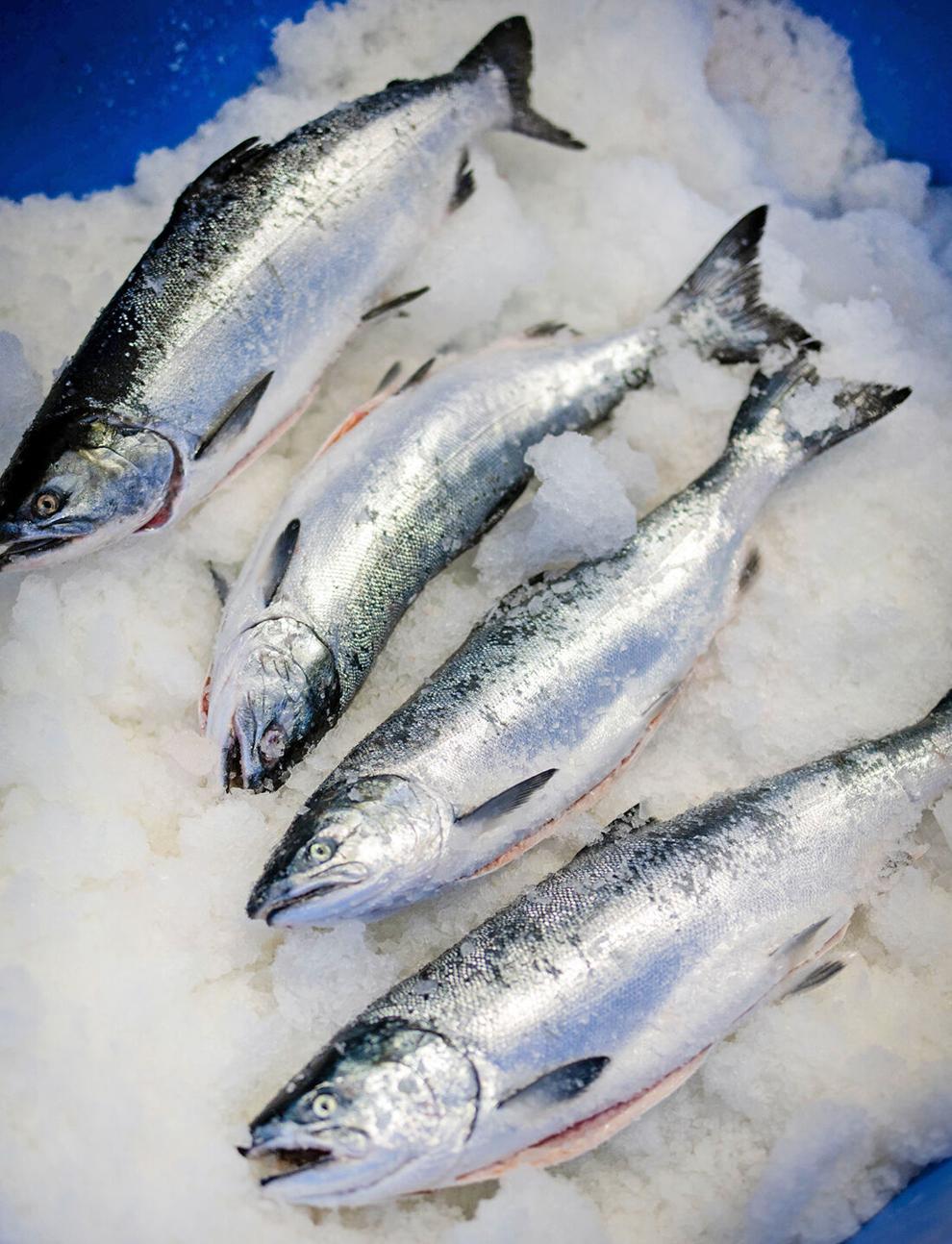 Tips for freezing 
Ask your fishmonger if they know when the salmon arrived to the store, whether it was in the frozen, thawed or fresh state, and when it was placed inside the display case. If it arrived frozen, do not be concerned. Any seafood, or meat for that matter, can be refrozen without loss of quality.
It is perfectly fine to freeze salmon it its original packaging. If desired, ask your fishmonger to pre-cut the whole salmon fillet into single-serving-sized portions (about six ounces is an average size) and have the number of portions typically served for a meal packaged together. You may also prefer to have the skin removed at the market before it is tightly wrapped in freezer paper. The goal is to expose the fish to as little air as possible.
Fresh fish should be eaten within two days of purchase. If you know you intend to freeze some newly purchased salmon, do so as soon as possible to retain maximum flavor, nutrients and texture. Freeze packages below freezing in a single layer on multiple shelves so they freeze as quickly as possible. Freezing keeps food safe indefinitely, but it will lose quality over time. It is best to consume the salmon within eight months of freezing.
Though best to thaw salmon in a container overnight in the refrigerator away from fresh foods, it can also be cooked directly from the frozen state, though cooking time will take a touch longer. Cooked seafood can remain in the refrigerator up to four days and frozen up to three months.