James Beard once said, "If I had to narrow my choice of meats down to one for the rest of my life, I am quite certain that meat would be pork." Properly raised and cooked, pork is a deliciously versatile meat that can be as elegant as a standing rib roast or as satisfying as slow-cooked pork shoulder barbecue.
According to the U.N., pork is "the most widely eaten meat in the world," and it's not hard to guess why. Pigs are cheap and can be raised in a small area; they're omnivorous and easy to feed; the meat suits any cuisine or cooking method; and the flavor is second to none. 
But where do you start? With safety, of course.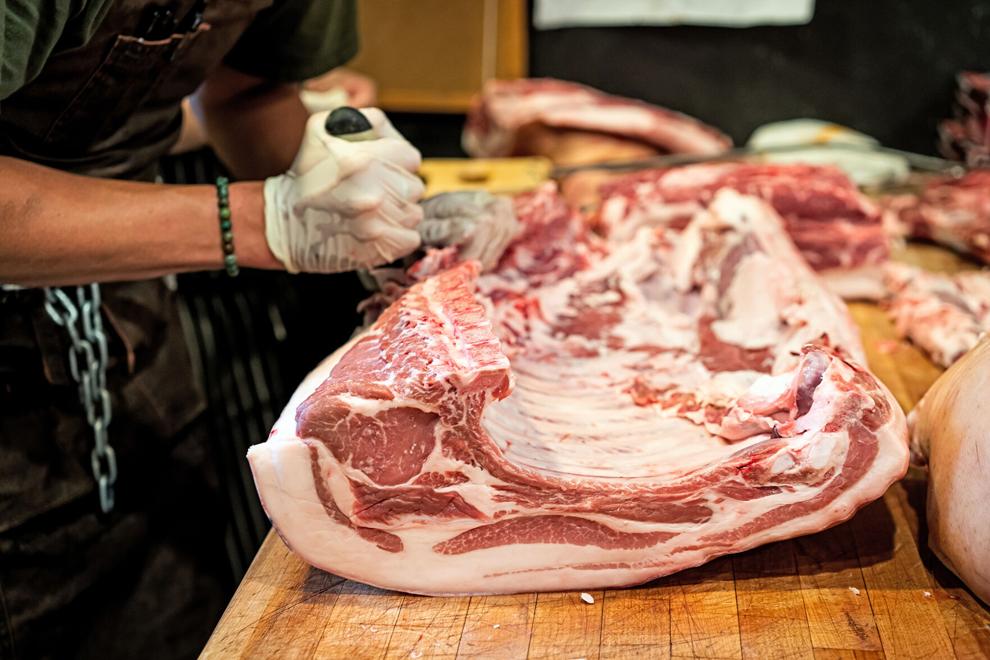 ---
Safety first
How you handle fresh pork is essential to preventing foodborne illness, so here are tips to keep you safe. As soon as possible, always refrigerate fresh pork at 40 degrees or below, or freeze.
Never allow raw meat to sit out at room temperature for more than two hours, and don't cross-contaminate food by placing uncooked pork above cooked foods or raw fruit and vegetables.
Pork should be cooked to an internal temperature of 145 degrees; ground fresh pork or sausage and organ meats should be cooked to 160.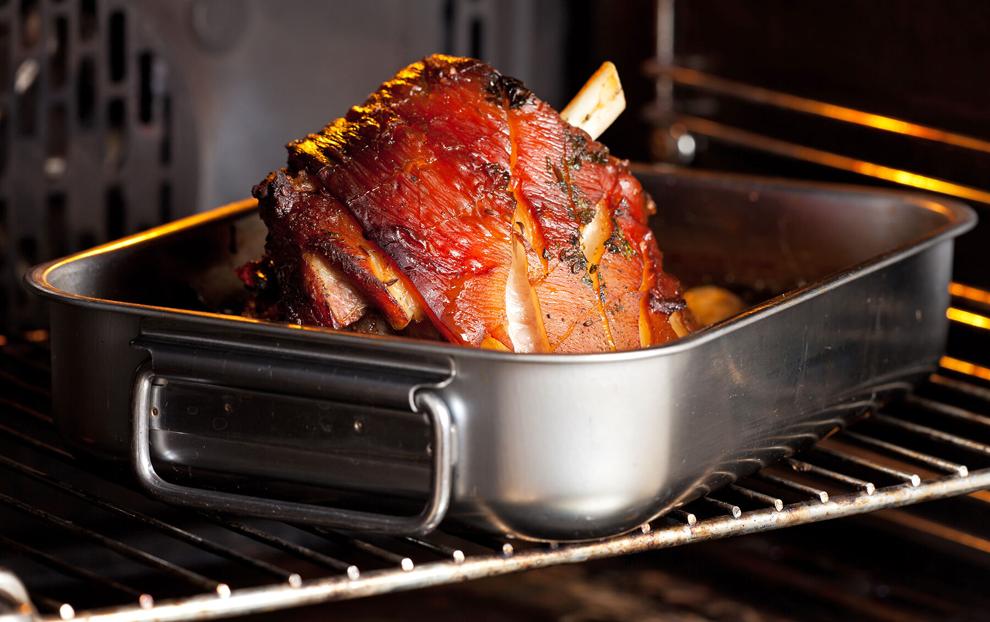 ---
Know your cooking methods
Before you select the cut of pork you want to cook, you should first know some of the essential cooking methods, so here's the rundown:
There are three dry cooking methods: roasting, broiling and barbecuing. For roasting and broiling, the meat cooks uncovered in an oven, and both approaches allow the air to circulate freely around all sides, resulting in a crisp, golden-brown finish. Spit-roasted whole hog falls under this category, as well.
Depending on the cut and recipe, roasting temperatures and times vary, but broiling is different because the meat cooks at temperatures of 500 to 550 degrees under direct heat.
With two restaurants and three Michelin stars, chef Ryan Ratino coaxes the most flavor out of one of his favorite ingredients: pork.
Barbecue, on the other hand, is versatile because it can include smoking, grilling over wood, charcoal or gas flames, and cooking at low temperatures, often for 12 hours or longer, depending on the cut.
Then there are the two wet cooking methods: stewing and braising. Stewed pork dishes cook immersed in liquid, either in the oven or on the stove. Braised dishes simmer the meat with a small amount of liquid either in an open pan or a tightly sealed pot on the stove or in the oven. The result is meat infused with flavor that's fall-off-the-bone tender.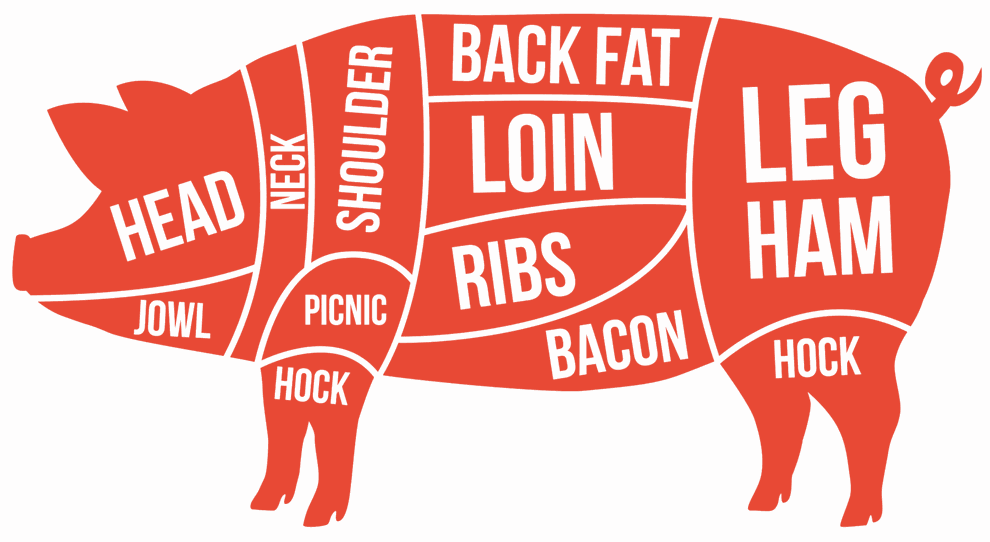 ---
Making the cut
According to the USDA, there are four basic cuts into which pork is separated: shoulder, loin, side and leg.
Shoulder butt, roast or steak
Blade steak
Boneless Boston roast
Smoked arm picnic
Smoked hock
Ground pork for sausage
Tips from the Feast and Field team: Meat from the shoulder is usually lower-priced, well-marbled, higher in fat and tougher than other cuts, but the fat gives the meat a wonderful flavor and keeps it moist during cooking. The best way to cook it is "low and slow"; either whole or divided into chunks for stew, sausages and barbecue; or like a pot roast. 
---
Boneless whole loin
Loin roast
Tenderloin
Sirloin roast
Chops
Country-style ribs
Tips from the Feast and Field team: If you want a flavorful cut that is versatile, lower in fat, and easily and quickly prepared, choose the first five cuts from the above list. They are versatile enough to roast, braise or grill. Unlike the other cuts, country-style ribs have fat on the meat and are terrific coated with your favorite seasoning blend or barbecue sauce and cooked in the oven; the meat is moist and tender.
---
Spareribs/Baby back ribs
Bacon
Tips from the Feast and Field team: Spareribs or baby back ribs are forgiving cuts and do well if allowed to become tender through slow cooking. Popular cooking methods include coating with dry rub or sauce and baking until the meat falls off the bone; or cooking the ribs slowly with either a dry rub or sauce and smoking them on a grill with charcoal or wood. For less greasy, shatteringly crisp bacon, try baking your bacon slices on a wire rack set over a rimmed baking pan.
---
Ham (fresh or smoked)
Cured
Tips from the Feast and Field team: Ham fans may not want to admit it, but the best way to eat fresh roasted ham is alone at night, standing in front of an open fridge while picking off and eating the crispiest, juiciest tidbits left from roasting. There is nothing like a slow-roasted ham basted with its juices and seasoned simply with salt, pepper and maybe a dash of ground sage. If you love the candy-coated pineapple and cherry version, have at it. That's what makes ham so popular. There are dozens of way to cook it, and they all taste divine.